Okeechobee Trophy Bass Fishing
Lake Okeechobee Bass Fishing has been absolutely incredible. Every day the bass fishing is getting better and the big bass are biting. If you are looking to catch the largemouth bass of your dreams, now is the time to do it. You never know what you will catch making each trip a true adventure. Hop on board for some Okeechobee Trophy Bass Fishing on your next visit to Florida!
One of the blessings of fishing with us is the ability to fish with a local expert. Wherever you are located in Florida, we have you covered with a local expert. If you want to travel to Lake Okeechobee, you will be fishing with the most professional fishing captains the lake has to offer. Don't miss out learning something new on your adventure with our local experts out of Slims Fish Camp in Belle Glade, FL or Clewiston, FL.
Here is your Lake Okeechobee Bass Fishing Update:
Captain Brian Brown had the pleasure of fishing with the Mayes Family out of Belle Glade, FL. This is a prime location when traveling from South Florida. The Mayes Family were traveling to Florida on a family vacation and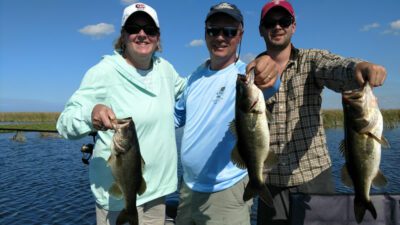 wanted to add bass fishing into the mix. It was a fun and challenging day for them.
Fishing conditions were fantastic for this family on this fishing trip. Bluebird skies and light winds made for an interesting day on the water. The previous mornings the bite was slower but on this trip, they started catching them right away. As the day went on, the Mayes family put more and more bass in the boat.
Sam, Misty and their son Blake had a fantastic time on Lake Okeechobee. Captain Brian helped them search for multiple different areas of Lake Okeechobee for largemouth bass. They landed over 20 largemouth bass weighing up to 4-pounds. Another additional benefit was that they got to experience the vast wildlife on the Big O including birds and alligators.
Sam, Misty, and Blake will be back for more action in the near future. When you experience a trip like this, you can't resist thinking what another adventure could hold. Captain Brian is looking forward to showing them another exceptional fishing trip.
Just shortly after this fishing trip, Captain Mark Rose adventured out of Clewiston, FL. He had the pleasure of fishing with Tony traveling from Chicago. While traveling to Florida on vacation, Tony really wanted to experience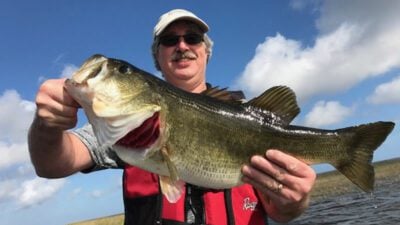 Lake Okeechobee. All Tony really wanted on this fishing trip was a bass over 5 pounds. Well, not only did he get that but he got much more!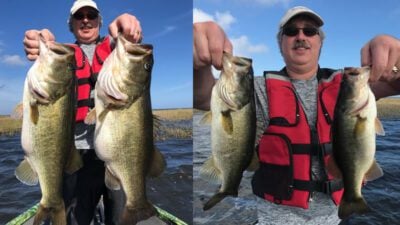 Its trips like these that make Lake Okeechobee Bass Fishing one of the best outdoor activities in Florida. Tony caught his personal best bass coming in at 7 pounds. Shortly after landing that giant, he got one even bigger weighing in at a whopping 9 pounds. Now, that is a true Lake Okeechobee Trophy Largemouth Bass! We hope you enjoy the video of his perspective and action on the water while Clewiston Bass Fishing.
Along with those excellent fish, Tony caught a total of 40 largemouth bass in his short 4-hour fishing trip. The action is on fire and the bite is fantastic. You never know what is going to bite the end of your line. Tony will be back for more and Captain Mark Rose is looking forward to getting him back on the big bass!
The bass are spawning and they are on the prowl. If you are looking to cash in and catch a big bass, now is the time to come explore what this beautiful place has to offer.
It was not long after this fishing trip that Captain Brian was back out on the water out of Slims Fish Camp. He had the pleasure of fishing with Tim, Bob and his son Bobby on an afternoon fishing charter. They were traveling to Florida on vacation and wanted to explore what Lake Okeechobee had to offer.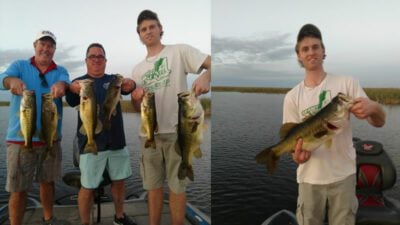 Captain Brian picked up several dozen wild caught shiners and off they went. Lake Okeechobee did not disappoint them. After moving around and finding the best areas, Captain Brian put them on a school of nice bass. Tim caught his personal best weighing 4 pounds. Bobby also caught a beautiful fish weighing in at 5 pounds. This group of friends had a little competition and Bobby took all their money. Bobby caught the first fish, the most fish, and the biggest fish.
Tim, Bob, and Bobby will be back for more incredible bass fishing action on Lake Okeechobee. Captain Brian is looking forward to getting them out on the water soon!
The best fishing is coming and is here. Big female bass are spawning and more bass will continue to come in. As we have consistent and great weather, the largemouth bass will get fired up. Lake Okeechobee is looking fantastic and we would love for you to experience the natural beauty of this place. We look forward to seeing you on the water next time!
Come Visit Florida and Catch Yours Today..
[fusion_button link="http://bassonline.com/trips/city/belle-glade/" title="BOOK YOUR LAKE OKEECHOBEE FISHING TRIP ONLINE NOW!" target="_self" alignment="center" modal="" hide_on_mobile="small-visibility,medium-visibility,large-visibility" class="" id="" color="default" button_gradient_top_color="" button_gradient_bottom_color="" button_gradient_top_color_hover="" button_gradient_bottom_color_hover="" accent_color="" accent_hover_color="" type="" bevel_color="" border_width="" size="" stretch="default" shape="pill" icon="" icon_position="left" icon_divider="no" animation_type="" animation_direction="left" animation_speed="0.3″ animation_offset=""]BOOK YOUR LAKE OKEECHOBEE FISHING TRIP ONLINE NOW![/fusion_button]
If you enjoyed this post about Okeechobee Fishing, you might also enjoy this fishing report from the same area.
Don't forget to follow us on Facebook, YouTube, Twitter and Instagram.