January Lake Okeechobee Update
The end of January is here and the bass are biting. If you were wondering how this month was and how the upcoming months will be, tune into this update. Our local experts are on the water in search for some excellent bass fishing. Enjoy this final January Lake Okeechobee update and explore all that Florida has to offer on your next vacation.
Florida has been experiencing changes in weather. When this occurs and cold fronts move in, this will affect the bass fishing. If you have patience, our local experts can get you around the bass. Once the weather stabilizes, the fishing will be back to normal and the bass will continue to spawn. This is prime time to come to fish and explore Florida with a friend, loved one, or family.
Here is your Lake Okeechobee Bass Fishing Update:
Captain Brian Brown had the pleasure of fishing with Ed, Bruce, and Jeff. These gentlemen were traveling from Michigan looking to explore what Lake Okeechobee had to offer. They made the journey in an RV with their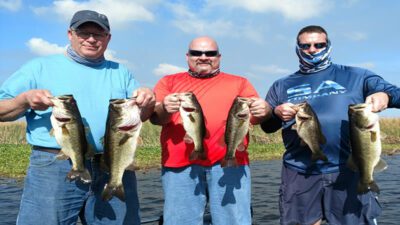 wives. When they arrived, they needed a break so bass fishing was a great option.
Ed, Bruce, and Jeff adventured out for a quick 4-hour morning fishing trip. The fishing conditions were not the best but Captain Brian managed to get these guys on some nice bass. When conditions get tough, wild-caught live shiners is always the way to go. They caught over 15 bass weighing up to 3 pounds.
One of the best parts about this fishing trip was the banter and joking back and forth. They also enjoyed sharing their fishing stories making for a great day on the water. Captain Brian wishes them luck on their journey back to Michigan and is looking forward to their next adventure on Lake Okeechobee.
Captain Brian adventured out on an afternoon fishing trip right after the last trip. It was another quick 4-hour fishing charter with a father-son duo. Captain Brian had the pleasure of fishing with John and his son Sean. They were adventuring out on Lake Okeechobee out of Slims Fish Camp located in Belle Glade.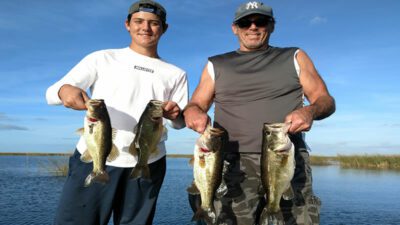 Wild caught live shiners were the method of choice on this fishing charter. John and Sean were looking for a giant Lake Okeechobee largemouth bass. They could not find the one they were looking for but ended up getting a giant mudfish that put up a great fight. While also out on the water, they caught a sky carp or a seagull.
Numbers of nice quality largemouth bass made it to the boat as well. John and Sean had a great afternoon of fishing. While out on the water, they got to experience all the creatures and birds of Lake Okeechobee. This father-son duo is looking forward to traveling back to Florida for more bass fishing action. Captain Brian is looking forward to their next adventure.
Just shortly after this fishing trip, another one of our local experts traveled out of Slims Fish Camp. Captain Dave Lauer had the pleasure of fishing with repeat clients and two brothers, Evan and Trevor. They were traveling from Richmond, VA in search for some excellent bass fishing. The bass fishing conditions were amazing on this fishing trip making for an incredible day on the water.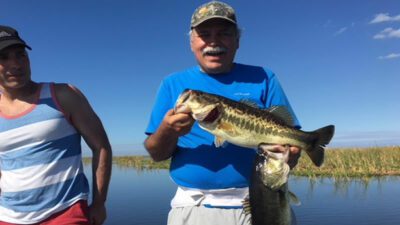 A sunny breezy day with no clouds in the sky really fired the bass up. Water temperatures rose to mid-70s making for perfect bass fishing conditions. While Evan and Trevor were visiting their dad they had to get out bass fishing. Wild caught shiners were yet again the most successful method. They went through 6-dozen shiners in their 6-hour fishing trip.
The action was hot and heavy for both largemouth bass and catfish. They caught 20 largemouth bass with the biggest weighing between up to 4.5 pounds. Most of the bass weighed between 2-3 pounds. Evan and Trevor caught 12 catfish along with 10 mudfish weighing between 8-9 pounds. Everything on Lake Okeechobee was biting and you just could not beat the action.
Evan and Connor are looking forward to their next adventure out on the water with Captain Dave Lauer!
It was not long after this fishing charter that another one of our local experts went out on Lake Okeechobee out of Okeechobee City. Captain Mark Rose had the pleasure of fishing with Tom and his son. They were looking to explore what Lake Okeechobee had to offer while visiting Florida.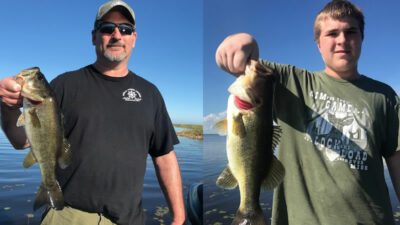 Just shortly into their trip, they started to catch some largemouth bass. The main area that was productive was at the mouth of the Kissimmee River or a place known as the pass. Wild caught shiners along the grass line were the most effective method. Tom and his son caught over 15 largemouth bass. Tom's son caught a largemouth bass weighing close to 5-pounds.
The action is picking up here on Lake Okeechobee and this father-son duo is looking forward to getting back out there for more in the near future. Captain Mark would be honored for another adventure!
Lake Okeechobee has its days depending on the weather and water temperatures. If you are looking for an awesome fishing adventure, Lake Okeechobee is a beautiful destination. Come on down and time it right and you can have a fishing adventure of a lifetime. Give us a call at any time to get an update on how the fishing is. We want you to have a fantastic experience while Florida Bass Fishing! Look forward to seeing you on the water next time.
Come Visit Florida and Catch Yours Today..
[fusion_button link="http://bassonline.com/trips/city/clewiston/" title="BOOK YOUR LAKE OKEECHOBEE FISHING TRIP ONLINE NOW!" target="_self" alignment="center" modal="" hide_on_mobile="small-visibility,medium-visibility,large-visibility" class="" id="" color="default" button_gradient_top_color="" button_gradient_bottom_color="" button_gradient_top_color_hover="" button_gradient_bottom_color_hover="" accent_color="" accent_hover_color="" type="" bevel_color="" border_width="" size="" stretch="default" shape="pill" icon="" icon_position="left" icon_divider="no" animation_type="" animation_direction="left" animation_speed="0.3″ animation_offset=""]BOOK YOUR LAKE OKEECHOBEE FISHING TRIP ONLINE NOW![/fusion_button]
If you enjoyed this post about Okeechobee Fishing, you might also enjoy this fishing report from the same area.
Don't forget to follow us on Facebook, YouTube, Twitter and Instagram.