Okeechobee Spawning Fishing Charter
One of the most incredible places to fish in Florida is Lake Okeechobee. The season is right around the corner and the bass are biting. Big spawning bass are starting to move in making for the perfect time to get out there and catch the fish of a lifetime. Hop on board with one of our local experts and they will put you on the fish. Enjoy an Okeechobee spawning fishing charter next time you are visiting.
Now is the time that the bass begins to spawn. The weather is becoming just right and the fish are moving into the shallow waters. Our local experts know where all the hot spots are. When you adventure out with them, they will take you right to the hot spots and get you on the fish. You just never know what will bite the line.
Captain Dave Lauer had the pleasure of fishing with Paul out of Belle Glade, FL. Paul was visiting South Florida and was looking to get into some Okeechobee largemouth bass. They adventured out of Slims Fish Camp on the Southeast corner of Lake Okeechobee.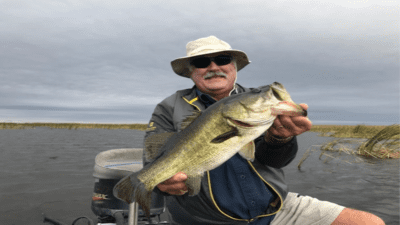 Conditions were not the best for anglers but the bass loved it. They bite long and hard the whole trip. Paul, unfortunately, came out during a cold front with the wind blowing on top of it. The bass were tight to cover and fed to keep warm.
Wild caught live shiners were the most effective bait on this fishing trip. Paul reeled and boated in over 30 bass with the biggest up to 5 pounds. Most of the fish were in the 3-4 pound range. After running through the 5 dozen shiners, Paul switched to artificial baits. He caught bass on rattletrap, spinner baits and had several blow ups on topwater.
Just shortly after this awesome fishing trip, Captain Brian Brown adventure out of the Harney Pond Area. He had the pleasure of fishing with Tony and John traveling from Minnesota and Wisconsin. While they had a layover in Fort Myers, they wanted to explore Lake Okeechobee Bass Fishing.
They adventured out for a 6-hour fishing trip. It was an absolutely insane fishing day. The first spot we pulled up to was stacked tight with some big bass. Tony and John caught some good numbers of fish with bass weighing 6 pounds, 2 5 pounders and numbers of quality 2-3 pound fish.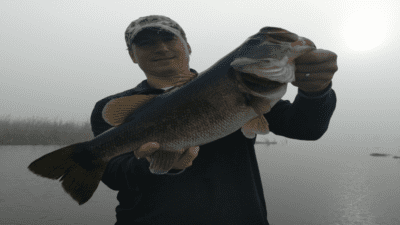 Conditions were perfect for the bass to find the live bait. There was no wind and it was foggy early in the morning. They ran out of bait rather quickly but the timing was perfect as they wanted to also see some wildlife.
Lake Okeechobee is alive and well with numbers of birds flying and alligators swimming. These guys had a great time fishing on the Big O! They will be back for more of this awesome action in the near future.
The lake is looking great and the fishing is going to be strong this season. Don't miss out on your adventure next time you are visiting Florida. Get out on the water with the family or friends for a fishing trip worth remembering. We look forward to seeing you on the water next time!
Come Visit Florida and Catch Yours Today..
[fusion_button link="http://bassonline.com/trips/city/belle-glade/" title="BOOK YOUR LAKE OKEECHOBEE FISHING TRIP ONLINE NOW!" target="_self" alignment="center" modal="" hide_on_mobile="small-visibility,medium-visibility,large-visibility" class="" id="" color="default" button_gradient_top_color="" button_gradient_bottom_color="" button_gradient_top_color_hover="" button_gradient_bottom_color_hover="" accent_color="" accent_hover_color="" type="" bevel_color="" border_width="" size="" stretch="default" shape="pill" icon="" icon_position="left" icon_divider="no" animation_type="" animation_direction="left" animation_speed="0.3″ animation_offset=""]BOOK YOUR LAKE OKEECHOBEE FISHING TRIP ONLINE NOW![/fusion_button]
If you enjoyed this post about Okeechobee Fishing, you might also enjoy this fishing report from the same area.
Don't forget to follow us on Facebook, YouTube, Twitter and Instagram.