Shallow Water Fishing Charters
If you love bass fishing and haven't fished Lake Okeechobee, you are missing out. Late fall months like these are prime time to catch some quality Florida largemouth bass while visiting. Shallow water bass fishing produced big time this month. The largemouth bass are starting to get fired up and ready for their winter spawns.
Our local experts spend days on the water searching for quality fish. You can be assured that when you step on board, you are with a professional and expert. Ask your captain any questions you have about bass fishing. They are glad to help and assist. Captain Robert Alfano will not only guide you with the correct method, you won't stop laughing the whole way.
Captain Rob had the pleasure of fishing with Nicholas. He was traveling from Kansas City, Kansas in search for a great time on the water. Visiting Lake Okeechobee has been on the top of his list and we made it happen for him. It was a quick 4 hour fishing trip but that was all he needed to get the full experience.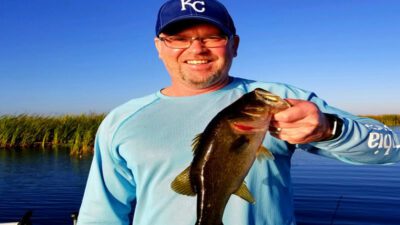 Nicholas had a lot of laughs and fun fishing with Captain Rob. They boated over 10 largemouth bass. The trophy bass eluded Nicholas on this fishing trip but that did not stop him from having a great time. Clear blue bird skies made for an absolutely beautiful day on Lake Okeechobee. Belle Glade is a great place to come fish when you want to explore all that the big O has to offer out of Slims Fish Camp.
Captain Rob is looking forward to fishing with Nicholas again in the future!
Just shortly after this fishing trip, Captain Rob adventure out in a different location. When you are visiting, make sure you mix it up and get out in the outdoors. A Lake Okeechobee Bass Fishing adventure is a great way to do so! After spending time in Belle Glade, Captain Rob headed over to Clewiston where he had the pleasure of fishing with Trent and Ryan. They were in store for an excellent day of bass fishing.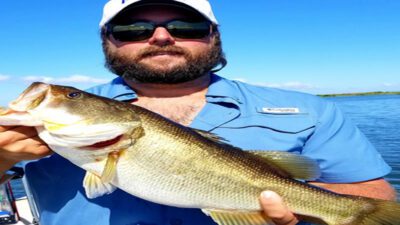 Trent and Ryan were traveling from Brooksville, Kentucky looking to catch some big bass. The early morning was very successful at putting some keeper bass in the boat. When you are fishing early morning, make sure you focus in on the outside grass lines. Throw top water or swim baits to have the most success.
After spending some time throwing artificial baits, switch over to live bait. Wild caught live shiners are the most successful technique to catching big bass on Lake Okeechobee. This is their natural forage and you never know when that trophy will bite. Trent and Ryan moved into shallower water to find some big fish. In search they found what they were looking for with 3 bass in the 4-5 pound range. You can't beat the action here on Lake Okeechobee!
Captain Rob had an absolute blast fishing with Trent and Ryan. He is looking forward to their next adventure that he knows will be soon while Clewiston Bass Fishing!
Lake Okeechobee is alive and well! The fishing is absolutely amazing and is only getting better. Every minute you wait is a lost chance at catching that bass of a lifetime. Lake Okeechobee can produce it for you and there is no better place to do it. Get hooked up with one of our local experts and they will accomplish your goals. We look forward to seeing you on the water next time!
Come Visit Florida and Catch Yours Today..
[fusion_button link="http://bassonline.com/trips/city/clewiston/" title="BOOK YOUR LAKE OKEECHOBEE FISHING TRIP ONLINE NOW!" target="_self" alignment="center" modal="" hide_on_mobile="small-visibility,medium-visibility,large-visibility" class="" id="" color="default" button_gradient_top_color="" button_gradient_bottom_color="" button_gradient_top_color_hover="" button_gradient_bottom_color_hover="" accent_color="" accent_hover_color="" type="" bevel_color="" border_width="" size="" stretch="default" shape="pill" icon="" icon_position="left" icon_divider="no" animation_type="" animation_direction="left" animation_speed="0.3″ animation_offset=""]BOOK YOUR LAKE OKEECHOBEE FISHING TRIP ONLINE NOW![/fusion_button]
If you enjoyed this post about Okeechobee Fishing, you might also enjoy this fishing report from the same area.
Don't forget to follow us on Facebook, YouTube, Twitter and Instagram.