Sarasota Rating:
Sarasota Rating - Read customer reviews, click to read
Sarasota is a Florida city located south of Tampa on the Gulf Coast and is home to numerous cultural institutes, tropical beaches, and incredible freshwater and saltwater fishing. Sarasota fishing is among the best in the sunshine state, from largemouth bass fishing trips to inshore and offshore fishing on Florida's Gulf Coast.
Longboat Key is the longest and northernmost island along Sarasota's coast, boasting 12 miles of shoreline. Longboat Key is a famous beach for turtles to nest and lay their eggs during the summer season. Enjoy relaxing views of the Gulf Coast of Mexico, smaller crowds, and a laid-back vibe on this relaxing destination that's close to outstanding fishing opportunities.
Sarasota, Florida, is the ultimate vacation spot, offering endless fun and relaxation for everyone.

Instant Confirmation
  Angler's Top Choice
FREE Cancellation
Twice out of Sarasota
★★★★★
"
I've used Fishing Charters twice out of Sarasota now to take my 10 year old grandson fishing. Captain Brian is fantastic! Great with kids. Superbly patient! He's got a comfortable boat, extremely well equipped to put you on and keep you on the fish. Pictures tell the tale here.
"
CLICK HERE TO WRITE A REVIEW
Freshwater Fishing Charters
A short drive from Sarasota is Lake Tarpon, a known trophy largemouth bass factory. Lake Tarpon is a beautiful lake on the Northside of Tampa, Florida, which is a must experience. This lake features good vegetation and structure to enjoy a top-notch bass fishing adventure near Sarasota, Fl. The bass fishing lakes near Sarasota, Florida, also make great pan fishing spots for crappie and bluegill during certain seasons.
Bass fishing charters in Sarasota provide anglers of all ages and skill levels the opportunity to catch a Florida trophy fish, especially during the spring spawning season. Fishermen can experience incredible bass fishing throughout the year, with the action staying relatively steady through the seasons. Your professional fishing guide will take you and your friends and family to all the best fishing spots to experience the best of Sarasota fishing charters.
Bass fishing is ideal for anglers of all skill levels and ages, making for excellent family trips or anyone prone to seasickness that wants fishing adventure.
Top Spots
The top bass waters near Sarasota to experience the ultimate largemouth bass fishing trip are Lake Tarpon, Lake Okeechobee, the Winter Haven Chain of Lakes, Lake Panasoffkee, and Lake Kissimmee. Those are the spots that usually provide the best quality and quantity of bass; however, Lake Manatee is the local fishery of Sarasota that shouldn't be underestimated.
Lake Manatee
Lake Manatee, Evers Lake, and upper Myakka Lake are all similar fisheries near Sarasota created by dams. The water below the dams is either brackish or saltwater, holding snook, while the freshwater side has decent bass populations. Lake Manatee is relatively deep compared to other Florida lakes with holes over 50 feet deep. The lake has ample shoreline cover, which the bass love.
This lake also has some good crappie and catfish fishing. The experts suggest using white and chartreuse spinnerbaits when fishing during the day and topwater plugs at dusk and dawn.

Saltwater Fishing Charters
Sarasota is filled with mangrove-lined flats, nearshore reefs in Sarasota Bay, and thriving offshore waters in the Gulf of Mexico. All the most popular game fish call this area home, making it a top destination to experience incredible charter fishing. Experience hooking snook, tarpon, redfish, jack crevalle, black drum, red snapper, trout, Spanish mackerel, and many other popular species while charter fishing in Sarasota, Florida.
All safety equipment and fishing licenses are included on saltwater charters.
Inshore Fishing
Inshore fishing trips are the most popular saltwater fishing trips in Sarasota, Fl because it's a year-round fishery with all the shallow water favorites thriving close to the shore. Redfish, Spotted seatrout, and Flounder are among the most common fish caught throughout the year. Snook and tarpon fishing is best during the summer months, with a few being caught at other times of the year as well.
Usually, from May through August, the snook, tarpon, and permit are abundant in the shallows of Sarasota Bay.
Sarasota Bay has all the essential features of an endless playground for inshore charter fishing, including grass flats, mangroves, sandbars, and oyster bars. An inshore fishing charter is ideal for anglers of all ages and skill levels. A shore fishing trip in Sarasota provides visitors with constant action and beautiful views; it's the ultimate sport fishing and a fun experience.
Sunset cruises are also available and make for an incredible evening with unforgettable views and sea life.
Methods
Sarasota Bay is a fantastic spot for fishermen of all preferences. The various environments in the bay mean pretty much any technique will work, including spin fishing, fly fishing, and bait casting. This is the perfect fishing spot to sight fish for tailing redfish and cruising permit. For anglers looking for a heavy-duty challenge, the silver kings in Sarasota weighing over 200 pounds are not uncommon in even the skinniest waters.
Deep-sea Fishing
There are endless fishing options when it comes to the types of deep-sea or offshore fishing trips in Sarasota. The nearshore waters hold Sheepshead, Jack Crevalles, Cobia, and bluefish. Head a bit further out with your fishing guide and fish the numerous reefs holding Barracuda, Snapper, Grouper, Black Seabass, Amberjack, and Sharks.
Those after a giant pelagic should experience a full day of deep-sea fishing that takes you 100 miles offshore to target Mahi Mahi, Blackfin Tuna, Billfish, and Wahoo. The rich tropical waters of the Gulf of Mexico make for some excellent year-round fishing. Your professional fishing guides will know how to find the fish that are around for each season and cater to your preferred methods.
Experience a memorable deep-sea fishing charter by cruising along the Florida Gulf Coast near Sarasota, Longboat Key, or Siesta Key.
Top Targeted Fish Species
Saltwater Seasons
Spring
Charter fishing in Spring is excellent for all the popular reef fish, including Triggerfish, Black Seabass, and Barracuda. Anglers on an inshore fishing trip are busy with constant action from the Redfish and Spotted Seatrout. You will also see significant numbers of snook, bluefish, and pompano join the inshore party come April. The permit and tarpon action kicks off in full force towards the end of Spring in May.
Summer
The summer creates the ultimate deepsea fishing conditions. Starting in June, giant billfish are roaming offshore. Mahi Mahi, Wahoo, and Tuna will join the offshore party in July. The red snapper season also begins in June. Inshore charter fishing is still excellent in the summer, with tons of tarpon, pompano, permit, and snook ready to bite.
Even during the wettest part of the year, August, the offshore, nearshore, and inshore fishing charters are all experiencing the action in Sarasota, Fl.
Fall
Anglers can experience King Mackerel, Barracuda, Tuna, Bluefish, Tarpon, Sharks, and Amberjack without traveling far offshore into the deeper waters. Reef charter fishing is still experiencing excitement as the grouper arrive. In addition, charter fishing inshore in the fall allows anglers to hook the local Trout, Redfish, Ladyfish, and Bluefish.
Winter
Winter is a comfortable time for Sarasota fishing adventures while the weather is warm but not overbearing. There are plenty of winter fishing spots holding redfish, permit trout, and Flounder inshore. January is the peak of the grouper season, meaning it's an excellent time for a reef fishing trip nearshore or an offshore fishing trip for goliaths, Amberjack, and King Mackerel.
The reefs are also holding sheepshead, Cobia, and tripletail this time of year. An inshore fishing charter is best for catching the local Redfish, Trout, and Flounder this time of year.
Meet the team of local Sarasota fishing guides, we know the best spots, baits, and techniques to give you the greatest fishing experience in Sarasota.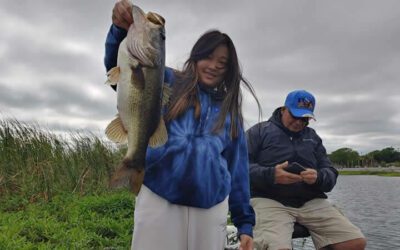 The Best Guided Bass Fishing in Florida Maybe you have done guided bass fishing in Florida, and perhaps you haven't. Perhaps you are a seasoned angler, or maybe you fish...
read more
Area Things To Do
The islands that separate Sarasota Bay from the Gulf of Mexico include Siesta Key and Lido Key, which are world-famous for the quality of their beaches. Experience exciting sport fishing by boat or explore the beaches while kayak fishing.
Visitors can soak up the sun along our white-sand beaches of Sarasota. Then, treat yourself to diverse dining, enriching arts and culture experience—shopping districts of all sorts, and natural Florida fun to top it all off. In Sarasota, we like to say; each moment is your own. Sarasota's beaches await an hour south of Tampa, and each offers something a little different.
Attractions
Sarasota Fl fishing has tons to offer every visitor with various attractions ranging from educational to outdoor adventures. Some of the most popular attractions near Sarasota are the Mote Marine Laboratory and Aquarium, The John & Mable Ringling Museum of Art, The Big Cat Habitat & Gulf Coast Sanctuary, Marie Selby Botanical Gardens, and Sarasota Jungle Gardens.
Questions? Feel free to call us, Email us or use the chat us to speak to one of our specialists.
Questions? Feel free to call us, Email us or use the chat us to speak to one of our specialists.
Questions? Feel free to call us, Email us or use the chat us to speak to one of our specialists.
What are you waiting for?
We also have great deals available in the following Sarasota Fl fishing cities that match your search criteria.