Bradenton is a Florida city located south of Tampa on the Manatee River. Bradenton Beach is a must-visit spot situated on the picturesque Anna Maria Island in Manatee County. With quick access to three major Florida bays, Bradenton is a top destination among anglers providing endless fishing options for every type of angler with the Manatee River, Intracoastal Waterway, and the Gulf of Mexico nearby. Bradenton, Florida, is also a top freshwater fishing destination where anglers can have their shot at a Florida trophy largemouth bass.
Bradenton is home to beautiful beaches, incredible scenery, and spectacular fishing open year-round. After our fishing trips, enjoy the beautiful weather and walks through a great town. Bradenton, Florida, is also home to the Village of Arts, the largest art district on the Gulf coast.
Bradenton, and its surrounding areas such as Anna Maria Island, Holmes Beach, and Longboat Key, offer just about every type of fishing charter trip there is. It's a destination full of adventures and fishing opportunities for every member of the family.

Instant Confirmation
  Angler's Top Choice
FREE Cancellation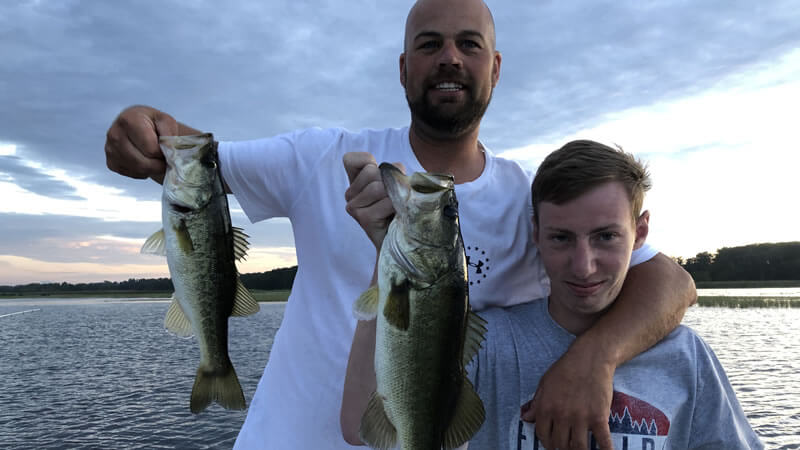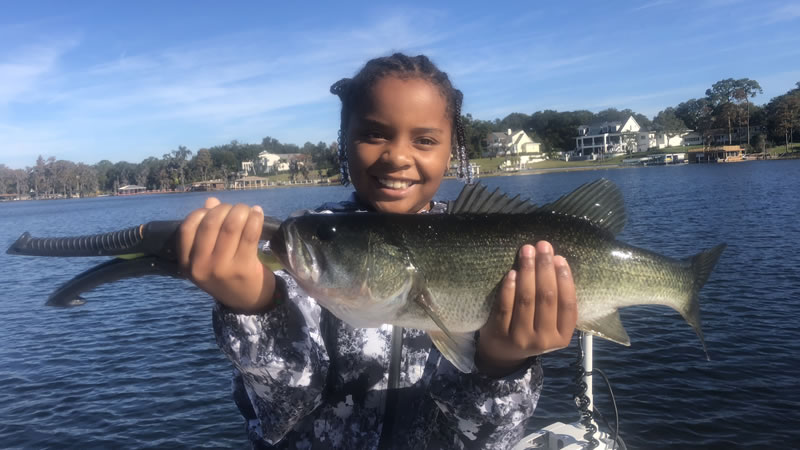 1/2 day fishing with Captain
★★★★★
"
My brother and I really enjoyed this trip. Captain is very personable and pleasant to be around. Will book it again
"
Great experience!
★★★★★
"
The fishing was great in the morning, then Captain work it till he got us on the fish in the afternoon. All 3 in my party had a good time. I would definitely book again!
"
CLICK HERE TO WRITE A REVIEW
Freshwater
Freshwater fishing trips near Bradenton can take you to many great destinations nearby, such as Lake Istokpoga, Lake Okeechobee, Lake Tarpon, The Winter Haven Chain of Lakes, Lake Manatee, or the Braden River. Bradenton is the perfect destination for anglers of all skill levels to catch largemouth bass, Bluegill, Gar, and Catfish while on local freshwater fishing charters. 
Anglers can enjoy the endless number of Bradenton Fishing Trips all year long. Lake Istokpoga is a beautiful lake located near Bradenton where you can catch trophy largemouth bass. The infamous and world-renown Lake Okeechobee is also a short drive away, with some of the best bass fishing in the state. Lake Tarpon is a clear city lake with various significant structures to catch the largemouth bass of your dreams located close to Tampa and Bradenton. 
The Winter Haven Chain of Lakes is a famous fishery with 16 connected lakes by navigable canals. Enjoy a fishing adventure in Polk County and Lakeland near Bradenton, leaving you with memories that will last a lifetime. It has 6,000 acres of water that is highly popular for boating and fishing. Lake Panasoffkee is a natural spring fed lake that holds some heavily feeding largemouth bass. 
Finally, right out of the city of Bradenton, you can experience another fantastic fishery, Lake Manatee, for a local largemouth bass fishing adventure you will not forget. Come out and enjoy Central Florida wilderness while catching quality largemouth bass with your friends and family.
Tips and Techniques
Anglers can enjoy catching bass on a Bradenton fishing charter any time of the year, but the Spring spawning season provides your highest chances at landing a trophy. Wild or domestic shiners are the most commonly used live baits. Some popular artificial lures include white and chartreuse spinnerbaits for during the day and topwater plugs for dusk and dawn. Your local fishing guide will be prepared with all the most effective baits and lures for your fishing charter. Your professional fishing guide has been fishing these waters for years and will know the best choices based on the current conditions and weather.

Saltwater
All of Florida's most sought-after saltwater gamefish are at your disposal in Bradenton, Fl. You can catch Gag grouper, Snapper, King Mackerel, and more in the offshore waters. Those who are after big pelagic fish and willing to travel over 60 miles out can test their skills for Sailfish, Tuna, Amberjack, Mahi Mahi, and more. And finally, the nearby Tampa Bay is one of the best inshore sport fishing spots in the United States. Anglers on inshore fishing trips here can go after schools of snook, Trout, Redfish, and Tarpon lurking in the clear shallow waters.
Inshore Fishing Charters
The best Bradenton inshore fishing happens in Tampa Bay. The Bay is home to all the most popular shallow water sportfish and offers world-class fishing trips. Tampa Bay, Florida, is the largest open-water estuary in the state and contains more than 400 square miles of saltwater habitat. Tampa Bay is home to a thriving ecosystem with its grass flats, passes, waterways, and oysters bars all home to our favorite game fish species, including Snook, Tarpon, Redfish, Trout, and Sharks.
The fishing is excellent in Tampa Bay throughout the year, with the summer being the busiest time when Snook and Tarpon are in abundance. In addition, anglers can find tailing redfish, Speckled trout, and Pompano in the warm months of late Winter and Spring.
Tampa Bay is also the perfect spot to experience night fishing trips in the summer. There are numerous productive fishing spots in Tampa Bay, with popular holding spots near the docks, reefs, and bridges where you can find Speckled Trout, Sheepshead, Flounder, and Black Drum in large numbers.
Other typical catches while on an inshore fishing trip near Brandenton are Jack Crevalle, Spanish Mackerel, Cobia, Mangrove Snapper, Ladyfish, and Grouper.
Techniques and Tips
Numerous techniques can be used when fishing the Bay, but light tackle is the most popular and common. Fishing with light tackle on your fishing trip can involve using spinning gear, baitcasting, trolling, or bottom fishing. While on inshore fishing charters, anglers can succeed using live bait, cut bait, and artificial lures. Your local fishing guide will have some insider tricks on what works best for each type of day based on conditions and targeted species. Some of the popular types of live bait include shrimp, pilchards, minnows, and crab. Popular types of artificial lures include topwater plugs, weedless spoons, and plastic-tail jigs.
The Bay is also a top fly fishing spot and the cooler months provide excellent sight fishing opportunities since the water is typically clearer. Fly anglers can use lightweight rods for Speckled Trout, Redfish, Snook, and other Bay species. However, a 10-12 weight rod is recommended when targeting Tarpon on fly since they can reach up to 200 pounds here.
Top Targeted Fish Species
Deep-sea Fishing Charters
Deep-sea fishing trips in Bradenton provide anglers with endless opportunities to experience. So whether your goal is to go after tasty table fare or big pelagics, Bradenton, Florida, has a fishing charter for you. Bradenton fishing in the Gulf of Mexico is some of the best fishing anglers should experience at least once to chase apex predators or target bottom-hugging reef fish. Bradenton fishing charters exploring the reefs and wrecks will come across fish species such as Spanish Mackerel, Kingfish, Snapper, and Grouper. On fishing charters about 20 miles from the shoreline, anglers can catch both pelagic and bottom fish. In addition, anglers will have a chance to catch trophy-size Kingfish, Hogfish, Gag Grouper, and Red Snapper.
Bradenton fishing charters that travel over 60 miles offshore will reach some of the richest fisheries around. Anglers can catch Mahi Mahi, Tuna, Wahoo, and Sailfish. If you can get your bait deep enough, you may get a bite from Amberjack, Triggerfish, Grouper, Seabass, Porgy, and Grunts.
Anglers open to the ultimate deep-sea fishing experience can hop on board a fishing charter traveling over 80 miles offshore where the ocean floor will drop between 150 ft and 450 ft. When fishing this far out, you'll catch Yellowedge, Snowy Grouper, Warsaw Grouper, Red Grouper, Gag Grouper, Mackerel, Blackfin Tuna, and Mahi Mahi.
Techniques and Tips
While on a deep-sea fishing trip, anglers will commonly be trolling for any surface fish nearby, including Tuna, Wahoo, Spanish Mackerel, and Mahi Mahi. Your fishing guide will use outriggers to spread the line enough and prevent tangles. Your fishing captain will suggest the best lures or bait based on the current conditions. But, generally, Spanish Mackerel will pounce on Sardines and Mullet, Tuna will eat the Mackerel, and Flying fish entice Mahi Mahi. So a rule of thumb is to imitate their preferred prey and keep your bait near the surface. Once one of these fish are hooked, you will either use an electric reel to pull them onto the boat or reel them in yourself if desired.
While bottom fishing on a deep-sea fishing charter, you may use downriggers or sinkers to get your bait deep enough and then pull them up. Another method while offshore fishing is to drop some chum to attract the fish then start casting or trolling.
Meet the team of Bradenton fishing guides, we know the best spots, baits, and techniques to give you the greatest fishing experience in the Bradenton area.
Bradenton Fishing Seasons
Winter
While on an inshore fishing charter in the winter months, anglers can expect redfish, trout, and black drum in decent numbers. Offshore fishing charters far out can land some Sailfish and Wahoos.
The winter months in Florida are also a great time to enjoy some freshwater fishing in the lakes and rivers nearby as the bass are getting ready to spawn.
Spring
Spring is when the bass will be in full spawn mode. This is your best chance at catching your personal best trophy bass while on freshwater fishing charters in Florida. 
Spring is also an excellent time for an inshore fishing charter in Bradenton. The redfish and snook bite will be picking up even more. You can also expect many other popular fish to be active in the Bay, such as Trout and Flounder.
Reef fishing charters will be catching some Spanish Mackerel, King Mackerel, and Amberjack in suitable sizes. Offshore fishing trips will be targeting Wahoo during their spring run come April. The Mahi Mahi will also start making an appearance. Come May; the Mahi Mahi will have fully arrived in the waters off Bradenton Beach. May is an excellent time to consider taking an offshore fishing trip to catch Mahi Mahi, giant Tarpon, and Amberjack lurking on the seafloor. The offshore action will continue thriving through the summer.
Summer
In summer, offshore fishing is in full force. King Mackerel, Snapper, Mahi Mahi, Amberjack, Cobia, and Grouper are all available in good numbers. Blackfin Tuna are also found roaming the open waters of the Gulf of Mexico.
Summer is also an excellent time for an inshore fishing adventure to experience hooking a Redfish, Jack crevalle, Snook, and much more. Towards the end of summer in August, the Tarpon steal the show in the coastal Bay. The Tarpon are actively biting and usually the most targeted fish right now, but many other popular fish will still be biting.
Freshwater fishing charters are mainly operating for morning trips only, as the bass bite may slow during the day in the summer heat. 
Fall
As the Florida temperatures cool down in the Fall, the freshwater action will be picking up again. Anglers will be able to catch Florida largemouth bass, catfish, crappie, and bream in decent numbers.
Inshore fishing trips will primarily be focusing on Redfish and Black drums. Anglers on offshore fishing trips can catch Wahoo, King Mackerel, Amberjack, and other bottom dwellers. Come October, Wahoos of all sizes will be passing by in great numbers giving anglers of all skill levels the chance to hook one.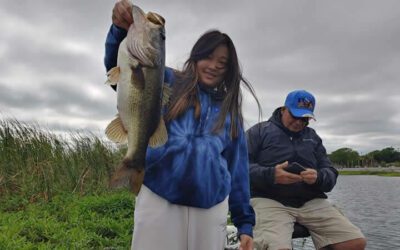 The Best Guided Bass Fishing in Florida Maybe you have done guided bass fishing in Florida, and perhaps you haven't. Perhaps you are a seasoned angler, or maybe you fish...
read more
Anna Maria Island
Anna Maria Island is a 7-mile stretch of white, sandy beach and crystal clear water on all sides. The barrier island sticks out into the mouth of Tampa Bay and has all the qualifications to be classified as a top fishing destination. Anna Maria Island is a relatively small stretch of land but offers access to smaller water bodies that provide highly productive fishing opportunities.
Inshore Anna Maria Island
Inshore fishing Anna Maria Island means targeting all your favorite inshore fish on the grass flats. Redfish and spotted seatrout are among the most popular and commonly caught fish off Anna Maria Island. They are also relatively convenient to target since they are widely found in all the shallow areas around Anna Maria.
Reds and trout are among the most common, but snook and Tarpon are generally the most sought-after hard fighters near Anna Maria Island. Snook and Tarpon can both be caught year-round, but the Tarpon are most abundant and active on the grass flats during May and August. During these months, snook are often hiding in secluded spots and more challenging to find.
Offshore Anna Maria Island
As you travel further into the open waters from the bays, the Spanish Mackerel will be in abundance and fun to catch as you cross the bays out to the reefs. Their larger cousin, the Kingfish, will also be in good numbers as you travel further out. King Mackerel are the perfect combination of game fish and table fare, making them a favorite for anglers onboard fishing charters looking for the whole offshore fishing experience.
You can't think of offshore fishing trips in the Gulf of Mexico without a Red Snapper popping into your mind. Anglers worldwide travel to the Gulf Coast in June to experience catching these fish. However, while June is the best time for Red Snapper, other Grouper and Snapper family members are around Anna Maria Island throughout the year.
Other popular fish to experience while on fishing charters off Anna Maria Island are Cobia and Amberjack. These species are found in both the reefs and deep waters in good numbers throughout the year. They are both hard-fighting fish that make for delicious meals. Both fish species are around all year, but the best time for Cobia is in the Spring. Some Amberjack travel closer to shore in the spring and winter months but can be caught 25 miles out at sea throughout the year on deep-sea fishing charters.
Area Things To Do
Bradenton, Fl, offers many activities, attractions, and outdoor adventures for everybody to enjoy. Bradenton boasts a vibrant Old Florida history full of beautiful architecture, nature reserves, and green parks. Bradenton, Bradenton Beach, and Anna Maria Island all offer a warm and welcoming ambiance with incredible sights.
Emerson Point Preserve
Emerson point is located at the tip of Snead Island at the mouth of the Manatee River. The 365-acre preserve features stunning wildlife and native plants. The area also has several historic and prehistoric sites to visit, such as the Native American Temple Mound. The preserve also features several multi-use trails for mountain biking, jogging, and hiking. In addition, there are two picnic shelters and a canoe/kayak launch on site.
Florida Maritime Museum
The Florida Maritime Museum is dedicated to the story of Florida's maritime history. Its located on 4-acres of land in the historic fishing village of Cortez. The museum is in a 1912 schoolhouse building and showcases the significance of the regional commercial fishing industry. In addition, the museum features various exciting exhibits and displays of historical artifacts.
Lake Manatee State Park
Lake Manatee Park is a 556-acre park about 15 miles east of Bradenton, extending for 3 miles along the southern shore of Lake Manatee. The area offers incredible freshwater fishing opportunities, canoeing, kayaking, boating, swimming, sunbathing, picnicking, and hiking. The park's natural habitat comprises sand pine scrub, pine Flatwoods, hardwood forests, and depression marshes. In addition, it contains full camping facilities a short walk away from the lake.
Questions? Feel free to call us, Email us or use the chat us to speak to one of our specialists.
Questions? Feel free to call us, Email us or use the chat us to speak to one of our specialists.
Questions? Feel free to call us, Email us or use the chat us to speak to one of our specialists.
What are you waiting for?
We also have great deals available in the following cities that match your search criteria.