★★★★★

based on

62

reviews.
Overall rating:
Lake Okeechobee
Lake Okeechobee is the most "famous big bass body of water" in Florida, well-known for the quantity and quality of bass the lake produces. This reputation on Okeechobee has continued for many years as producing the biggest and best largemouth bass fishing in Central Florida. On Okeechobee, the two primary ways to fish are with artificial lures or wild shiners. Bass fishing on the "Big O" with wild shiners is the preferred bait for many anglers for trophy bass. It just happens that it's the natural food that they feed on daily. Wild Shiner fishing became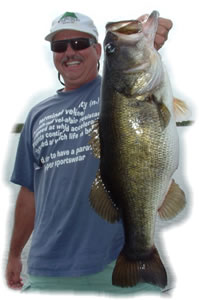 very popular many years ago when anglers fishing for largemouth bass would see their feeding habits. It has become an increasingly popular choice because once you've experienced this style of fishing you'll quickly recognize that it's much more than just sitting and watching bobbers. We have a special kind of tackle and a secret way of hooking and rigging shiners. We're not telling you how at this time, but we'll be happy to teach you while you are out with us. Like some of you, we also prefer to fish with artificial lures as much as possible. When fishing with artificial, you will have the choice of spinning, baitcasting or fly fishing. flipping and pitching on Okeechobee is always really popular, it's always a great lake for topwater plugs do to its shallow depths. We are open to any techniques you're interested in learning about, just let us know. At your request, our guides will suggest what the best form of fishing would be at the time of your booking, but whichever option you choose is entirely up to you. At times we suggest that you do a little of both.
Ultimately, we want you happy with the overall experience and that's why we are the only bass fishing guide service to fish the entire 730 square miles. This experience is very important, because as we all know the weather and the fish don't always coöperate with your schedule, so we as anglers need to be flexible. Whether you're coming from within the state of Florida or from out-of-state, South Florida, particularly Fort Lauderdale, Ft Myers, and Palm Beach, provides you a central meeting point to conveniently get you to any one of our suggested fishing locations.
Searching Availability...
Lake Okeechobee Bass Fishing Guides
Our Okeechobee bass fishing guides have been the highest-rated and most prestigious Lake Okeechobee bass fishing guides since inception, written up in Forbes as "Florida's #1 Rated Urban Anglers" and now accredited as the official guide service of NASCAR. Featured in many TV shows should as North American Fisherman, ESPN and others. Please check out our video page of the website to see our shows. This is all due to our quality of the service and vast repeat customer base we attract. We have built our business on years of customer satisfaction, and we continue to meet the highest standard in the Florida freshwater fishing industry.
Our team has over 400 years of combined experience in catching trophy bass on Okeechobee and we take great pride in ourselves on making sure that you get the charter YOU want and deserve. When you hire our fishing guides you don't just get a guide, you get a whole hand-picked team. Our group of top pro anglers works together as a team to make sure you have the best opportunity for success on the water. Coordination and sharing of information and resources are why our guides are so effective. It's a tremendous advantage that most services do not give their customers.
Information about Lake Okeechobee
Below are some of the reasons Lake Okeechobee is so well-regarded by bass fishermen everywhere, but you need to experience the "Big O" first hand - click here for more information on our Lake Okeechobee bass fishing guides. Okeechobee priority is flood control, most of the water does flow down the Caloosahatchee River because the entire body of water is surrounded by Herbert Hoover Dike.
Experience South Florida Bass fishing at its best, whether you're traveling from St Lucie, Sebring, Okeechobee City, Tampa, Sarasota, Moore Haven, Ft Myers, Naples, Clewiston, Miami, Ft Lauderdale, W Palm Beach, Ft Pierce and Vero Beach. Fish with our touring Bass Masters Pros and learn pro-techniques to help improve the success of your own bass fishing tours. Great for beginners, experienced anglers, or just recreation!
Women, children, wheelchairs and large/small company groups welcome.
*****Lake Okeechobee Reviews*****
Capt. Rob Alfano
★★★★★
"
Been on about 10 trips now with Captain Rob Alfano and he is the best. Great guy who cares about his client not just as a customer and fisherman but as a person. Definitely a top notch guy.
"
We were fishing
★★★★★
"
Dave and I went fishing for 3 days. And we were fishing. I didn't want to use live bait. We were fishing. It was wonderful.
"
What an Amazing day of Fishing
★★★★★
"
I just wanted to say thanks to our guide Capt Mark Rose for an awesome day of fishing while out in FL. I took my entire family which included my two daughters 7 and 9. They still cant stop talking about all the fish that they caught that day. Mark was really patient with them and I think between the two of them they caught a total of 32 fish in 4hrs!! I also would like to give a shout out to Capt Joe. He was out there with another family and he allowed us to take over a really awesome fishing spot and moved his group out of the way for us as they had already caught plenty of fish. Guys I cant thank you all enough. This is something my family will cherish for the rest of our lives.
"
Lake Okeechobee History
The Seminole Indian name Okeechobee means "Big Water". An proper name for the largest freshwater lake in the United States, occurring entirely in one state. The Florida Game and Freshwater Fish Commission states, "there is no place that can compare with Lake Okeechobee, not only for lunker bass, history and wildlife, but its size."
The lake is about 37 miles long by 30 miles wide, totaling over 730 square miles with an average depth of only 10 feet. To fishermen nationwide, it's renowned for the number of bass it has per acre. Lake Okeechobee also produces more bass over 7 pounds than any lake in Florida and the United States.
Lake Okeechobee located in central southern Florida, north of the Everglades and south of Orlando. It links the Atlantic and Gulf sides of Florida via the Port Mayaca Lock on the east side of the lake and the Moore Haven Lock on the lake's western side. Drainage canals lower the lake and drain adjacent lands for farming. Agricultural activities around the Lake Okeechobee area include cattle ranching, dairy farming, and crop production of sugarcane, winter vegetables, citrus, sod, sweet corn, and rice.
In 1926 and 1928, hurricane waters destroyed the dikes on the lake's southern edge, which resulted in thousands of deaths. Canals and levees were built and the Lake Okeechobee waterway developed for use as a reservoir. Today, the U.S. Army Corps of Engineers and the South Florida Water Management District direct the waters via dikes, canals, and floodgates to protect against flooding, to prevent navigation of saltwater intrusion, and to give water for agricultural irrigation and drinking water supplies to large urban areas in South Florida. These water management activities have greatly encumbered the water flow from the Big O to the Everglades. Instead of alternating wet and dry seasons, which provided steady sheets of water, the Everglades now receive times of drought or powerful discharges of water.
This body of water sports all types of waterway structures to fish - from open water to narrow canals surrounded by hundreds of different vegetation and grasses.
We have put together directions, including distance in miles, where you can find your easiest route to Lake Okeechobee, Florida, Everglades and Miami Lakes. Click here for directions and ramp locations.
We also have a full photo album and testimonials of the fish caught by our customers.[envira-gallery id="99614"] If you would like to see all of the past 15+ years photos click here!, If you seen enough and are ready for the adventure of a lifetime,
click here to book your Lake Okeechobee Fl bass fishing guide, or get detailed fishing trip information.
Environmental Management & Restoration
Current Conditions & Water Levels SFWMD Current Level - The current average stage level for Lake Okeechobee
Historic Lake Levels - Graph of levels for Lake Okeechobee from 1932-2005
Stage Hydrograph - U.S. Army Corps of Engineers - A graphic view of the Lake Okeechobee stage over time.
Lake & Vicinity - U.S. Army Corps of Engineers - A Complete Water Report for Lake Okeechobee and surrounding areas.
NEW: The South Florida Environmental Report - Formerly known as the Everglades Consolidated Report, this newly expanded, two-volume report now includes information on Lake Okeechobee, the Kissimmee River and Coastal Ecosystems along with aquatic weeds. It also includes six annual reports required under various regulatory mandates: the Fiscal Year 2005 Annual Work Plan Report; 2006 Minimum Flows and Levels Priority List and Schedule; Five-Year Capital Improvements Plan; Water Supply; Florida Forever Work Plan, 2006 Annual Update; and Mitigation Donation Annual Report.
Links to other state,
More great links to information on this location, Okeechobee Fishing Guides.