Instant Confirmation
No Waiting - Get an instant online confirmation that your trip is scheduled!
Angler's Top Choice
Our Captains are NOT available anywhere else, only Top Choice Guides work here!
FREE Cancellation
Canceled due to bad weather or bad health? We'll help reschedule or refund.
USCG Credentials

This captain has successfully passed an enhanced check by US CoastGuard and is Bass Online verified legal
Child Friendly

We look forward to the opportunity to teach children to fish. We carry all of the appropriate safety gear and ensure that our boats are a clean and safe environment for children all ages.
Disability FriendlyProvides Fishing Access for Anglers with Disabilities. Select an area below to book you next trip!
Capt Galen Fugh to Lake Okeechobee for an Everstart tournament serval years ago and finished 4 th and fell in love with Lake Okeechobee. He's family-oriented, loves showing kids and adults how to fish. He has a long list of tournament experiences including BFL and Everstart tournament with top 10 finishes on
Guntersville, Wheeler, and Okeechobee. When not fishing he's a Special Victims Unit Investigator for the Chattanooga Police Dept. Now a Lake Okeechobee bass fishing guide, he is also your goto Crappie fishing guide on Lake Okeechobee.
So, if you are ready for a fun day on the water with great fishing tips thrown in, Capt Galen could be the guy for you. We know he would love the opportunity to share the boat with you all while experiencing a few good laughs. All while learning new fishing strategies and maybe even catch some trophies bass or crappie along the way.
Captain Galen is a Coast Guard licensed Captain with First Aid and CPR credentials required by ALL guides. To book a trip with Capt Galen on Lake Okeechobee fill out the request form!
Species Capt Galen catches
Fishing Chairs
GPS & Fishfinder
Life Jackets
Catch and Release Allowed
Cooler, Ice, Bottled Water
Boat Specs: 21+ ft
Boat Capacity: 3 People
All Fishing Equipment
Boat & Fuel
Photos
Heavy Tackle
Livebait
Fly Fishing
Spinning Rods
Baitcasting Rods
Left & Right Handed
Fly Rods (request only)
Braid & Mono Line
WHAT CUSTOMERS ARE SAYING ABOUT CAPT GALEN
February fishing trip
★★★★★
"
Byron B. highly recommends Lake Okeechobee Charters Experience: 5 stars
"
Knowledge is powerful
★★★★★
"
Great job! It gives people who want to try there hand at fishing good general knowledge of fishing and techniques. I fish the st lawance river and each day is different, h2o temperature, sun,cloudy, full moon,and time of the year.
"
outstanding -love it so much
★★★★★
"
Been fishing with Capt Galen for 2 years and value each trip we get together. Forty to sixty fish days are not uncommon. Its like being with an old friend-one that takes you on your best day fishing you've had all year. Then you go the next day and its even BETTER! Galen represents his trade with integrity and devotion. He shows up to work and is prepared with the knowledge of where the fish are. You can hem and haw about which guide to choose or what price to pay but I'm on the phone with him right now booking my next trip.
"
CLICK HERE TO WRITE CAPT GALEN A REVIEW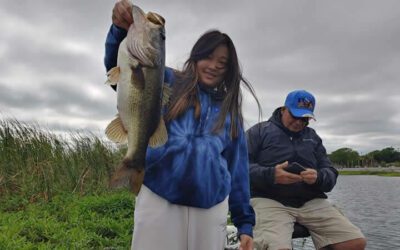 The Best Guided Bass Fishing in Florida Maybe you have done guided bass fishing in Florida, and perhaps you haven't....
read more
What are you waiting for?
Other Nearby Local Experts