Fort Pierce Rating:
Fort Pierce Rating - Read customer reviews, click to read
Complete Guide to Fort Pierce Fishing
Fort Pierce is one of the top fishing destinations globally, located on Florida's east coast in St. Lucie County, about 25 minutes south of Vero Beach. The Fort Pierce inlet is a well-known spot for swimming, surfing, and incredible fishing. Fort Pierce, Florida, offers perfect weather conditions, a historical region, different thriving fish species, and comfortable fishing grounds. 
Nicknamed the "Sunrise City," Fort Pierce is known as one of the best places on Florida's east coast to fish. This place has a healthy ecosystem and thousands of natural and artificial reefs nearshore for incredible bottom fishing, action-packed inshore fishing, and famous trophy bass fishing nearby. This beachside locale offers up unbeatable weather, a redeveloped historic downtown, and a perfect mix of fishing grounds.
The St Lucie area provides easy access to the Atlantic shorelines and its famous offshore waters.
In Fort Pierce, you find the prolific Indian River Lagoon full of popular fish including snook, tarpon, and redfish. This waterbody is widely known for its serenity, and splendid mangrove-lined shores, and it is home to numerous types of fish. Fort Pierce fishing offers fishermen of all skill levels a chance to experience a real Florida outdoor adventure.
At Fort Pierce, fishing and adventure go hand in hand, and it is one of the prominent Floridian fishery regions in the world. Popular fish species, including sea trout, snook, sailfish, grouper, snapper, dolphin or mahi-mahi, tarpon, redfish, and amberjack, all call Fort Pierce home. Fort Pierce, Florida beaches and lakes are full of fish all year.
Freshwater Fishing
Anglers can experience memorable Fort Pierce Fishing Trips all year round on various great lakes located nearby. The state of Florida is the perfect place to enjoy a fishing trip of a lifetime catching famous trophy bass. Two legendary Florida Bass Fishing lakes close to Vero Beach are Stick Marsh and Lake Garcia, which provide visitors with unforgettable outdoor bass fishing adventures. These lakes provide about 10,000 acres of top-notch largemouth fishing.
Lake Istokpoga is one of the biggest trophy bass fishing lakes in the state. It is a beautiful fishery that is a designated area for fish management and wildlife conservation. Lake Kissimmee is also another beautiful, productive lake with endless wildlife and quality largemouth bass fishing. Just a short drive from Fort Pierce you can experience one of the most legendary bass lakes in Florida, Lake Okeechobee.
On a fishing trip with an experienced local captain, anglers experience the action of endless numbers of trophy largemouth bass. Okeechobee City, the north end of famous Lake Okeechobee, is only 45 minutes from Fort Pierce.
Best Spots to Fish in Fort Pierce

Instant Confirmation

  Angler's Top Choice

FREE Cancellation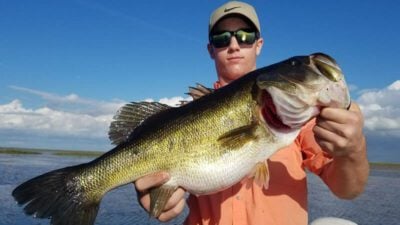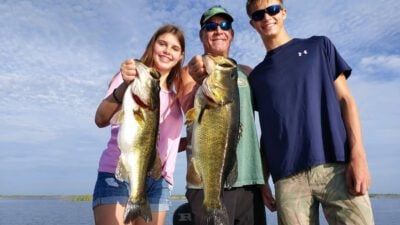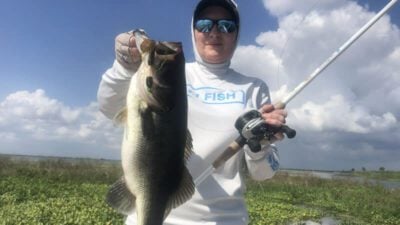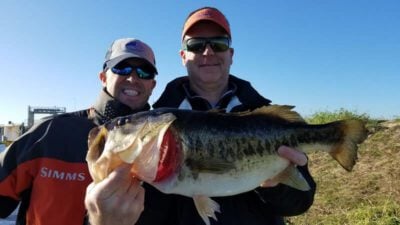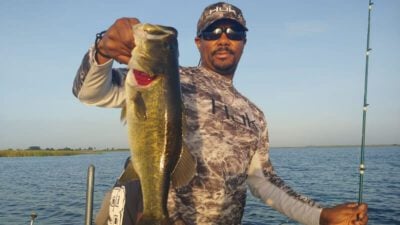 Saltwater Fishing
Inshore Fishing
Fort Pierce offers some of the best inlet fishing in the state. The Atlantic coast of Florida is considered the Gulf Streamside, also known as Fort Pierce Harbor, connecting to the Intracoastal and continuing up and down the entire state. The Fort Pierce Inlet is almost always full of fish throughout the year and the grass flats, tidal creeks, docks, and bridges.
One of the most productive coastal fisheries to experience is the Indian River lagoon system. Fishing charters here include light tackle casting and live bait fishing for popular Florida sport fish.
Tarpon, Snook, Redfish, Mangrove Snapper, and Jack Crevalle are among the most popular and abundant in the Indian River Lagoon and coastal waters. Hungry schools of bluefish and Spanish mackerel show up as the weather cools down. The inlets to the north and the cuts to the south in Fort Pierce provide numerous incredible fishing opportunities for anglers.
Saltwater fishing charters allow you to explore the scenic coastal water areas. Your fishing guide will show you the beautiful islands and aquatic wildlife that inhabit this place.
Deep-sea Fishing
Deep-Sea fishing charters usually involve the open ocean, far from shore. An experienced fishing guide will carefully evaluate nautical charts and weather conditions to ensure a safe trip.  The Gulf Stream curves towards the coastline near St. Lucie, meaning that anglers can reach the best deep-sea fishing destination in the state within only 10 miles of the shore.
This stream is one of the best spots in Florida to catch the acrobatic sailfish, where kite fishing for sailfish is a popular method among Fort Pierce offshore anglers.
During an offshore fishing charter, anglers can troll for sailfish and mahi-mahi or bottom fish for popular species such as grouper and snapper. A full-day deep-sea fishing trip provides anglers with the best opportunity at catching the big sportfish such as mahi-mahi, wahoo, sailfish, King fish, swordfish, and Cobia.
This area has tons of adequate structures and reefs close to the shoreline. Bottom fishing and trolling will produce numerous good catches of reef fish such as snapper, grouper, Kingfish, Barracuda, Amberjacks, and Sharks. While going further offshore on deep-sea fishing, charter anglers can catch more Blackfin Tuna, Mahi Mahi, Yellowfin, Wahoo, Sailfish, and Blue Marlin.
Fishermen can catch giant swordfish in this area, but this usually requires traveling much further into deeper waters.
Top Saltwater Species In Fort Pierce, Florida
Snook
The snook fish is quite popular in Fort Pierce, Florida. It is the aggressive hard-fighting fish you find along the Treasure Coast. Its firm nature allows it to adapt and survive in a variety of waterways. You can also find the snook fish in the Indian River Lagoon. They are fond of cruising around the mangroves, and you will always find them lurking around grass flats and mangrove trees.
These species are voracious eaters, and they are especially fond of dead baits. Some of their favorites include herring, sardines as well as minnows. Be sure to bring a very sturdy fishing line with you. Your bait will also be dropped around 15-20 feet deep, and you might battle with the current.
Sea Trout
The spotted seatrout, also known as spectacled trout, is considered a light-tackle game fish in Fort Pierce, Florida. Sea trout are not trout and are in the same family as redfish, black drum, and croaker. Fishing for sea trout is common in the flats of the Indian River Lagoon during the summer months. The spectacled trouts eat various baitfish, but their favorites are soft lures and live shrimps for best results.
Sailfish
Sailfish are popular around Gulf Stream curves near St. Lucie. They are long and have beak-like mouth. Kite fishing these species at the offshore waters of Fort Pierce is an exciting way to catch them. Kites make it easier for you to spread your bait across a broader range, and likely getting a good catch.
Snapper and Grouper
These species are easily found in the nearshore waters of Fort Pierce. The Red snappers are the most popular species you will find near St Lucie. They not only grow to impressive sizes, but they are also delicious. Wherever you see Snappers, Groupers are usually not far away. You will also find many Scamps, Red, and Gag groupers close to an area holding tons of snapper.
An effective method to catch snapper and grouper is with live bait like octopuses, squids, and sardines.
Top Targeted Fish Species
Fishing Charters
Fort Pierce, Florida, offers some of the best fishing opportunities on the Treasure Coast. Between the incredible bass fishing, inshore fishing on the Indian River, and offshore fishing in the Atlantic, Fort Pierce would be considered a paradise to fishermen. Fishing charters are the best way for avid anglers and fishermen to experience this incredible area with productive fishing and scenic views.
Fishing charters are essentially outside classrooms for anglers of every level to improve their fishing skills with a local captain. Guided fishing with a local charter captain will direct you to the best fishing spots, provide you with top-notch fishing gear, and render pieces of fishing advice. Going charter fishing in Fort Pierce will also allow you to explore the coastal water areas.
One of the lovely places to visit is the Indian River lagoon system. Your captain always knows which fish are biting where.
Local Fort Pierce Captains & Guides
If you want to catch fish call!
★★★★★
"
My father and I had a great time. Captain Mark is a great fishing guide who will do his best to put you on the fish. He is a local of Stick Marsh who knows the waters and all the great spots. Not only will you catch a lot of fish but Captain will make sure you enjoy your time on the water. If you are looking to catch fish and have a great time call today, the best in the area.
"
CLICK TO WRITE A FORT PIERCE REVIEW
Best Fishing Spots In Fort Pierce
Fort Pierce Inlet Jetties
The inlet jetties at Fort Pierce are the places you need to go if you are looking to catch a big fish without a boat. Fishes like snooks, tarpons, mackerels, and even some shark species can be found there. If you get hungry, there are also various places around you that you could go to grab a meal.
Bear Point Sanctuary Fishing Pier
It's an excellent spot to visit if you want to encounter fishes like the snappers and mackerels. It is pretty large and extends to about 100 feet into the Atlantic. You can also find departure points for kayakers there, so it also offers a fantastic fishing adventure.
Fort Pierce Inlet State Park
This spot is located precisely at the Fort Pierce Inlet. It is a prominent place where you can catch giant trouts, red fishes, flounders, and other exciting species. You can fish in a canoe or a kayak because it features a launch also. Fishing from land is also very possible at this location.
Fort Pierce City Marina
If you are looking to go for a nearshore adventure, this is the exact place to be. It features a lot of fishing charters, and it's a straight journey to the hotspots. You wouldn't need to navigate.
D.J. Wilcox Riverside Preserve Fishing Pier
If you are looking for a location that quickly gives direct access to the Indian waters, the D.J Wilcox riverside is where you should go. You can fish with a kayak in this location, and it also has wildlife and fantastic scenery.
Other Fishing Methods
Kayak fishing: As much as you can explore the Fort Pierce water bodies from a boat, you can try another alternative if you are an angler with some experience. There's nothing more fun-filling than paddling your way through a fish-filled water body and enjoying some fantastic sceneries.
The area is littered with fishing piers and parks. Visitors can easily rent fishing gear and fish from specified locations.  This Florida destination is full of fishing piers near its beaches for a top-notch angling experience.
Area Things To Do
St. Lucie County is full of beautiful tropical beaches and a historic downtown perfect for water sports, world-class fishing, golf, and shopping. Visitors can enjoy snorkeling and diving the reefs just offshore of Peper Beach Park or the Fort Pierce Inlet State Park or rent a jetski or moto boat to cruise the Atlantic beaches.
This city is home to 10 craft breweries, a winery, and a cidery. St. Lucie is one of the only places in Florida visitors can horseback ride on the beach. The area of St. Lucie has botanical gardens, many trails and hiking spots, and various boat tours available to explore.
Current Fort Pierce Fishing Reports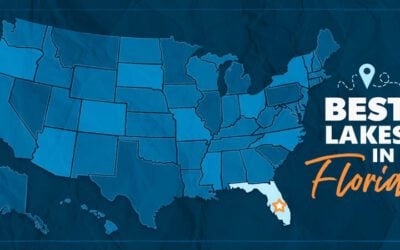 Ranked #1 Best Lakes in Florida BASSMASTER >> Rodman Reservoirs' reputation as one of the best lakes in Florida stood out in the...
read more
Questions? Feel free to call us, Email us or use the chat us to speak to one of our specialists.
Questions? Feel free to call us, Email us or use the chat us to speak to one of our specialists.
Questions? Feel free to call us, Email us or use the chat us to speak to one of our specialists.
What are you waiting for?
We also have great deals available in the following cities that match your search criteria.