Shoreline Fishing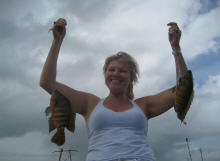 Our shoreline fishing specializes in freshwater largemouth bass, bluegill, black crappie, and shellcracker, but also have fishing holes with snook and tarpon available. Part of the shoreline fishing experience is going to different lakes to try your luck. These trips provide anglers with locations to fish plastic baits and/or shiners for bass and other species.
Rattling crank baits, soft jerk baits and Texas or Carolina-rigged plastic worms fished in open-water or along edges of vegetation are productive during a lot of our ventures. Fly fishermen have good success shoreline fishing along the edges on the hidden lakes, which some are rich with wildlife and others species that are very urban related.
Shoreline Fishing in Florida
Florida is world-famous for its catches of big large-mouth bass, yet the fishing pressure is fairly light due to the expanse of locations. It is entirely possible for a bass to live to a ripe old age without many encounters with anglers since there are places that are impossible to reach by and conventional boat.
With canals and lakes being located everywhere in Florida, it's great to consider shoreline fishing with our guide service, you will enjoy all of Florida freshwater fishing at its best. We are a complete Florida fishing guide service, located near you, we supply all of the equipment but welcome you to bring your own.
Our licensed guides offer expert local knowledge, fully equipped with equipment, and exceptional service. Sometimes it may be your favorite lake in your back yard, while other times we are exploring the many lakes and rivers in the surrounding area.
We cannot stress how wonderful these trips are, great for all ages, and completely built around your schedule and desires. Whether it be time restraints and or technique related we can work with you. Maybe it's teaching the little guy to fish and how to tie knots, maybe it's a day out with the whole family.
Let Bass Online help search for the Best Fishing Spots Near Me. Try a Shoreline charter on your next fishing trip, which will help you to make your next fishing vacation a memorable one! To find out more about our guide service, please browse our web site. We also offer Florida bass fishing reports. There are bass photos as well as pictures of other great catches that were made throughout Florida.