Clearwater Rating:
Clearwater Rating - Read customer reviews, click to read
Complete Guide to Fishing in Clearwater Fl
Clearwater is a tropical Florida city in the Tampa Bay area, United States. Clearwater is a prime example of why Florida's west coast is a top destination among anglers worldwide. Clearwater Beach is a 3 mile stretch on a barrier island with white sand, hotels, and restaurants. The city of Clearwater has an endless mix of productive fishing areas for both freshwater and saltwater, making it one of the best destinations to experience a Florida fishing charter.
Visitors can hop on a saltwater charter boat nearshore for tasty reef fish such as red snapper, Grouper, and sea bass. You can experience the open ocean in the Gulf on a deep-sea fishing charter for large pelagics. Or experience catching a Florida largemouth bass on freshwater fishing charters.
Freshwater Fishing Charters
Florida is known as the world's bass fishing capital, and Clearwater doesn't fall short of this reputation. Largemouths of all sizes are found on the west coast, including some Florida trophies. The local bass hot spots are all located within 20-90 minutes from Clearwater beach. A popular bass lake and closest to Clearwater is Lake Tarpon. The other top bass fishing lakes for a fishing charter a slightly further drive from Clearwater, Florida, are Winter Haven Chain, Lake Toho, and Lake Okeechobee.
A bass fishing charter is an excellent choice for the whole family, from avid anglers to novices. All gear and tackle are included with every fishing charter; anglers over the age of 16 only need to get a Florida freshwater fishing license before the trip. Bass fishing in Clearwater is excellent throughout the year, but the peak season for trophy bass starts in December and continues through June during the spawning season.
Popular Nearby Clearwater Fishing Locations

Instant Confirmation

  Angler's Top Choice

FREE Cancellation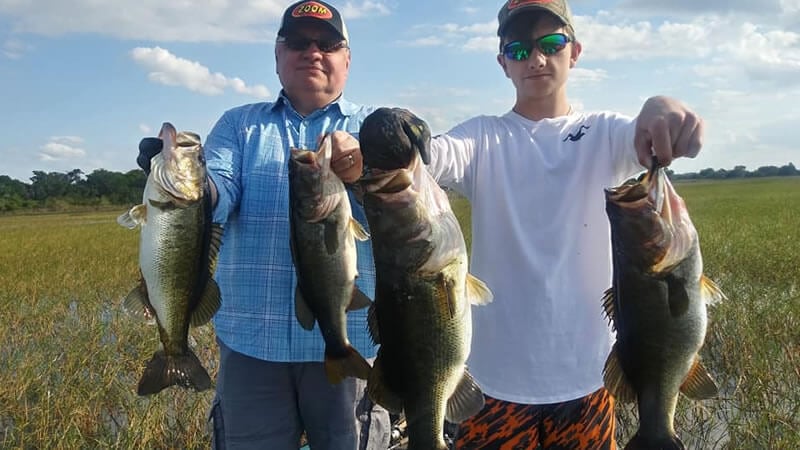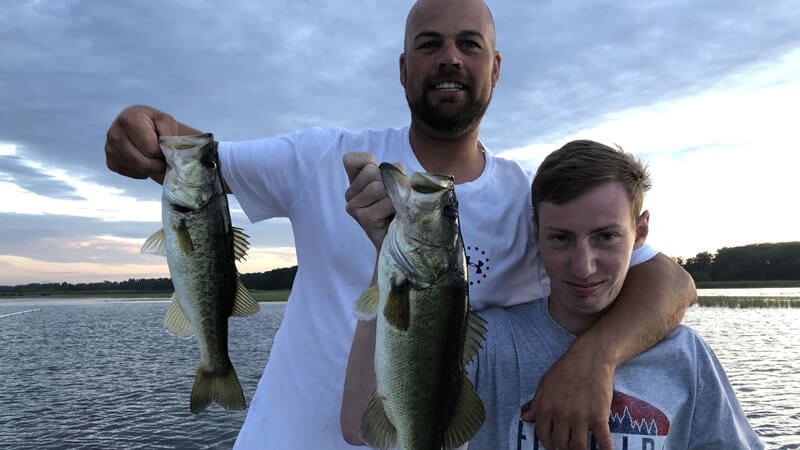 Fishing in Clearwater Reviews
CLICK HERE TO WRITE A REVIEW
Saltwater Fishing Fishing Charters
While in Clearwater Beach, FL, anglers have endless options when it comes to fishing charters. Between Tampa Bay and the Gulf Coast, you'll have the shallow waters, the remote reefs, and the open ocean available to explore. Clearwater, Fl is home to dozens of different fish species; however, most anglers are targeting just a select handful of the most popular hard-fighting sport fish and tasty reef fish. Clearwater, Florida, is known as the saltwater fishing headquarters, with Tampa to the east, Pal Harbor to the north, and St Petersburg to the south. Clearwater offers every type of saltwater fishing experience imaginable, including private fishing charters for inshore, nearshore, reef, and wreck, offshore, and deep-sea party boats.
Inshore Fishing Charters
The most popular coastal gamefish species to target while on an inshore fishing trip in Clearwater, Fl, are Snook and Tarpon. Both species are active throughout the year but the best time to fish for both snook and tarpon is in the middle of summer. Other popular fish species caught on board inshore fishing charters in Clearwater are Redfish, Black Drum, Jack Crevalle, Sheepshead, Mangrove Snapper, and Spotted Sea Trout. Inshore fishing is always a fun, scenic experience between the incredible fishing action, views, and wildlife such as dolphins.
Deep-sea Fishing Charters
Clearwater, Fl, offers a wide variety of deep-sea fishing opportunities throughout the year with its vast migrating species. This part of Florida is home to all the most popular deep-sea fish such as Sailfish, Blue Marlin, Wahoo, and Tuna, but it's most known for being the Grouper capital of the world. Snapper, Sea bass, and Grouper are typically biting throughout the year. In the Spring, Summer, and Fall, the Gulf waters are full of Kingfish, Sharks, Spanish Mackerel, Tuna, Barracuda, Mahi Mahi, bonito, Wahoo, Sailfish, and more. Most offshore charters will travel anywhere between 25 to 100 miles offshore for big pelagic fish, but there is also the option for deep sea reef fishing charters when on a shorter trip. Reef fishing trips involve bottom fishing for tasty fish such as Red snapper, Grouper, and Sea bass.
Saltwater Spots In Clearwater
Shore and Pier Spots
Pier 60
A 1,000-foot fishing pier stretching into the Gulf of Mexico. Some of the fish caught here include snook, Spanish Mackerel, Sheepshead, Trout, Tarpon, and Redfish. It costs $8 to fish all day with your gear and $20 to have bait and rods included.
Philippe Park
Philippe Park is a scenic area with a beach and a small jetty. This park is also a great spot to launch a kayak into Safety Harbor. This relaxing area has an Old Florida vibe and holds lots of medium-sized trout and redfish.
Sand Key Park
Sand Key is a family-friendly park with excellent surf fishing and small jetties and rocks facing Clearwater pass. Anglers here can catch a wide variety of inshore fish, including Drum, Sheepshead, Ladyfish, and Jack Crevalles.
Top Targeted Fish Species
Deep-Sea Spots
Middle Grounds
Middle Grounds is an area that provides a fishing experience like no other. The Middle grounds are about 100 miles offshore and are known for having some of the best deep-sea fishing in the Gulf of Mexico. Popular deep-sea fish caught here include Gag Grouper, Scamp Grouper, Amberjack, Snapper, Vermillion Snapper, Mahi Mahi, Tuna, and Wahoo.
Rube Allyn Reef
Rube Allyn is a huge artificial reef located 11 miles off the coast of Clearwater Beach, known for its big Smoker King bite every year in the spring and fall. Other fish caught here include Grunt, Barracuda, Red Snapper, Amberjack, and Goliath Grouper.
Local Clearwater Bass Fishing Guides
Meet the team of local Clearwater fishing guides, we know the best spots, baits, and techniques to give you the greatest fishing experience in the Clearwater area.
Current Local Clearwater Fishing Reports
March Lake Tarpon Fishing https://youtu.be/6MSTs1hC23w Lake Tarpon, a fishing destination tucked away in West Florida just north of Tampa, FL. While traveling to the west...
read more
Things To Do
Clearwater Beach
Clearwater Beach is a top destination for people visiting the Gulf Coast of Florida. Located within 25 miles of St Petersburg and Tampa, Clearwater Beach is a 2.5-mile beach away from the metropolitan vibe. The beach is an excellent way to spend time with friends and family while reconnecting with nature. There are also numerous kid-friendly attractions on Clearwater Beach, including the educational aquarium.
The Clearwater Aquarium
The Clearwater Marine Aquarium is a popular thing to do while in town. Its a nonprofit organization known for rehabilitating dolphins and sea turtles. The Aquarium is dedicated to marine life conservation and provides interactive programs and delightful exhibits.
Cleveland Street District
For people who want a more urban adventure while visiting Clearwater, Florida, Cleaveland Street District is located to the east and known for incredible dining options and shopping. The district has restaurants of every genre, gelato, pubs, bistros, and numerous shops.
Questions? Feel free to call us, Email us or use the chat us to speak to one of our specialists.
Questions? Feel free to call us, Email us or use the chat us to speak to one of our specialists.
Questions? Feel free to call us, Email us or use the chat us to speak to one of our specialists.
What are you waiting for?
We also have great deals available in the following cities that match your search criteria.