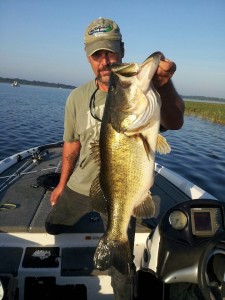 Lake Manatee Fishing
Lake Manatee offers excellent fishing. Various species are frequently caught, such as largemouth and sunshine bass, speckled perch, bluegill, shell cracker, and catfish. This is an excellent spot for anglers to enjoy quality freshwater fishing from boats or the park's fishing docks.
A Florida freshwater fishing license may be required. 
Lake Manatee has a reputation for having some tough fishing. Some anglers fish the lake for the first time and never return because they catch few fish and can't figure the pattern. Florida anglers are shoreline anglers, or better known a bank pounders. That doesn't mean they fish from the land; it means most cast toward the shoreline vegetation. That's an excellent strategy in most Florida lakes, and it works in Lake Manatee – if you know what you're doing.
Fishing Tips
Slow It Down
You pass DeSoto Memorial Speedway, home of the Snowbird Nationals, on your way to Lake Manatee. The drag strip, located in Manatee County near Bradenton, Florida, is home to adrenaline and high speed. But when you get to Lake Manatee, it's time to slow down. The slower you fish, the better you'll do on Lake Manatee. The key to success on Lake Manatee and many of Florida's freshwater lakes and streams is to slow things down, especially in the summer months.
And when you think you're fishing slow, then you need to slow it down some more. 
If there's a pocket in the vegetation, we might make a dozen casts before moving past it. We hit every opening along the way; it's just that kind of lake. We find when you fish slow, you fish thoroughly. You don't miss any spots. You cover your area completely; that's the wonderful thing about fishing slow. 
Bank pounding
You can fish some of the shorelines at Lake Manatee, but not all. The reason is that hyacinths float to the shoreline and pile up. Cast to the edge of them, and there could be nothing but empty water underneath. The actual shoreline might be 10 or 15 feet in the back of the hyacinth jam. So, when fishing the lake, try to find areas void of hyacinth jams. When you see a tree on the shore or a fallen tree, this is where you should usually concentrate. We often make a dozen or more casts in such an area, again working slow.
When you find fish, don't leave them. Instead, fish the area until the action stops.
Bluegill Fishing
A great spot in Lake Manatee is a point just beyond the first island in the lake. You can catch hand-sized bluegill on your first cast. If you're a fly fishing angler, we use a No. 10 chartreuses popping bug on a 4-weight rod in some conditions—a 7 ½-foot leader with a 7X tippet. When concentrated on this area, you usually won't have to move more than 50 feet. The result will be worth it, ¾ of a pound to pound bluegill.
Lake Manatee can be fished with a powerboat. It would help if you weren't on the trolling motor continuously, but more of a drift. If you don't hit your target on your first cast, then hit it over and over again. If you can't, then you're fishing to fast.
LAKE MANATEE STATE PARK
Lake Manatee State Park extends along three miles of the south shore of Lake Manatee, which serves as a water reservoir for Manatee and Sarasota counties. The rest of the park is primarily pine Flatwoods and sand pine scrub with depression marshes and hardwood forests. A boat ramp provides easy access to the lake; boat motors must be less than 20 horsepower. Canoeing and kayaking are prevalent activities, along with excellent freshwater fishing.
Lake Manatee State Park is only 15 miles east of Bradenton, Florida, on State Road 64.
Wildlife
The natural beauty of the quaint Lake Manatee State Park brings in several different species of wildlife. Some of the viewings have been bobcat, deer, quail, and gopher tortoises. Despite its name, visitors will not see any manatees at the park because a dam blocks manatees from accessing the lake.
Lake Manatee State Park Camping
A 60-site campsite is available at Lake Manatee State Park, conveniently located to all the fun stuff to do in the area. Electric and water are available on every site, and a dump station is located near the campground entrance. Campers can enjoy full-facility camping, just a short walk from the lake. In addition, the south shore campsites at Lake Manatee State Park are within walking distance to the best swimming and fishing areas.
Lake Manatee State Park Things To Do
There is a public swimming beach located in the day-use area of Lake Manatee State Park or to relax and soak up the tropical Florida sun. Swimming is permitted in this designated area of Lake Manatee; a facility with showers is located nearby. In addition, a large picnic area is nestled in a sand pine scrub area near the lake. Visitors may reserve a picnic pavilion for a fee.
Top Targeted Fish Species
Sad Day
★★☆☆☆
"
The state park is enforcing 20 hp motor max on this lake. At one time you could fish this lake with trolling motor now the park will ticket you for that. Only decent lake on west coast in the area, good going state of Florida you ruined another opportunity for people to get outdoors!
"
High Action Fishing
★★★★★
"
Visiting family in Tampa and had to get away for a day to go bass fishing on Lake Manatee.Capt Bill was a great guide and got me on my personal best just over 6 pounds. Highly recommend fishing in Florida with bassonline
"
CLICK HERE TO WRITE A LAKE REVIEW