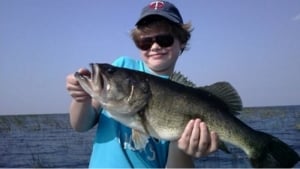 In Central Florida, there's a lake called Lake Weohyakapka, commonly known as Lake Walk in Water. This lake spans 7,528-acres, south of Tiger Lake and west of Lake Kissimmee, 10 miles east of Lake Wales off Walk-in-the-Water Road in Polk County. The predominant vegetation is cattail, bulrush (buggy whips), Kissimmee grass, and hydrilla. Tiger Creek flows into the lake from the southwest and Weohyakapka Creek flows from the lake's north end.
The maximum depth is nearly 12 feet. Nationally known for trophy largemouth bass fishing, Lake Walk-in-Water provides large numbers and trophy size bass fishing. Drifting live shiners around offshore ledges is the most consistent technique. But many largemouth bass are caught on artificial lures as well, it's a remarkably successful topwater lure lake. There is a county boat ramp on the west shore of the lake, at the end of Boat Landing Road; see the map below.
Hidden Secret to Many
Don't be surprised if you have not heard of this lake. Polk County's largest water body, you will start hearing more about Lake Weohyakapka (Lake Walk-In-Water), it's one of their "best-kept fishing secrets". While conversation amongst anglers frequently centers on lakes like Okeechobee, Kissimmee, Toho, and the Everglades, Lake Walk-In-Water has quietly and consistently churned out magnificent catches of largemouth bass.
On a clear day, when the surface is smooth, a person can see the lake's bottom structure, even without polarized sunglasses. Spring fed, Lake Walk-In-Water receives few pollutants from urbanized or agricultural runoffs because of a scarcity of housing developments and an absence of husbandry operations along its shores. Vegetation consists of 15 to 20 percent emergent with submerged hydrilla of Aquatic Plant Management, plus numerous stands of beneficial bulrush, shrimp grass, and eelgrass.
The Fishing Cycle
Feeding into the Kissimmee chain via Weohyakapka Creek and Lake Rosalie, Walk-In-Water's primary feeder stream is Tiger Creek, located at the lake's southeast corner. Flippers relish the dense, offshore, isolated reed patches. Simultaneously, those offshore working beds near the lake's center often enjoy spectacular success with buzz baits, topwater plugs, spinnerbaits, lipped diving lures, and eight to ten-inch plastic worms, rigged Texas or Carolina style.
Lake Walk-in-the-Water uses to be about 70 to 80 percent covered with hydrilla, and there have been rumors that the State is not going to spray. Well, they did not have to; the hurricanes took care of that for us. The guide's talk is that the hydrilla will come back over time, which is the best way for it to happen naturally. The lake has produced good numbers of fish for years now. The fishing pressure on Walk in Water is still low compared to its other Central Florida lakes but will continue to pick up as the fishing continues to get more popular.
We continue to guide this lake and enjoy good catches of fish in a consistent timely manner. As always, the best bait on Lake Walk-in-the-Water is the wild shiner. When using topwater, we like to use the Devil's Horse and the Chug Bug, both baits in Black/Chrome on this lake.
Local Lake Weohyakapka Tips
If fishing on your own, here are a few of our favorite spots. Never pass the buggy whip islands, not cattails. They sit in between the cattail weed lines in most places on the lake. Check for the deepest water around the buggy whips, locate anywhere from 4-6 ft on the outside edge are good locations. Pre-spawn and spawning time is the best time to check these locations. Try worms, trick worms, or lizards on the outer edge; we prefer 1/8-1/4 ounce weight. A rattletrap is an excellent way to cover water along the outside if you prefer something faster.
Also, check the Kissimmee grass and docks, great places for resident fish. Especially the boat docks, look for 3-4 ft of water. A great place to flip or pitch if you like, we favor 1/4-3/8 ounce with a jig, worm, or craw. The open water is best for schooling fish; this could happen at any time in this lake. Typical open water fishing, use rattletrap, super fluke, and crankbaits. If no schoolers are present, try Carolina rig fishing on the ledges.
Good Luck and good fishing; if you need a fishing guide, give us a call! Additional information can be found here!
Searching Availability...
This Lake Is Like An Old Friend
★★★★★
"
Growing up in Mulberry some of my fondest memories are when our family would go and camp about once a month for a long weekend and fish and hunt and just enjoy everything this place had to offer. It was a much different place in the late 60's. The roads were dirt and during the summer my dads Dodge Dart would get stuck often!! Great times and lake!
"
Lake Walk In Water
★★★★★
"
The lake use to be one of the best crappie lakes I ever fished. Haven't been there for three years. Wonder how it is now. Overall a great place to fish.
"
CLICK HERE TO WRITE A LAKE REVIEW
Current Central Florida Fishing Reports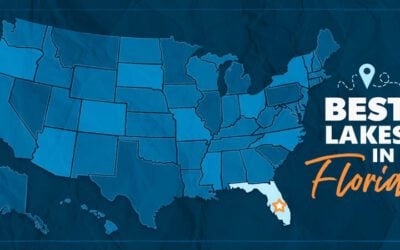 Ranked #1 Best Lakes in Florida BASSMASTER >> Rodman Reservoirs' reputation as one of the best lakes in Florida stood out in the nation by received another boost on Monday when Bassmaster Magazine released its rankings for the best lakes in Florida....but we...
read more