Winter Lake Tarpon Fishing
Central Florida is an abundance of exceptional fisheries to explore from east to west. Some of the BEST bass fisheries to explore are the ones that are tucked away and hidden from all the rest. A beautiful fishery located in west Florida just north of the city of Tampa has been on fire for largemouth bass. Winter Lake Tarpon Fishing has really been a productive way to get outdoors and catch some big bass.
One of the most essential components of this fishery is a local expert. The knowledge that they bring to your trip will help you have a fantastic time on the water. Captain Bill Goudy Jr is an exceptional guide to show you around west Florida, especially on Lake Tarpon. Family-friendly and patient with young kids, you can have a great time fishing with on several lakes here in Central and West Florida.
Check out this Bass Fishing update for Lake Tarpon to give you insight on what you can experience in Florida:
First Trip with Captain Bill
"Cold fronts are inevitable during this time in Central Florida. Fortunately, spending days on the water helps figuring out the pattern during all conditions. Utilizing slow working artificial baits and live bait is an effective method of putting fish in the boat.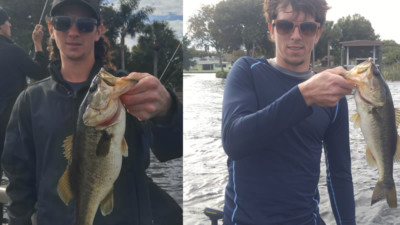 I had the pleasure of fishing with Jake and his good friends. They were traveling from Indiana on vacation searching for some warmer weather. Unfortunately, they brought down some cooler weather with them. Windy and cloudy conditions did not make for the best fishing conditions, but I made it happen.
During times like this, the largemouth bass finds a structure that will keep them warm. Generally, thick vegetation will retain heat to help them stay warm. Also, docks are a great place to retain heat. On this fishing trip, a mix of grass and docks helped put bass in the boat.
Jake and his good friends had a blast catching largemouth bass all trip long. They caught over 10 fish with the biggest weighing close to 3 pounds. Most of the fish were caught on live bait with a mix of artificial baits in between.
I am looking forward to showing Jake and his friends another amazing fishing trip in the near future!" – Captain Bill Goudy Jr
Second Trip with Captain Bill shortly after first: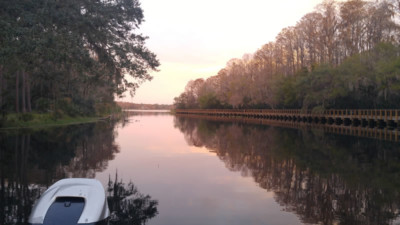 "Florida has been experiencing some winter weather on select days. The fishing though is still productive and can be enjoyed. I had the pleasure of fishing with Mike and Brian. They were traveling from Illinois looking to cash in on some freshwater fishing while visiting the west coast of Florida.
Lake Tarpon is an exceptional destination to catch big bass while visiting Tampa, FL. Within minutes, you can be catching some beautiful fish. Mike and Brian hooked into some quality largemouth bass. Live bait was yet again the most productive bait to reel this nice fish in.
The biggest fish of the day was a 5-pound largemouth bass. They also caught several 3-4 pound bass as well. Every trip can yield to you the fishing that you are after. You just never know what will happen on a Florida bass fishing trip.
Cloudy and breezy conditions with cool temperatures did not get the bass fired up, but it did make Mike and Brian excited to get back out on the water soon. Once the weather is warm, they want to come back to catch more bass.
I am looking forward to our next adventure!"
Lake Tarpon is a strong fishery during these winter months. If you are traveling to Tampa or the surrounding cities, be sure to look into a bass fishing adventure. Beautiful scenery, wildlife, and big bass are what you can expect on your fishing trip. Captain Bill will provide you insight and knowledge that you can then transfer to your home waters.
Now is the time to come adventure out on Lake Tarpon or even the numbers of additional fisheries in Central Florida. All across the state, big bass is being caught. This quiet fishery has become one of the best bass fishing lakes in west Florida.
We hope to get the chance to show you why we love this fishery! See you on the water next time!!
Don't forget to follow us on Facebook, YouTube, Twitter and Instagram.