Edward Medard Reservoir
Formerly known as Pleasant Grove Reservoir, this 770-acre reclaimed phosphate mine within Edward Medard Reservoir Park is located in Hillsborough County. Approximately six miles east of Brandon, one mile south of State Route 60 on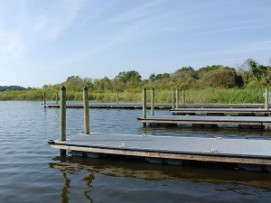 Turkey Creek Road. The park, maintained by the Hillsborough County Parks and Recreation Department located just east of Tampa Bay. Has facilities for fishing, boating, canoe rental, picnicking, camping, hiking, and swimming.
The reservoir was impounded in 1970 and is very popular, with approximately one-quarter million visitors annually. Medard Reservoir is a fertile and productive impoundment with an extensive, irregular shoreline. The bottom contours of the lake are very irregular as well, with an average depth of nine feet and a maximum depth of 33 feet.
Edward Medard Reservoir Fishing
Edward Medard Reservoir is lined with Kissimmee grass, bulrush (buggy whips), and cattail are the predominant vegetation. Sunshine bass (striper hybrids) are stocked on a regular basis and channel catfish are very abundant. The many ledges and bars (flats) within the main body of the reservoir are productive for all species. But key in on the shoreline grass for largemouth bass in winter and spring. Due to the convoluted nature of the reservoir. There is a no-wake restriction (idle speed only) on boats for safety purposes.
After mining phosphate in the 1960s, the American Cyanamid Company donated the majority of this property to the District in 1969. In 1970, a dike and a control structure were built to create the 700-acre reservoir, which offers some flood protection along the Alafia River. In 1972, under agreement with the District, Hillsborough County developed this site as one of its largest regional parks. Originally known as the Pleasant Grove Reservoir Park, the property was renamed the Edward Medard Reservoir and Park in 1977 to honor a District Governing Board member.
Edward Medard Reservoir and Park is a popular recreation area, hosting 500,000 visitors annually, with the 700-acre reservoir being the main attraction. A boardwalk fishing pier leads to an observation tower across the reservoir.
Recreational Opportunities
Bicycling and Inline Skating
Paved park road.
Florida law requires bicyclists under 16 to wear helmets.
Boating and Paddling
Boating fee.
Multilane boat ramp and docks.
The reservoir is an idle speed, no-wake area to protect public safety and prevent erosion.
Camping
Primitive camping available.
Fee for camping. No reservations.
40 campsites – RV, tent, and group sites.
All campsites are full service – table, water, electricity, and fire ring.
Restrooms, showers, and an RV dump station available.
Equestrian Use
One-way, 3.25-mile bridle path.
Water available in equestrian staging/parking area.
Horses may be trailed in or rented at a stable adjacent to the northwest corner of the property.
Riders are required to stay on marked trails.
Each rider must carry proof of the horse's current negative Coggins test.
Florida law requires equestrians under 16 to wear helmets.
Fishing
Available by boat, along the banks of Edward Medard Reservoir, and on 730-foot pier/boardwalk, which is ADA accessible.
Contact the Florida Fish and Wildlife Conservation Commission for license requirements. Special park policies may also apply.
Permits for after-hours fishing available from the park office.