Lake Rating:
Lake Rating - Read customer reviews of lake, click to read
About
Kenansville Lake is a 2500-acre shallow impoundment located in East Central Florida. Before flooding in 1993, the area was cattle pasture. The lake earned the nickname "Jurassic Park" because of its big bass and the large quantity of fish. Water depths in Kenansville Lake range from 3 to 5 feet, averaging closer to 3.
The town of Kenansville, located in the Indian River County, is the closest area to the lake for food, gas, and bait. Kenansville is in the center of a group of lakes called Farm 13 and Blue Cypress Lake. Kenansville Lake is a sister to Farm 13; the two are located only two miles from each other. Farm 13 consists of Blue Cypress Lake in the SW corner and Kenansville Lake in the NW corner; none of the fisheries connect.
Interior levees are at the north, center, and south parts of the lake. A single lane concrete boat ramp is the only facility provided on the site. Bank fishing is common along the access canal and north end of the lake for those willing to walk or ride a bicycle to those areas. A unique no harvest regulation protects all largemouth bass.
The area of Kenansville, Florida, provides a rural Old Florida vibe. Aside from bass fishing for trophies, there are many activities to partake in for the whole family not far from the lake. Most places in the area involve a tour close to nature and experiencing Florida wildlife.
Fishing Kenansville Lake Fl
Searching Availability...
The lake is known for incredible largemouth bass, redear sunfish, crappie, and bluegill fishing. Anglers on a Kenansville fishing charter have caught over 100 basses in a single trip, and it's not uncommon to get one up to 10 pounds. This fishery has more bluegill over one pound than any other place in Florida. It's also known to have more crappie throughout the water than any other site in the state.
The best method for crappie fishing in Kenansville is with small minnows on spider rigs. Crappie usually lives in deeper holes during the summer and winter months.
The best time to fish for redear sunfish here is early spring with worms.
The spawn for bass in Florida is from about late November through April, with peak months being February and March. The west side of the lake is full of grass, reeds, and cypress trees. The heavy aquatic vegetation provides an ideal habitat for baitfish and largemouth bass.
Top Targeted Fish Species
Bass Fishing the Stick Marsh Area
Kenansville Lake in Florida is known for its incredible fishing, specifically its trophy bass fishing. The fence lines often are the best places holding largemouth bass. Along the edge of grass beds also provides some incredible bass fishing spots. Bass fishing in Kenansville lake is full of nonstop action. Anglers usually see the largest bass numbers when fishing the vegetation points, and the big bass is in holes in the grass where they can ambush prey.
Technique
Fishing with live shiners is usually the most productive and best chance at catching big bass. 2-3 inch baits are the most popular used here; however, some anglers have caught huge trophies on baits over six inches. Swim jigs, Senko's, swimbaits, and topwater seem to be the favorites and most productive of the lures used here.
The best way to make the most of this big bass lake is fishing by boat; however, bank fishing is available along the lake's north end and the access canal. Kenansville Lake is under the state's no harvest regulation. All largemouth bass must be released immediately after being caught.
Kenansville Lake spring 2021
★★★★★
"
Had a good day on the water with Captain Brent. Caught just under 50 bass all on artificial lures, and caught a few nice ones. Will definitely be contacting Captain Brent next time we are in the area!
"
CAPT John Leech is a bassmaster
★★★★★
"
captian John Leech took me to Kennanville and said if you do not catch bass here you night as well go home partner. He was not kidding. 1 minute and 1 cast and we had a 7 lb 9 oz bass on the scales. This happened all day long. If you want to catch big bass book with Capt. JOHN Leech and tell him you want to go to Kenaanville . You will nit be disappointed!
"
Fishing Trip - Capt John Leech
★★★★★
"
This was a second booking through Bassonline in 2 days. This trip far exceeded my expectations. My trip was tentatively booked for Lake Toho on July 26th. Capt John reached out to me the day before and shared that Lake Kenansville would probably be more successful this time of year. He was right! Capt John provided everything including the boat, tackle and bait (both artificial and shiners). We lost track of the number of Bass we caught after 30. It was insane! Even better, these were all quality tournament caliber Bass. No real monsters. The big bass for the day was probably 4 1/2 lbs. but we were in water all day that very easily could have produced a 10+. The fishing was so successful that when my time limit came up (6 hours), Capt John offered to keep fishing. It was clearly obvious that his main priority was making sure that I had an amazing experience. Thank you John!
"
CLICK TO WRITE A KENANSVILLE REVIEW
Fishing With A Local Expert
Fishing with a guide is the best way to get to all the best fishing spots in Kenansville safely. Kenansville is a flooded Florida farm area with shallow waters and only one boat ramp.
There are many rows of submerged fence posts with barbed wire and drainage ditches, anybody who isn't familiar with the area is urged to use caution. The area is also difficult for many anglers to read and find productive areas holding fish.
The area is also difficult for many anglers to read and find productive areas holding fish. Your licensed captain is a local expert who has spent years learning these waters and knowing where the fish are. Your fishing captain will have everything you need for a successful day on the water and provide you with your best chances of catching a Florida trophy bass.
If you are used to fishing locations like Lake Erie, Table Rock, The Delta, or Lake Oconee you definitely should get some assistance before launching!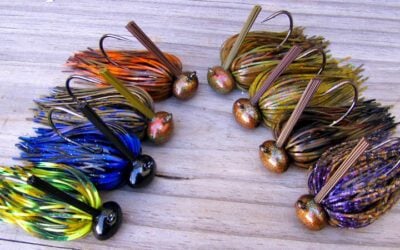 How to Fish a Jig for Bass Using specific jigs can be an easy and effective method for certain fisheries to catch more fish. We will go...
read more
What are you waiting for?
We also have great deals available on the following lakes that match your search criteria.