February Kenansville Bass Fishing
When it comes to Central Florida bass fishing, your options are endless. This destination is filled with lakes to explore, whether by land or by boat. Several fisheries hold exceptional bass fishing you can experience almost yearly. During this update, you will get an inside look into a hidden premier bass fishing lake not many anglers travel to. We hope you enjoy this February Kenansville Bass Fishing Report to show you what you can explore and catch right here in Central Florida.
Kenansville Lake is tucked away near the east coast of Central Florida. Within a short drive of Kissimmee or Orlando, you can explore some of the BEST fishing this state offers. After driving down a long dirt road, you will arrive at a remote fishery known for its trophy largemouth bass. Getting outdoors and unwinding is the true highlight of our fishing trips on Kenansville Lake.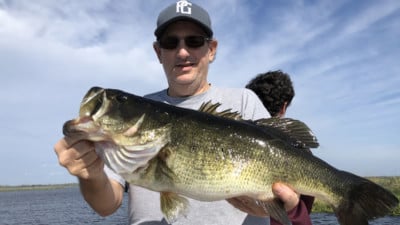 The bass fishing is hot right now and will continue improving. Stable weather, proper moon phases, and the right water temperatures will create the magical recipe for landing some giant largemouth bass. If catching a trophy largemouth is not your goal, this lake will not only provide a great outdoor experience, but you will stay active catching numbers of fish all trip long.
The essential part of all of our fishing trips is the local expert. Years of experience and knowledge allow them to get you right on the fish. Instead of struggling to find fish, preparing your tackle, and wondering if you have the correct tackle, hop on board and let our local experts handle everything for you. We hope that we get the chance to show you around this beautiful destination in the near future!
Check out this Central Florida Fishing Update that will get you excited to get out on the water:
Fishing with Local Expert and Professional Captain Brent Nelson:
First trip of this report:
"I had the pleasure of fishing with Victor Moore and his daughter and son. This family was traveling from Chickamauga, Georgia, looking to spend some time on the water. Due to windy conditions, the bite was slower than normal, but that did not stop the action throughout the whole trip. It is always good to be thrown into different conditions to allow for adjustments and to help dial me in.
Victor and his family were super excited to get out on Kenansville Lake. After finding the right areas, they put some quality fish in the boat. Wild-caught live shiners were the most effective bait on this fishing trip.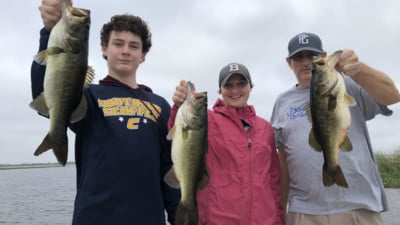 On almost every lake here in Florida, submerged hydrilla is a prime feeding and staging ground for largemouth bass. Most of the fish on this trip were taken over hydrilla with live bait. Victor and his family caught over 15 largemouth bass on their fishing trip with some quality bass in the boat. The biggest fish weighed in at right around 6 pounds. They also caught several-quality fish weighing between 3-4 pounds.
It was a great family bonding day, along with some fantastic fishing. I am surely looking forward to fishing with this family again in the near future!"
Second trip of this report:
This report is a true testament to the productivity of a bass fishery, even when the conditions are not ideal. A cold front, which happens during the winter here in Florida, struck, and as a result, this happened!
"Cold fronts can be a double-edged sword for bass fishing. It can shut down a fishery, but it also can provide windows of strong feeding when the sun is shining and warm. I had the pleasure of fishing with repeat clients of mine, Dave and Bryan. We fished two days in a row and had a blast on every trip.
They were traveling from Fort Myers, Florida, looking to cash in on some largemouth bass on Kenansville Lake. The fishing was slower than normal due to a cold front that moved in and some high winds. Two sunny days saved our fishing trip, along with finding some clean water.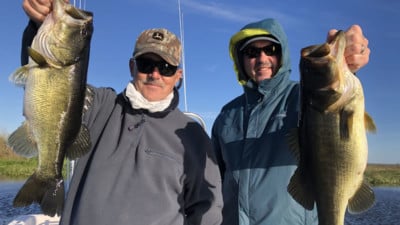 Once we found clean water and key pockets, Dave and Bryan started landing some quality largemouth bass. Over two days, these guys caught over 45 largemouth bass on their fishing trip. They even caught a trophy largemouth bass during their trip weighing in at 8.04 pounds. Some solid fish in the 7-pound range also made it to the boat.
Kenansville Lake showed its true colors on this fishing trip, and I could not have been more ecstatic for Dave and Bryan. They had a fantastic time, and I am looking forward to getting them back out on the water in the near future!" – Captain Brent Nelson.
Now is the time to plan that bass fishing vacation to Central Florida. The Florida sunshine will draw you here, and the bass fishing will keep you here. You can cash in on incredible fishing for trophies and quality largemouth bass across the state. Our local experts work hard to show you a great time and will help you experience a fishing trip of a lifetime!
The bass fishing in March, especially here in Central Florida, should be fantastic. We hope to get the chance to fish with you on your next vacation to Central Florida!
Don't forget to follow us on Facebook, YouTube, Twitter, and Instagram.