There's no better place to bass fish than the "bass fishing capital of the world," also known as the state of Florida. There are endless Central Florida lakes for anglers to catch largemouth bass and have a great time. However, for those looking to increase their chances of landing that dream trophy bass. There are certainly some lakes with characteristics that help those big bass thrive. Landing them a spot on Central Florida's top big bass lakes. Only a small percentage of largemouths live long enough to attain that trophy size, which requires them to live at least ten years.
Unfortunately, the average lifespan of bass is only 5 to 6 years. Fortunately, Florida bass grows faster and larger than anywhere else, especially in Central Florida. Many Central Florida lakes have incredibly healthy vegetation and water quality, creating an excellent habitat for the bass to live longer and grow large.
Central Florida has numerous options when it comes to excellent bass fishing. This list will start with the top lakes offering the best chances at a double-digit bass. Along with tips from our local experts to achieve success. The article will end with the honorable mentions that consistently offer incredible fishing with good numbers and decent quality throughout the year near the Central Florida area.
Top Central Florida Lakes To Catch Big Trophy Bass
4. Lake Istokpoga
Lake Istokpoga is a natural lake located northwest of Lake Okeechobee, near Lake Placid. It is the fifth-largest lake in the sunshine state, covering 27,692 acres. Lake Istokpoga averages 6 feet in depth and offers an array of shallow vegetation that big bass love, such as spatterdock, cattails, bulrush, eelgrass, peppergrass, and Kissimmee grass. Since its significant restoration effect in the early 2000s, Istokpoga has consistently produced quality size Florida bass.
The Florida Wildlife Conservation Commission and its environmental partners drew the lake's water levels down and removed over 1,300 acres of muck, allowing its native vegetation to flourish. Istokpoga is a top option for those looking to experience Florida bass fishing any time of the year. It has a strong reputation for having quality big bass throughout the year, not only during the spawning season.
Tips From The Local Experts
Live wild shiners are equally effective as artificial lures on this body of water, so if you like artificial fishing, this may be the Florida lake for you to experience. By the end of April, the big bass tends to finish spawning and then move on to schooling fish. Largemouths will begin schooling chasing threadfin and gizzard shad along peppergrass in the open water.
3. Harris Chain of Lakes
The Harris Chain comprises nine major water bodies totaling about 76,000 acres in Central Florida. The Harris Chain of Lakes hosted numerous national bass tournaments decades ago, including the B.A.S.S. Megabucks. Harris went through a low period in recent decades but was since brought back to life. After going through a significant restoration and restocking project, the Chain has since been thriving and is now full of trophy fish. The Chain consistently produces excellent catches now and is one of the tops recommended lakes for anglers looking to get their personal best largemouth bass.
Since coming back robust and several bass tournaments have been on the Harris Chain of Lakes every year. Harris is now incredibly fertile with mostly green-stained watercolor. The primary aquatic cover is Kissimmee grass, lily pads, eelgrass, and bulrushes. 
Tips From The Local Experts
These healthy big bass require power techniques and stout tackle. Because of these big fish's strength, anglers risk breaking off an excellent catch when using light tackle on Harris. Sight fishing and casting in deep pockets are two different and popular methods to try here. Lake Eustis is one of the more popular lakes on the Chain, and its residential canals can be very productive at specific times of the year. It also has a famous spot called "Gator Hole." A deep sinkhole leads off the main lake and produces large numbers of big bass.
2. Lake Kissimmee
Lake Kissimmee covers 34,948 acres and is the southernmost link of the Kissimmee Chain, located east of Lake Wales and 40 miles south of Orlando. Kissimmee has earned its spot on the big bass list because of its perfectly fertile environment that allows the bass to grow large in good numbers. The Kissimmee Chain Lake has a highly bass-friendly habitat consisting of expansive native grass, lily pads, cattail, bulrush, and hydrilla beds.
The bass fishing pressure is relatively light on Lake Kissimmee due to its vegetation's expanse and the endless places for big bass to hide out and ambush baitfish. The local bass can live to a ripe old age. This is without as many angler encounters since there are impossible places to reach with any conventional boat.
Tips From The Local Experts
Soft jerk baits, rattling crankbaits, and Carolina or Texas-rigged plastic worms. Casting in the open water or along the vegetation edges is effective during the summer and fall. Fishing a smaller shiner, such as a hatchery shiner, is a good option during the year's warmer times. Our local fishing guides go to great lengths to ensure the proper size shiner when fishing Lake Kissimmee at any time of the year. Fishing with Live Bait in the heavy cover is always a great option and will often bring feeding big bass to the attack.
During certain times of the year, fishing with wild shiners is preferred since they are hardy and more active than a hatchery-raised shiner. Largemouth bass will go for shiners in all sizes, but the giant trophy bass will likely go for a shiner in the 4 to 6-inch long range. Our Central Florida guides suggest choosing your artificial lures based on the watercolor, wind, temperature, cover, and time of year. Plastic worms are always a good bet, as are rattle traps, buzz baits, weedless spoons, spinnerbaits, and frog baits. Numerous big bass is taken regularly on top waters and shallow crankbaits. Flipping and pitching the weed lines can land you a trophycatch in the day's heat.
1. Lake Tohopekaliga (Lake Toho)
West Lake Tohopekaliga, Lake Toho for short, is an 18,810-acre fishery located southeast of Kissimmee. It is the uppermost part of the Kissimmee Chain of Lakes. Lake Toho is one of Florida's best bass fishing lakes, earning the number one spot on our list because of its consistency. It's an excellent fishery any day of the year and the most recommended by our team; however, Lake Toho has been on another level during the spawning season. Almost every fishing trip on Lake Toho during the peak season lands one big bass over 8 pounds. Many reach the ten-pound mark, and numerous bass over 6 pounds.
Like most Central Florida bass lakes, Lake Toho is abundant in aquatic vegetation. It supports its healthy, significant bass population, including shallow grass flats, maidencane, natural bullrush, and hydrilla. According to Bassmaster magazine, Lake Toho hosts numerous well-known bass fishing tournaments every year. Lake Toho is considered the most consistent bass lake in the country for producing both numbers and trophy bass.
Tips From The Local Experts
Fish the mouth of Shingle Creek. The shorelines east and west of South Port Park, Goblets Cove, and Lanier Point are all top spots. All these spots in Lake Toho hold trophy largemouth bass. The offshore hydrilla patches near channel marker 24 and Little Grassy Island are also good to check. Live shiners are the most effective, but artificial lures are also produced in these spots. When exploring Lake Toho, look for some healthy vegetation in the water that could serve as a suitable habitat for big bass, including its bulrush, lily pads, weed mats, Kissimmee grass, and fish attractors put in by The Florida Wildlife Conservation Commission.
Fishing in the canals and tributaries after heavy rains is a good pattern. The rain runoff sends a good flow throughout the lake, creating a hot bite in these related areas. Some of the top techniques and lures used on Lake Toho to catch big bass include pitching craws and beavers or flipping Texas-rigged worms. Frogs, swim jigs, and spinnerbaits are also productive.

Honorable Mentions
There are several excellent bass fishing locations in Central Florida, and conditions are constantly changing, making certain ones better at specific times year after year.
Central Fl
Butler Chain of Lakes
The Butler Chain of Lakes, located less than 30 minutes from Orlando, covers 5,000 acres consisting of 11 small, extremely deep lakes, averaging 20 to 40 feet. The Butler Chain of Lakes near Orlando is one of the best bass fishing spots for numbers. An angler visiting Orlando looking for non-stop action should experience this Florida lake. The Butler Chain of Lakes certainly has its fair share of big bass.
But it doesn't provide as high of a likelihood of landing a trophy as the other Central Florida lakes. The Butler Chain of Lakes has a high abundance of submerged vegetation. Making it a top-notch spot for large numbers of small to medium-sized fish. This is a good choice if you like fishing places like Lake Lanier or Erie with clear water!
Johns Lake
Johns Lake in North Park, located northwest of Orlando, Florida, used to be well-known for producing largemouths over ten points and was rated in the top 10 lakes in Florida. Recently, Johns Lake has gone through some low water conditions, but it remains to produce consistently well.
Clermont Chain of Lakes
The Clermont Chain of Lakes located in Lake County, in Clermont Florida, consists of 11 connected lakes and has over 167 square miles of fishable waters. It's home to various fish species, including a healthy largemouth population.
North Central Fl
Rodman Reservoir
No big bass list would be complete without mentioning Rodman. The 9,500-acre reservoir is located in Northern Central Florida but is trophy largemouth bass central. This fishery is best known for offering quality over quantity. Its flooded timber and healthy vegetation make for excellent fishing for good size fish.
South Central Fl
Lake Okeechobee
Lake Okeechobee is located on the southern end of Central Florida but is the state's largest fresh body of water and the most famous bass fishing destination. Its productive vegetation allows for consistent numbers and much-good-sized fish to be caught on almost every trip.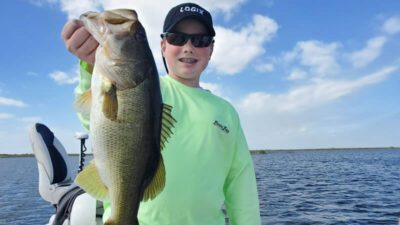 If you liked this article on top Central Florida lakes, you might also like this article on bass fishing trips, types of bass, different lure types for bass, and bass fishing at night.