Lake Rating:
Lake Rating - Read customer reviews of lake, click to read
Located in Lake County and centered on the City of Clermont, Florida, the Clermont Chain of Lakes comprises 11 lakes connected to the Palatlakaha River. 
Orientated from southeast to northwest, the shoreline of these lakes is lined with a great expanse of cypress trees, making the waters here red to tannic (or tannin) colored. The fishable waters here measure more than 167 square miles, including large accessible portions with public boat ramps.
Along with the shoreline's cypress or swamp, largemouth bass, channel catfish, shell-cracker sunfish, and bluegill bite on crickets or worms. Speckled perch action is good on prepared or artificial bait, especially along grass-lined edges where these species spawn throughout summer. 
Lakes that Make Up the Main Clermont Chain 
The Clermont Chain consists of three larger lakes, including; Minneola, Minnehaha, and Louisa, the largest at 3,573 acres. Big Creek and Little Creek are Louisa's primary water inflows, and the lake is generally shallow, reaching down to only 10 feet.
Revered Spot For Trophy Bass Fishing
Searching Availability...
Lake Louisa
Crooked Creek flows into Lake Susan's northern end from Lake Louisa, a small shallow depth lake surrounded by Florida swampland. The second largest lake on Central Florida's Clermont Chain of Lakes, Lake Minnehaha, is connected to Lake Susan by a short river. 
Lake Minnehaha
Lake Minnehaha has an average depth of 14 feet and reaches up to 18 feet in some areas. The lake's northwestern shorelines are adorned with the cypress cove swampland scenario that gives its waters a tint.
Lake Palatlakaha is connected to Minnehaha by a neck, while a canal connects the former to Lake Hiawatha. These lakes are mainly underdeveloped, but several ramps enable anglers or boating outfits to fish its waters. 
Lake Minneola
From Lake Hiawatha, a neck separating the third largest lake on the Chain, Lake Minneola. With an average depth of 18 feet, Lake Minnehaha has parts that approach 30 feet in depth. 
This is the most developed of the lakes, with opportunities rife for fishing, lakeside activity, and other exploitation. Other lakes in the great Clermont chain include Lake Winona, Lake Wilson, Lake Cherry, Cook Lake, and Crescent Lake.
Top Targeted Fish Species
FAQS About The Chain
Are There Alligators in Lake Minneola?
Lake Minneola is the third largest of the Clermont Chain of Lakes, offering a public boat ramp and a Waterfront Park for swimmers.
There are alligators in all of Florida's inland and mangrove waters, including Lake Minneola on the Clermont Chain of Lakes. Decaying leaves, plants, and bark flowing downriver into the lake give Minneola waters a dark tea-colored tint, which is excellent for concealing gators. 
Bass is still here in large numbers, and gators roam the expansive lake except over at the Waterfront Park swimming area. This lake's enhanced water quality is attributed to the Clermont stormwater runoff treatment area that lies on the edge of Clermont's town.
More annoying than alligators for anglers is the distraction from cruisers and jet skiers on weekends, so it's better anglers go here on weekdays.
More alligators are found in the canals coming into the lake, but this is also where the fishing is good.
How Many Acres Is Lake Minneola?
Closest to the town of Clermont is Lake Minneola which features a simulated wetland that enhances the lake's inflow waters. Lake Minneola is 1,888 acres of Florida nature, surrounded by green space and rolling hills. 
Although most of the Clermont Chain of Lakes have tinted waters, Lake Minneola's is relatively clear. Mineola is seen as the gateway to the rest of the Chain's lakes due to its proximity to Clermont and ease of accessibility.
This is a fish management area, and so most anglers will require a fishing license. You can rent boats, kayaks, or bicycles here or have a go at one of the water world amusements at the Waterfront Park.
Lake Minneola, one of the larger ones that make up the Clermont Chain of Lakes, is a short distance away from the Orlando Disneyworld theme park.
Can You Swim in Lake Minnehaha?
There's beauty, recreation opportunities, and wide-open spaces on Lake Minnehaha, the second-largest Clermont Chain of Lakes. Unlike most smaller lakes, Lake Minnehaha has 2,298 acres, so its waters don't contain harmful bacteria.
You can swim in Lake Minnehaha as long as you are on the lookout for alligators. The brown-colored water from the tannin keeps light penetration to the minimum, making the waters here cooler.
The moss-draped trees that line the shoreline offer a perfect backdrop for water activities, including kayaking and swimming.
After rainfall, due to runoffs from the watershed urban and agricultural areas, it's recommended that you don't swim in painter or Minnehaha creek for at least 72 hours. The stormwater flow contains debris, dirt, and bacteria that can cause sickness.
Clermont Chain of lakes Reviews
Clermont chain of lakes
★★★★★
"
I rented a boat to take my wife and me on the Clermont chain of lakes. Fun, friendly, and accommodating experience. Beautiful sites, great houses! As local business owners, it great to make a living in Clermont, it's a blessing.
"
Does the Clermont Chain of Lakes Offer Boat Ramps?
Lake Minnehaha and Lake Susan have one public boat ramp marina each, and while the latter sells boat gas, the former offers rentals and slips for local boat owners. The Clermont chain features several ramps that allow launching at a small fee, while many fishing outfitters offer private docks.
North of Lake Susan is the main boating line for the Clermont Chain of Lakes, and there is directional signage on buoys placed for your convenience. 
On Lake Minneola's southern end in downtown Clermont is the main boat ramp for the Chain's lakes. Another public access boat ramp is located on the Palatlakaha River by Lake Louisa, on the Clermont chain'.
All the lakes here are well resourced with smallmouth bass, largemouth bass, red ear sunfish, bluegill, channel catfish, and crappie. Dredge holes and trees that have fallen are attractive to fish, with several local piers offering shore fishing with disability access.
Clermont Chain of Lakes Map
Bass Fishing the Clermont Chain of Lakes
The Clermont Chain of Lakes is an 8,600-acre spread of eleven lakes with easy access to rich fishing grounds. Except for the relatively clear lake Minneola, most of the Chain's waters have a tannin tea-colored tint.
The big attraction here is largemouth bass, with catches that tip scales at four, six, or seven pounds reasonably common. However, every year there is bass caught here that weighs over 10 pounds.
Best Time
This Central Florida chain has some of the best largemouth bass fishing in the world, drawing anglers from around the world to experience. The fishing in lake county is excellent throughout the year, with the spring spawning season providing the highest chances at a trophy largemouth bass.
Tips and Techniques
As the water cools, specks and largemouth bass become prevalent, moving into emergent laydowns and timbered grassy edges for spawning. Tip jigs with minnows and then drift them along the shore, while activity around bridges and piers will draw strikes.
When looking for largemouth bass in the Clermont chain, keep an eye out for canals, streams, and inflows. Off the shore, you'll find depths of six to eight feet on most lakes, and slip bobbers with spinners at four or five feet will result in the bass. 
You are likely to find other types of fish, including the beam, bluegill, and golden shiner. Their presence indicates that the bass are at a close range as shiners are a few of their favorite prey.
Central Fl Fishing Reports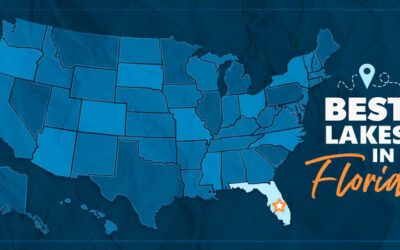 Ranked #1 Best Lakes in Florida BASSMASTER >> Rodman Reservoirs' reputation as one of the best lakes in Florida stood out in the...
read more
Complete list of Lakes that Make Up the Main Clermont Chain 

The Clermont Chain consists of three larger reservoirs, including; Minneola, Minnehaha, and Louisa, the largest at 3,573 acres. Big Creek and Little Creek are Louisa's primary Clermont Chain of lakes water level inflows. The lake is generally shallow, reaching down to only 10 feet.

Complete Guide to Chain of lakes:

 Lake Minneola (1,888 acres)
 Lake Minnehaha (2,298 acres)
 Lake Winona  (64 acres)
 Lake Louisa  (3,634 acres)
 Lake Palatlakaha (102 acres)
 Lake Hiawatha (49 acres)
 Wilson Lake (32 acres)
 Lake Susan  (81 acres)
 Lake Crescent (122 acres)
 Cook Lake  (21 acres)
 Cherry Lake  (401 acres)
Get The Full Outdoor Experience
The Clermont Chain of Lakes consists of the Palatlakaha run, a 26-mile-long trail for water activities. Lakes in the Chain have deep spots, approximately 26 feet, while most other areas are shallower.
Shorelines on the Chain, particularly those far from populated areas, harbor native and widely varying wildlife, and prime fishing. Very similar to what you may find in the best holes in Lake Erie.
Clermont city is also known as the world's wakeboarding capital, with events all year round dedicated to the sport. In addition, you can rent bicycles, boats, and kayaks or head to Lake Minneola's Waterfront Park for an excellent water dip.
Expect most days boat traffic, which is common on many lakes like Lake Oconee, which has lots of watersports activities.
What are you waiting for?
We also have great deals available on the following lakes that match your search criteria.