Lake Rating:
Lake Rating - Read customer reviews of lake, click to read
Conway chain of lakes Trips
Searching Availability...
About Conway Chain of Lakes Fishing Tour Details
Summary About Conway and Lake
Conway Chain of Lakes has four interconnected lakes, known as east, west, middle, and south. Because of the canals unique sizes and positions connecting them, the four water bodies align themselves up almost entirely East, South, West, and Middle. Anglers with little experience of the areas can get confused sometimes as when you look at Google maps, referred to as Little Lake, Middle Lake, and Lake Gatlin in Belle Isle Fl.
Conveniently Located
They are position in the Walt Disney World or Southeast Orlando Fl area, collectively referred to as South Lake Conway, Conway South, Conway Big lake, but it's all the Conway chain of lakes. The deepest places are over 30ft deep, but the average is around 8 ft in depth.
The chain has nearly 1,800 acres of water, all lined shores with upscale real estate, and many private docks to fish. The ultra-clear water and hard sand bottom, with peppergrass beds, eelgrass, and hydrilla scattered offshore, will make you want to go fishing more. It can be quite an effort, especially on weekends in public access areas. The entire experience is worth the effort, thanks to the outstanding fishing and beautiful water as they are limited.
Trip Core Details
Region: Orlando Florida
Duration: 4, 6, 8, & 12 hrs
Cancellation: 8 hrs in adv.
Weather-Related: Full refund
Instant Online Confirmation
Includes All State Taxes
What's Included:
All Fishing Equipment
Professional Captain
Boat & Fuel
Cooler & Ice
Bottled water
Photos
What's NOT Included:
Florida Freshwater Fishing License for those ages 16+
Live bait if desired is also additional and is purchased the morning of the trip. (optional)
Food or Specialty beverages
Fishing Chairs
GPS & Fishfinder
Life Jackets
Catch and Release Allowed
Keep Fish Allowed within Laws
Boat Specs: 20+ ft
Boat Capacity: 4 People
All Fishing Equipment
Boat & Fuel
Photos
Light Tackle
Heavy Tackle
Livebait
Artificial Lures
Spinning Rods
Baitcasting Rods
Left & Right Handed
Fly Rods (request only)
Braid & Mono Line
Top Orlando Fishing Captains
Conway Chain of Lakes Reviews
Captain John Leech is Awesome!
★★★★★
"
When Captain John Leech told me I was going to catch a lot of bass, I doubted him. From the first cast to last I was getting strikes and boated over 60 nice fish, several in the 5 lb range. It truly was a great experience !
"
CLICK TO WRITE A CONWAY CHAIN REVIEW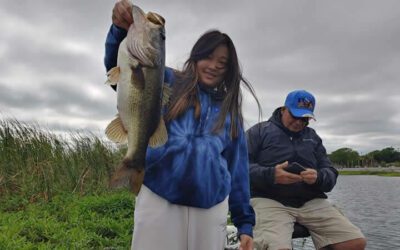 The Best Guided Bass Fishing in Florida Maybe you have done guided bass fishing in Florida, and perhaps you haven't. Perhaps you are a seasoned...
read more
Conway Chain of Lakes Fishing
Largemouth bass fishing is good every season, even summer when the bass is often schooling on shad in the open water. One of Conway Chain of lakes big "claims to fame" is its schooling bass.
The key fact, schooling activity for largemouth bass often seems to be best during pre cold front conditions, and summer feeds with 10 to 15mph winds in Big Lake Conway. Schooling bass is generally by just watching for the surface activity or by watching birds feeding all while fishing. Most schooling fish will happen in offshore areas, but deep water access points are also significant areas in little Lake Conway.
Bass fishing, using Jigging spoons, topwater lures, soft jerk baits, and white spinnerbaits are some of the best choices to catch these schooling fish. However, it is crucial to remain flexible. As all bass fishing goes, what's worked today will often be ignored tomorrow.
Best Fishing Pattern Orlando Fl
During the morning hours of bass fishing running around the Conway Chain of Lakes, you will notice the lakes are immaculate, which dictates Fluorocarbon lines. Depending on the time of year, you can spend most of the time on the Lakes, especially fishing in deeper waters. It's one of Central Florida's best topwater lakes and a great place to practice techniques like the drop shot rig.
The Drop shot fishing technique and tips is not common practice in Central Florida or even Orlando Florida, but this is a great place to build confidence in using it. It works well first in the morning, set up over 22-foot water, and the bass will stack up. As mentioned above, schooling activity is robust in most early mornings.
Top Times for Fishing in the Orlando area
It has been known schooling can continue when till 11 am. On lake Conway and little south lake try a spook type baits work great for picking them off on the surface, besides. Is there anything more fun than that!
Fishing the chain may not be the waters to drive to in Central Florida to catch fish on the weekends with personal watercraft. It has a suitable ramp on the chain to launch, but one boat at a time and has limited parking.
How to Prepare for a day on the Water
Being prepared is half of the battle to start your day right and have it finish even better, especially if planning to spend a full day on the Conway Chain of Lakes. The place of beauty, time fly by such plans on several hours or the whole day.
State Permits
If you plan an Orlando Florida fishing trip, then the first thing to ensure you purchase is a Florida fishing license. These can be purchase at Walmart, your local tackle shop, or online. Florida residents can buy a year-long permit at a reduced price. If just visiting, they offer a 3-day license, which is only $17 plus tax.
During the summer months, be aware of your trip's weather conditions that can change rapidly; it's not always perfect Florida sunshine. During other months of the year, think comfortable. The majority time of the day, it's t-shirt and shorts weather all day long.
How to travel too
The Popularity of the Conway Chain of Lakes has grown, and it's easy to see why. Being just minutes from downtown Orlando Fl and all that iDrive has to offer. An additional 15 minutes from the International Airport in Orlando Fl makes the Conway lakes easy to access for all outdoor enthusiasts looking for the perfect location and information.
It's also only 15 minutes from the 2nd largest attraction in Orlando Florida, Universal Studios. So it's between, easy found information to great shopping, incredible dining, and iDrive convention center and entertainment district, these lakes make for a fantastic overall vacation experience in one of the world's most popular destinations catching fish as well.
Conway Chain of Lakes highlights
Conway and little lake comprise four interconnecting lakes located in the Orlando Fl area just a short distance from downtown Orlando Fl, which are typically called the Conway Chain. Located in South Orlando Fl, this chain of lakes is about a 10-minute drive from the Orlando International Airport and about 20 minutes from Walt Disney World. These lakes offer excellent bass fishing opportunities year-round and also provides excellent crappie and bass catching.
Size and Depth
Conway Chain of lakes has nearly 1,800 acres of clear water with a maximum of 30 feet and an average depth of 8 feet. The Conway chain is connected by canals, which are very shallow and have low bridges that can limit boats or boats with a height of 8 feet or more. The largest of the four lakes is Middle Lake Conway.
Water Source
Conway Chain of Lakes is a landlocked lake with no navigation beyond the chain itself. The primary water source is natural rainfall and runoff. Annual water fluctuations vary according to rain.
Shoreline
Lake Conway big is an urban Orlando Florida lake like many Florida freshwater lakes, and public bank access is almost non-existent. Private property and high price homes line all of the shorelines. There is wildlife in some of the lakes, mainly the east lake, where a small submerged grass island is home.
Bottom
Lake Conway and the Conway Chain have mostly clear, and hard sand bottom with peppergrass beds, eelgrass, and hydrilla scattered offshore. Water's depth changes drastically on this chain, and there are many deep drops and humps to catch bass.
Water
Water is crystal clear on all of the lakes in the Conway Chain in some cases; water's clarity will allow an angler to see to depths of twelve feet are more.
What to Bring with You
Let's talk sunglasses for a moment; the right sunglasses with polarized lenses provide two functions. Firstly, it allows you to deeply see the water depths; the other is it protects your eyes from the water and sun's glare.
It goes without saying in Florida, sunscreen is crucial when fishing in Orlando. Most boaters don't realize it's not the sun's power in the sky, but the rays bounce off the water's edge that does the damage. It goes without saying; that the most common anglers bring a hat: the bigger, the better in this case.
We get asked a lot about shoes; this is not a simple answer. Closed-toe shoes are the best when captaining the boat or planning a fishing trip. Thinking ahead can prevent you from stubbing a toe or getting a hook in a toe. On the other hand, pleasure boating, wakeboarding, and the most comfortable shoes are always the best.
It's always a good idea to bring a spare change of clothes, a towel for the unexpected times. It could be a quick rain shower, another boat wave that splashes you, or you accidentally fall overboard. Having a clean and handy dry bag will make all the difference in the world.
Conway Chain of Lakes Boat Ramps
The larger lakes have only two public boat ramps located off Hoffner Avenue, two blocks east of Orange Avenue (SR 527). Like the Butler Chain, public bank access is, for all practical purposes, non-existent.
There is no charge for launching; however, parking is limited. Find other potential information on the map below or by going to www.myfwc.com.
5509 McCawley Ct, Belle Isle, FL 32809 – Venetian Boat Ramp
5638 Randolph Ave, Orlando, FL 32809 – Randolph Avenue Boat Ramp
Conway Chain of lakes Map
What are you waiting for?
We also have great deals available on the following lakes that match your search criteria.