Lake Rating:
Lake Rating - Read customer reviews of lake, click to read
Searching Availability...
Johns Lake is located in North Park, just northwest of Orlando, Florida. Historically, Johns Lake produces bass over 10 pounds, rated in the top 10 lakes in Florida. The lake has recently gone through some low water conditions, and it remains to be producing very well. 
The largemouth bass is the primary species here, but Crappie and Bluegill are also present. The lake provides a lot of structure with weed beds and can be readily fished from shore in some areas but mostly only accessible by boat.
The John's Lake boat ramp is about 6 miles east of the City of Clermont on Highway 50. Even with most of the shoreline's development and its close proximity to Orlando, this lake produces excellent bass fishing because of little to no activity during the week    Read More
Trip Core Details
Region: Deland Florida
Duration: 4, 6, 8, & 12 hrs
Cancellation: 8 hrs in adv.
Weather-Related: Full refund
Instant Online Confirmation
Includes All State Taxes
What's Included:
All Fishing Equipment
Professional Captain
Boat & Fuel
Cooler & Ice
Bottled water
Photos
What's NOT Included:
Florida Freshwater Fishing License for those ages 16+
Live bait if desired is also additional and is purchased the morning of the trip. (optional)
Food or Specialty beverages
Fishing Chairs
GPS & Fishfinder
Life Jackets
Catch and Release Allowed
Keep Fish Allowed within Laws
Boat Specs: 20+ ft
Boat Capacity: 4 People
All Fishing Equipment
Boat & Fuel
Photos
Light Tackle
Heavy Tackle
Livebait
Artificial Lures
Spinning Rods
Baitcasting Rods
Left & Right Handed
Fly Rods (request only)
Braid & Mono Line
Johns Lake
★★★★★
"
Thank you, Captain Brent for a wonderful day of fishing!!!! Five bass over 5lbs for my son and daughters!! A terrific experience!!
"
Me Gusta Pescar
★★★★★
"
Me gusta ir a pescar a este citio.
"
Central Fl Bass Fishing
★★★★★
"
Saw the show today, 2/18/2015 and enjoyed the show and the tip on tying a snell knot but did not get any information about what lake they were fishing on. So many of fl lakes have that kind of vegetation that they all look similar. Would love to fish this lake sometime. Thanks Mike
"
CLICK TO WRITE JOHNS LAKE REVIEWS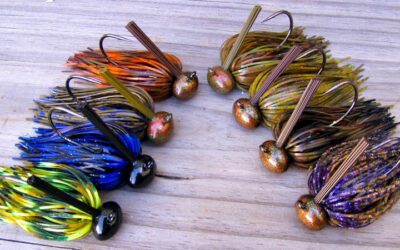 How to Fish a Jig for Bass Using specific jigs can be an easy and effective method for certain fisheries to catch more fish. We will go over some tips for finding the perfect fishing jig, colors, and jig trailer.Jigs are great because you can catch bass all year...
read more
ALL YOU NEED TO KNOW ABOUT JOHNS LAKE 
Fishing Johns Lake
Fishing on Johns lake is always a blast; it seems we are consistently able to put people on excellent quality bass. Some of our biggest bass of the year actually are caught right here in Johns lake. Another nice feature is there's no big long boat ride to get to the fish, a few minutes of idling, or a short run, and we're on our first spot!
Everything about this lake is right for the average angler to enjoy and the bass fishing fantastic. The watercolor is slightly stained, which is a good thing for Florida. There are several rocky structures, coral rock type bottom throughout the lake, and adequate cover despite high dollar homes around the shoreline. 
Water levels have and continue to fluctuate but always return to standard levels. Florida has restocked the lake with 500,000 bass in the early 2000s with great success. These bass have now reproduced and new bass are now reaching trophy size. The lake is continuing its reputation as one excellent bass fishery.
Johns Lake Fishing Tips
According to our Johns Lake fishing guides in the area, Captain Gino, Captain Devin, Captain Steve, and Captain John anglers will succeed with various lures on Johns Lake. Plastic worms and rattling lipless crankbaits are beneficial. The canal that connects the two leading lakes quite often holds schooling bass early and late in the day.
The areas just outside either end of the channel can be productive during midday as well. Topwater lures are always fun, a favorite on Johns Lake by all of the guides because of the explosive strikes in spring and fall. Still, slower, more subtle presentations tend to catch the most bass during the summer months.
Things to know about Johns Lake
The average depth is less than 10.5 feet deep; Johns Lake is west side of Florida turnpike,just South of Lake Apopka and part of the Ocklawaha River Watershed. The lake encompasses 2580 acres of public land in Winter Garden. 
The large island on the far north side of the lake and mulitable lakes in one. During lower water it can be diffcut to navigate from lake to lake, but either way a great fishery all year long. 
Johns Lake Access
The boat launch is at the John's Lake boat ramp, located about six miles east of Clermont's city on Highway 50. The area around the lake is mostly developed, but an open shoreline exists on the southeast end. The map below provides details and driving directions here.
Lake Level History
The historical lake levels show the last 60 years' high and lows. Like most lakes in Florida, the all-time high was during hurricanes in 2004 and the lows the droughts of 2001.
However, all noted dramatic changes, Johns lake, flourish like reservoirs and provide essential water control functions. For the past decade, the trend is higher, but currently very accessible and fishing very well.
Where's it Located?
It is positioned between Jacksonville to the north, Daytona Beach to the east, and Orlando to the south. Lake George is a beautiful escape, back to olf, Florida. Astor to the south is widespread access to Lake George; it has all basic town needs, and it's on the river.
Palm Coast and Daytona are a straight shot and provide all the housing of your choice, restaurants, stores, and only minutes away DelandMunicipal Airport. 
Added Bonce Scrub Point Preserve
Lake County Water Authority owns and manages Scrub Point Preserve. Located on the southern shore on the Lake County side of the lake, a Preserve peninsula that juts into Johns Lake and accounts for 93-acres. The preserve host seven threatened or endangered species and many endemic species. Some exotic plant species are usually around the boundaries and along roads, which staff works to control. 
A common practice is to use prescribed fire to manage some of the dryer habitats on the property. Fire is an essential tool for managing habitat for endemic species. The preserve is periodically used for field trips. In the past been a host to Festival of Flight and Flowers and other Florida Native Plant Societies. 
Partnering with Lake County parks Department and the Water Authority have lead groups of kayaking enthusiasts. These groups leave from the boat ramp on Highway 50 and paddle to the preserve. Providing guided hiking tours on the preserve before returning back to the boat ramp.
What are you waiting for?
We also have great deals available on the following lakes that match your search criteria.