The Best Bass Trip: The Ultimate Guide to a Fishing Vacation
U.S. anglers are probably one of the luckiest in the world since the States are home to some of the best bass fishing spots. In other words, anglers don't have to go abroad to catch the ultimate trophy — it can be reeled in right in front of their backyard, so to speak.
With that in mind, whenever you want to go on a solo bass fishing adventure or enjoy a trip with your friends or family, there are a few things you need to consider. Knowing what to pack for the trip and when is the best time to explore the waters can make a huge difference in the overall enjoyment (and safety) of the trip.
So, how do you plan a bass fishing trip? Do you make a list or consult a friend that's just gotten back from a trip? Well, it all starts with pinpointing your ideal bass fishing vacation, including fish-abundant waters and lodgings just in case you want to spend the night. Plus, a vacation of that sort should include boat rentals, guides, food services, and so on.
Continue reading to learn how to plan for the best bass fishing trip yet and when's the best time to hit the road.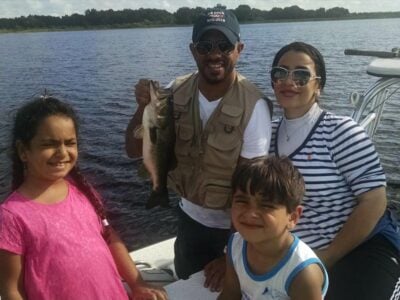 Planning a
Bass Fishing Trip
Before you embark on your bass fishing vacation, you want to make sure you have all of the essentials in place (we'll elaborate on them further later in this article). Here are some of the things you need to keep in mind before you start packing your tackle bag. 
Grab Your Fishing Gear
You can go on a bass fishing trip without your fishing gear, most guide services provide everything! But, no need to go crazy and overpack everything. It depends on the location, but in essence, it's best to have a 6'7" to 7'8" fishing rod with substantial medium-heavy power and fast action, with a heavy braided 8 -10 pounds line, and a large hook.
Assuming you'll use large hooks, having pliers around is a good idea. Use the pliers to remove the hooks from the bass' mouth without harming the fish. In addition, don't forget to pack up fishing gloves so that you protect your hands from the fish as you reel them in (bass can put up quite the fight!).
Choose the Perfect Moment
Fishing is more than just expensive gear – you need to be at the right place at the right time. Experienced anglers will probably tell you that if you set out fishing at the wrong time of day, you'll probably go back home empty-handed, no matter how good you are at fishing. Despite this meth, the bass has to eat at least every three days so in reality they are most always biting somewhere.
So, when you outline your bass fishing trip, make sure you plan your time to go bass fishing early in the morning and at sundown for prime feeding hours. If you're going to travel, important to time your arrival the way you want to. So, arriving at your destination before the sun is up will give you enough time to catch the good hours for bass fishing is suggested.
List and Pack Your Trip Essentials
Most of us get all excited about the fishing part and forget about the other essentials we will definitely need. For one, is accommodations, whether that be your tent or the local Hilton — if you plan on making your trip really count, you should spend at least a night there. That way, you'll be able to rise and shine and catch your trophy when the fish are truly active.
When you do plan for the accommodations, make sure you choose the right one — if you're going for more affordable, get a small tent you can install on your truck, for example. If you're enjoying the trip with your friends or family, get nicer accommodations big enough for everyone with more appropriate amenities.
Next up, consider food and water — bring enough snacks and drinks, since you'll probably need something to nibble on while patiently waiting for the right tug (it sometimes can take hours, so be prepared).
Get Ahead of Any Bad Weather
We easily forget to check the latest weather forecasts before going on our awaited fishing trip and it's something we should do. The weather conditions can affect the fishing outcomes massively. 
Depending on which season you go fishing in, be well prepared for anything that gets thrown your way. Rain or shine, make sure you plan accordingly. Plus, when it comes to weather, remember fishing does quite often pick up, but no catch comes close to your health so be careful. 
Would you rather pass on catching a massive bass and avoid catching a nasty cold, or end up with a pain-in-the-neck cold and a trophy bass you can brag about? On the other hand, when it's super hot, remember that sunscreen keeps you safe from nasty burns. Clothes-wise, always dress in layers so you can adjust your outfit depending on the weather conditions.
Know Where You're At
If you're a seasoned angler, you know the difference between shoreline fishing and boat fishing, or what it's like fishing in the deep sea and fishing in a lake. But newbies, however, might get tangled up. To that extent, the location you are fishing at will determine the conditions and the type of fish you'll eventually catch. 
Once you understand the conditions of your location, you can tweak your expectations and fish for particular fish.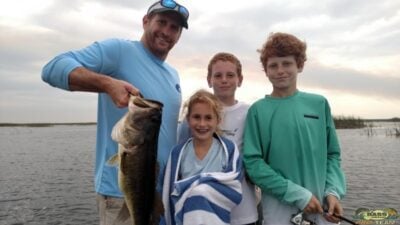 The Essentials You Need to Bring Along
Besides your will and zest, there are a few must-haves you ought to have with you on your bass fishing trip. The following will help you have the safest and most enjoyable fishing trip.
Additional boat gear:

Pack a mobile phone, if renting a boat, consider a travel boat seat.

Protection

: Anything from sunglasses to sunscreen and adequate clothing can help you enjoy the trip to the max. Don't forget the insect-repellent spray, too.

A life jacket

: Don't go on a

bass fishing trip

without a life jacket. Pack it, and most importantly, wear it.

Drinks and food

: If you travel with someone, coordinate with them about who's in charge of food and drinks. Plus, always carry some healthy snacks and water while boating.

First-aid kits

: Anything from bandages to bandaids and skin-numbing creams should be part of your first-aid kit. Moreover, remember to pack these in a waterproof bag.

Handy tools

: Scissors, knives, nets, catch-and-release gear, and other similar items should not be forgotten on a

bass fishing vacation

, especially if you're doing it solo.

A flashlight and headlamp

: You'll find these items truly essential for dusk and dawn bass fishing. Besides, you wouldn't want to roam around your lodge or tent area in the dark.

Fishing tackle

: Considering you're prepping for a bass fishing adventure, don't bring all sorts of lures with you. Stick to minnow baits, soft-plastic minnows, crankbaits, jigs, spoons, and spinner rigs,

Terminal tackle

: Forgetting to pack snaps, hooks, sinkers, and other gear will ruin your trip. What good would it be to have all the tackle and nowhere to place it?

Fishing Guide: Consider if you hire a professional for your next bass fishing trip all of these items above will be provided for you.
Bass Fishing Trips
: When's the Best Time to Go? 
A lot of inexperienced anglers wonder when's the best time to go bass fishing. Is any season a go? Yes, it is! You can catch bass in any month of the year, sometimes with more occurrence, other times with less, but in both cases, you can fish for bass all you want, all year round. This is completely true but does change based on the location.
Spring Bass Fishing
In general, spring is considered the best time to go bass fishing. In fact, when temperatures begin to rise, fish will normally pop out of the depths and start looking for food close to the water's surface. Bass love spring rains — they make the water warmer. However, since spring is so unpredictable, you won't be able to count on catching bass every time you cast your bait. In other words, you can enjoy a warm sunny day in April, and another gloomy, rainy one right after.
In essence, spring comes with both sunny and cold fronts, so be prepared for both. For example, colder spring weather will drive bass (and other fish) deeper underwater. Luckily, you won't have to call it quits just yet — lure bass out by casting spinnerbaits, chatterbaits, and your traditional worms.
Summer Bass Fishing
Summertime is when the bass starts looking to feed some more, eating more than in spring. In fact, spawning wraps up in summer in some destinations, so you can expect to notice some pretty active bass looking for nibbles in the shallows or in the deep.
During summer, especially on very hot days, bass will dive deeper into the water looking for a cooler spot. However, you can use pretty much any type of lure to interest bass in your jig. A hungry bass won't mind any bait: from topwater baits to worms, jigs, or anything else you have in store for them. 
Fall Bass Fishing
Even though it isn't as busy a fishing season as spring is, fall is still great for bass fishing. Granted, the bass is less active in fall, but that does not mean you can't reel in a big catch. Before this bass goes deeper into the waters to rest for the winter until the weather is warm again, they'll do one last round of looking for food. 
Above all else, bass will eagerly look for shiners and shads, so that's your cue to hook your lures such as swimbaits, spinnerbaits, crankbaits, and jerkbaits, and trigger interest. If you're out bass fishing on a chilly, windy fall day, use swimbaits and spinnerbaits — these will attract bass the most. Out of all the bass types, striped bass will be the easiest to come by during this season.
Winter Bass Fishing
Even though rookie anglers might think fishing for bass in winter is close to impossible, they will probably be surprised to learn that bass will come to the surface whenever the water temperature reaches a minimum of 40 degrees. When bass fishing in winter, be mindful of the heating patterns of rising water. Start looking for spots in the water that are warmer than the rest.
For instance, if you notice you've had a rather warm winter week, with water temperatures fluctuating from 38 to 42 degrees, you shouldn't waste any more time and start fishing. Gradual water warmth is especially triggering to female bass, so you can expect to see a lot of activity in such a scenario. One last winter bass fishing tip, though: the best time of day to catch bass is in the middle of the day.
Bass Fishing: Vacation vs Fishing Tour
Bass fishing trips don't have to be a hassle for your family members that aren't so big on fishing but do enjoy a nice lake view, for example. Professional fishing guides know how to turn a bass fishing trip into an enjoyable activity for everyone. In general, there are two most common types of bass fishing: fishing vacations and fishing tours.
The main difference between the two lies in the organization. For bass fishing vacations, you, or your friends can be the decision-makers and choose where you'll spend your leisure time. On the other hand, fishing tours are more pre-organized and typically follow a particular schedule.
Let's have a closer look at the two.
Bass Fishing Vacations
You can easily turn bass fishing trips into wholesome family vacations, especially if you plan your trip around lodgings and fun. If you want to blend your passion for fishing with spending quality time with your loved ones, a fishing vacation will check everyone's boxes. 
You don't have to be a pro angler to enjoy a day off the grid, overlooking a lake, reservoir, or river, and just enjoying the scenery. To that extent, fishing destinations offer super fun activities for every member of the travel squad.
A well-rounded bass fishing vacation location should include the following options:
Lodging

Fishing guides

Boat rentals

Great Food, and so on.
As we mentioned, the U.S. is abundant in family-friendly places you can visit and have a fun bass fishing trip. These places will usually involve spacious lodgings that can accommodate the entire group. Some of the best fishing vacation destinations include: 
As you can see, we made an effort to include fishing vacation locations from across the U.S., but we have to pinpoint Florida as the ultimate angler's destination. We won't exaggerate if we say that Florida is a bass fishing haven. The Sunshine State is packed with rivers, reservoirs, and lakes that are abundant in game fish around the clock.
Bass Fishing Tours
When it comes to bass fishing tours, you can be part of one even if you aren't a direct participant. In other words, you and a friend can find random bodies of water that offer fishing tours across the U.S. and be there at a designated time to participate in a tour.
You can find all sorts of small lakes, huge natural lakes, and massive reservoirs covering miles of acres that offer the ultimate bass fishing experience. Other than those, if you feel extra adventurous, you can visit Florida's many rivers, canals, swamps, and ponds or fish in a massive California reservoir and have an unforgettable bass fishing session.
According to anglers, these are the most popular fishing tours and charters to try.
Lake Okeechobee, Okeechobee, FL: Located in Central Florida, this Outdoor Experience will take you on an unforgettable guided tour of the world's most popular lake in the US. Unlike many lakes, Lake Okeechobee is huge, some 730 square miles in size. Pro anglers and anyone who isn't experienced in fishing at all can be part of the tour and experience premium bass fishing like never before. 
California Delta, CA

: The San Francisco area, just east is the rich lands of the Delta. Fishing Charters provide excellent fishing services and pay special attention to the fishing needs and requirements of the anglers onboard. You'll be fishing aboard the newest fishing boats, which is the company's staple, and enjoy a day of fishing with everything you might need. If you are interested in doing a lot of catching and less fishing, this is the place to visit!

Headwaters Lake, Vero Beach, FL: Located on the east coast of Florida, this fishery is the newest of all of them. Over-stocked with big bass, and never disappointing expectations for an unforgettable guided tour of the newest most popular lake in the US. Unlike many lakes, Headwaters Lake is some 10,000 acres in size. Be part of a tour and experience premium bass fishing like never before! 
You can sign up for a half-day family tour, a 2, 3, 4, 5, 6, or 8-hour guided fishing trip, and leave with the bass fishing knowledge a go on a bass tournament.
Guided Bass Fishing
: Is It the Right Choice for You?
A guided trip allows the casual angler to experience a great fishing experience with little to no knowledge of the sport. You don't need to know how to cast, tie knots, or even what baits to use. Guided bass fishing is perfect for you if you aren't an experienced angler or you want to try out some new bass fishing places you haven't been to before.
Guided bass fishing can be an all-inclusive experience: 

Fishing guides know the waters:

Bass fishing guides can help you find fish

You won't have to worry about fishing regulations: 
Bass Fishing Vacation
: Every Fisherman's Dream
Anyone that has ever gone fishing understands the joy of waiting for the right tug that will catch them the perfect lunker. Now fishing doesn't have to be a one-person activity, it can include groups of people like your family and friends, too. In that context, it isn't a surprise that more and more fishing tours in the U.S. attract a large number of visitors every year, especially in spring and summer.
You can turn your usual fishing trip into a bass fishing vacation in Florida, Georgia, Pennsylvania, California, Texas, or California; moreover, you can charter some of the most popular bass fishing tours and enjoy a day packed with amazing sightings. If you plan on organizing a fishing vacation yourself, make sure you visit some of the best spots in Texas, Florida, or even Kentucky — you'll find amazing amenities that will keep your friends and family entertained while you're out and about luring in that trophy bass.
FAQs
Q: Where is the best fishing in America?
A: Florida is, hands down, the best fishing spot in the U.S. 
Q: What is the fishing capital of the US?
A: Florida is deemed the fishing capital of the world! 
People Also Ask
Q: What Caribbean island has the best fishing?
A: The Caribbean is super famous for fishing. Some of the best spots include Puerto Rico, the Dominican Republic, the Cayman Islands, Grenada, St. Lucia, and others.
Q: Where is the best place in the world for fishing?
A: You can cast your bait anywhere in Sicily, the Bahamas, Cabo San Lucas, Florida, Costa Rica, and a lot of other places around the world and have the best fishing experience ever.