The Conway (1,800 acres) and Butler (4,927 acres) Chains are very similar in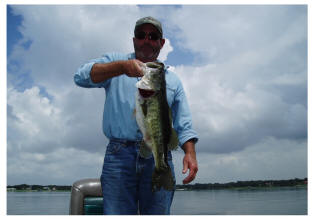 that they are both relatively deep for Florida lakes (20 – 40 foot holes), have abundant submerge vegetation and good largemouth bass fisheries. This 4,720-acre chain is made up of 11 interconnected lakes. Boat access is available only at one county ramp (Lake Isleworth just south of Windermere) and public bank access is almost non-existent. Orange County charges a $5.00 launch fee at the Lake Isleworth ramp and the ramp is not open after dark. Lake Down is the most northern lake of the Butler chain and is 872 acres of clear water. The R.D. Keene ramp at Lake Isleworth (Butler Chain) costs day or year for use of the ramp. Boat ramp is located at 100900 Chase Road, just S. of Windermere. Little Lake Down is only accessible from a somewhat of a hidden canal, which is located on the west side of the lake. The canal is located to the north of the main canal between Lake Down and Wauseon Bay. Wauseon Bay is the smallest body of water of the chain of lakes, which acts as a drain from the west side of the lake all the way down to Lake Butler. When exiting Wauseon Bay from the south it leads you to Lake Butler. Next is Lake Louise, a 50 acre lake which is off the canal from Lake Butler down to Lake Tibet. Lake Louise is a long and narrow body of water. Then comes Lake Isleworth, it is a circular or almost round lake. It is around 17 acres, and located off the canal south of lake Louise. This is also where the boat ramp is located at R.D. Keene park.
Next in line is Lake Chase, it's 140 acres, It has a great mixture of many Florida vegetations we look for when fishing in Florida. Next, Lake Blanche has 120 acres of deep water like the others but also a lot of great shallows. It also, has deep water like the hole as you enter the lake from the canal. Lake Tibet is the second largest lake of the chain, at 1'198 acres. It is longer then it is wide. Has bays on both the east and west side of the lake. The western side faces a preserve and has several docks that extent out and have deeper water at the ends. Then comes, Lake Sheen it is about 565 acres and also round shaped. From there it leads you to Pocket lake, it is roughly 130 acres and also round in shape. The canal found on the southwest corner leads to Little fish lake. If used, please be careful. Experience navigation needed in this area. When you do get to Fish Lake, it is about 25 acres in size and can be known to be very weedy and clogged up at times.
One other know fact about the chain of lakes. Many celebrities call the Butler Chain of Lakes their home. Such people include the likes of Shaquille O'Neal, Ken Griffey Jr., and Tiger Woods, just to name a few.
Windermere-aka, Butler Chain fishing
Windermere Chain is known for its excellent largemouth bass fishing. Most successful bass anglers pay attention to the bottom contours of the lake's offshore structure where 4- to 5-pound bass are commonly produced. Live shiners free-lined over grass edges, humps, ledges, and drop‑offs adjacent to spawning flats is one method to consistently catch quality bass in the winter/spring. Jigging spoons fished over deep-water humps can produce 50-fish days when the water gets cold and fish congregate tightly. Windermere/Butler chain also have relatively unknown and unstudied black crappie (speck), bluegill and redear sunfish (shellcracker) populations, but bass anglers reports and field observations indicate a fishery exists for all three species.
Most of the lakes consist of clear water, deep ledges, visible and submerged vegetation, the Butler chain offers a wide variety of lure options as well as year round fishing. Schooling bass is always the popular way to fish for most local angers and can be found almost year round allowing for exciting topwater action. Finesse techniques are also excellent choices for water that can be clear enough to see 10 ft deep on a sunny day. Dropshot and Carolina rigs are always a popular choice for bass anglers when fishing the offshore humps.
Best times to fish the Butler chain are from June – November. This time of the
year offers quality size fish in the 3-8lb range and good numbers of bass caught
per day. Boat traffic can be a problem, so week days are always suggest if recreational boating on these lakes.
Fishing Guides
Although, live bait can be used on this chain we prefer only artificial baits because of the schooling fish, there are a variety of techniques available to catch these bass. This chain is excellent for anglers from locations that fish deeper waters, like the North and maybe Japan. Where you are accustomed to deep clear water while using spinning tackle with light line.
Our fishing guides are hand picked from the best in the area, so you don't have to. They have fished these Central Florida waters for no less then 20 years. During this time our team have developed there skills and experience necessary to provide you with that fishing trip of a life time. In order to insure your trip will be a safe and memorable trip, all of our guides are insured and US Coast Guard licensed captains.
Not only will you fish with a professional guide, all of our trips include: Fully equipped Bass boats, fuel and tackle. Everything you need for that trip you've been waiting for. The only thing you will need to have is a Florida fishing license.
Corporate trips are welcome and very common for us, because of our size. We can accommodate your fishing needs from one to hundred. We also can provide everything from breakfast and box lunches to a southern BBQ to end the day.
One of the biggest benefit to fishing this chain of
lakes is it is located just minutes from Disney and Universal Studios.
More great links to information on this chain of lakes,
http://www.butler-chain-of-lakes.com/

http://floridafisheries.com/rules.html#NEW%20REGULATIONS