Lake Rating:
Lake Rating - Read customer reviews of lake, click to read
Lake Griffin Florida
Lake Griffin is Florida's eighth largest lake and one of nine lakes in the Harris Chain of Lakes. The Central Florida lake is 7 miles long and covers 9,327 acres, located in Lake County at the end of the Harris Chain. Water flows through Haines Creek into Lake Griffin, which is the final significant water body before the Ocklawaha River turns north and flows through the Ocala National Forest towards the St. Johns River and Jacksonville.
The lake has some incredible fishing opportunities throughout the year. The most common species that call this lake home are largemouth bass, crappie, bluegill, speckled perch, and catfish. Anglers visit from around the world to experience the trophy bass and huge crappie known to reside in Lake Griffin, Florida.
The boat ramp located in Lake Griffin State Park leads boaters along the Dead River, opening into Lake Griffin. The Florida State Parks water is full of a wide variety of wildlife, including osprey, bald eagle, blue heron, anhinga, ibis, and river otter.
Griffin is the only Harris Chain fishery with controllable water levels because of a lock on Haines Creek with two access points that opened into the Esmeralda Marsh.
Lake Griffin Fishing Charters
Pricing?

To get current pricing. Click on the AVAILABLE button on the pictures below. Then adjust the date, time, and the number of people and it will display the total price
Searching Availability...
Fishing Chairs
GPS & Fishfinder
Life Jackets
Catch and Release Allowed
Keep Fish Allowed within Laws
Boat Specs: 20+ ft
Boat Capacity: 4 People
All Fishing Equipment
Boat & Fuel
Photos
Light Tackle
Heavy Tackle
Livebait
Artificial Lures
Spinning Rods
Baitcasting Rods
Left & Right Handed
Fly Rods (request only)
Braid & Mono Line
Bass Fishing
A drawdown done twenty years ago greatly improved the water quality of the fishery. The water levels are optimal and transparent, making the lake one of the best bass lakes in Harris.
In 2007 an additional benefit occurred for bass anglers when birds were interfering with air traffic resulting in filling some of the small lakes near the Orlando airport. An agreement made with waterfront homeowners allowed the government to dredge Lake Griffin's canals, another positive event for bass fishermen.
The two access points that opened into the Esmeralda Marsh, which were vegetable farms, are now full of hydrilla, significantly adding to the bass habitat on the lake. The water authorities opened navigable entrances into the restored marsh areas. These marshes have since produced numerous local and national bass tournament bags.
The state's bass hatchery has stocked bass into the lake, and now these largemouths are quite large; a few reported exceed 14 pounds. The water quality is high throughout the lake, especially in the canal. Bass thrive all year, with the peak being in the Spring during the spawning season.
Bass Fishing Spots
The most reliable bass fishing areas are around the canals, backwater area, and the Ocklawaha River. There's a natural spring in the park's back that feeds clear water into the park and the surrounding bay. The Spring has become an excellent site for catching trophy bass. 
The resident canals around the lake are known for holding bedding bass, which often can be sight fished in the clear water. Topwater fishing is excellent right in Lake Griffin State Park, which contains plenty of large fish. Another productive spot is the canal system leading into the Country Club of Harbor Hills.
Lake Griffin Fishing Guides
Central Florida Guided trip
A Central Florida freshwater fishing trip gives you the highest chance of catching trophy bass during your visit. Your captain's priority is safely taking you to the most productive part of the lake for your targeted fish while enjoying the scenic Central Florida views. Throughout your trip, anglers will learn about the Lake Griffin State Park area, fish habits, and best techniques.
Lake Griffin State Park
Lake Griffin State Park is a unique 577.63-acre park made of woodlands and a freshwater swamp, known for providing an authentic Old Florida vibe. The park connects Lake Griffin, the Ocklawaha River, and the Harris Chain.
Lake Griffin State Park is two miles north of Leesburg and 30 miles south of Ocala in Fruitland Park on U.S. Highway 441. Located in the park is Florida's 5th largest Live Oak tree. The live oak measures 10 feet in diameter and is over 130 feet tall.
Forty campsites with water, a dump station, and electrical hook-ups are in the park, along with a boat ramp, a picnic area, a picnic shelter protected by Florida's grand oak trees, and a 1/2 mile-long nature trail.
Lake Griffin of Lakes Reviews
Weather
★★★★★
"
I went on a half day trip with Captain Gino in April on Lake Griffin. The weather came in fast on us with heavy rain and lightning. Captain Gino quickly got of clear of the lightning and on some fish in another part of the lake. He turned a potential problem into a good day on the water. We were lucky to have booked him on short notice and he was a great guide. I would definitely use him again if I get the chance.
"
Father birthday
★★★★★
"
Went with Capt Gino, my wife booked a trip for her Father and me for his birthday. Capt Gino was fantastic! Even though the weather was not perfect, he found the bass! He was extremely knowledgeable about his job and very passionate. He made sure we had the best possible time and directed us as to what would end up being a great fishing day for bass! We have never caught so many in one day! It was awesome, and we look forward to returning next year to fish with Capt Gino!
"
CLICK HERE TO WRITE LAKE GRIFFIN REVIEW
Area Things To Do
Central Florida is full of family fun and is home to some of the state's best cuisine. The Lake Griffin State Park has Pontoon boat tours, a site campground, and numerous outdoor activities near Central Florida's most popular theme parks and only 30 miles south of Ocala.
Lake Griffin State Park Recreation
A short trail near the Lake Griffin State Park entrance takes visitors to the largest live oak tree near the picnic area of the campground. During your visit to the Lake Griffin State Park in Florida, you can rent a canoe or kayak and explore the canal while catching bass, bluegill, speckled perch, and more. Walk the nature trail to view the birds and other wildlife lurking in Lake Griffin State Park. These Florida waters are home to a healthy alligator population, so there is no swimming in the river or lake.
Popular Attractions
Some of the most popular attractions near Fruitland Park include Lake Sumter Landing, Eisenhower Regional Recreation Center, Spanish Springs Town Square. Experience nature at Sharon Rose Wiechens Preserve, Uncle Donalds Farm, and kayaking in the Florida water to see various birds, gators, and river otters. Popular restaurants near Lake Griffin State Park include Osaka Steak House, Latin Cafe, and Takis Restaurant.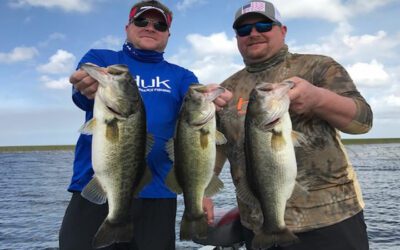 There's no better place to bass fish than the "bass fishing capital of the world," also known as the state of Florida. There are endless Central Florida lakes for anglers to...
read more
What are you waiting for?
We also have great deals available on the following lakes that match your search criteria.