Fishing in Winter Park Fl
Winter Park Rating:
Fishing in Winter Park Rating - Read customer reviews, click to read
Complete Guide to fishing near Winter Park Fl
Winter Park is a Florida city near Orlando and is known for its abundant outdoor space, incredible fishing, and leafy Central Park. The city of Winter Park offers a plethora of fishing opportunities to veteran and novice anglers. So, whether you are visiting for a vacation, getaway, business meeting, or in search of the famous Florida trophy bass, Winter Park has everything in store for you. Since it is located on the Chain of Lakes, it is renowned for having some of Florida's best lake fishing. There are plenty of creeks and lakes to fish in Winter Park. Winter Park, Fl is also under an hour from some incredible saltwater fishing charters on the East coast.
Popular Near by Winter Park Fishing Locations

Instant Confirmation

  Angler's Top Choice

FREE Cancellation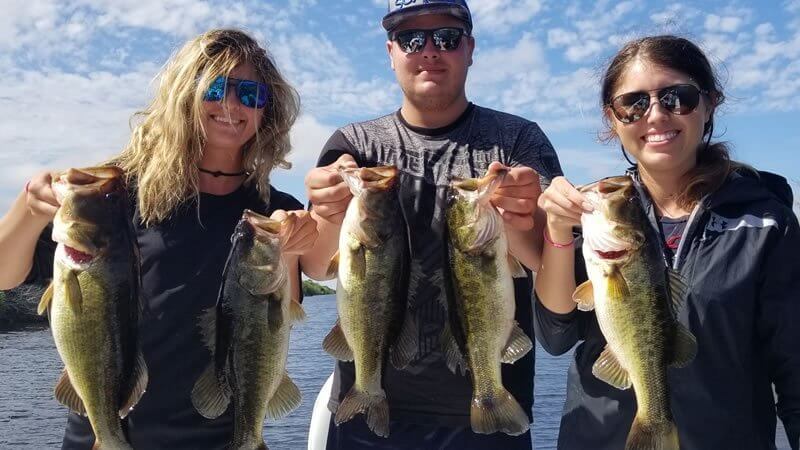 Fishing in Winter Park Fl Reviews
Enjoyed every adventure
★★★★★
"
Excellent. Many different forms of fishing. Beautifully lakes and well-documented fishing spots.
"
Fun Times
★★★★★
"
The area fishing lakes are beautiful! Well worth the trip. Loved all the displays and there are so many places to fish! My disappointment was with the staff was with the size of the fish n the smaller area lakes.
"
The Best Time
★★★★★
"
Such a nice place to visit! The exhibition in this town is magical. So many beautiful lakes, and local decorations. And you can learn so much history of the area. They had such a beautiful collection of fishing equipment.
"
CLICK HERE TO WRITE A WINTER PARK REVIEW
Largemouth Bass Fishing
The Orlando and Winter Park areas provide some of the best freshwater fishing Florida has to offer. The lakes in Central Florida provide anglers on board a guided fishing charter the best opportunity at a personal best bass. The best time for trophy bass in Central Florida is during the spring's Spawning season, the peak months being March through May. Along with famous largemouth bass, the Winter Park area is also full of crappie, bluegill, redear sunfish, pickerel, and channel catfish.
Best Spots
Winter Park, Fl is close to many of the best trophy largemouth bass spots in the state. Winter Park anglers on board a fishing charter are likely to fish the Kissimmee Chain, and Lake Toho is the top lake in the chain. Other top fishing spots even closer to the Orlando and Winter Park area are Conway Chain of Lakes, Johns Lake, and Butler Chain of Lakes. Lake Kissimmee, Lake Walk-in-Water, and Stick Marsh are other popular fisheries about an hour and a half from Winter Park. The best way to escape Orlando's busy streets is to experience a fishing charter on Lake Toho. Lake Tohopekaliga, or Lake Toho, is about 29 miles from Winter Park and conveniently located to the city of Orlando Parks like Disney and Universal. This fishery is known worldwide for its trophy bass and year-round largemouth action. Some great crappie fishing is also done on Lake Toho as the water temperatures cool in the fall and winter.
Top Targeted Winter Park Fish Species
Fishing Tips for Fish Orlando Program Lakes and Urban Ponds
Winter Park also falls under the Fish Orlando program, which encompasses the Orlando Fab Five Lakes. Novice anglers and kids especially favor the Fish Orlando program water bodies. The lakes that fall under the fish Orlando program are Turkey Lake, Lake Underhill, Lake Ivanhoe, Clear Lake, and Starke Lake. Fish Orlando's mission is to create convenient, quality fishing opportunities in the greater Orlando area. Initiated by the Florida Fish and Wildlife Conservation Commission in 1998, the program was supported by the City of Orlando, City of Ocoee, City of Winter Park, Orange County, BASS PRO SHOPS, and various other businesses and volunteers/civic groups.
While fishing Florida lakes, look for deeper pads, grass areas, and points using crankbaits, soft jerk baits, or Carolina rigged plastics. Anglers can also try casting a Devil's Horse or Zara Spook on the fish attractors at some of these lakes. Fishing chicken liver on the water bottom near dredge holes is effective for channel catfish action reaching 10 pounds. If dredge holes aren't holding fish, try fishing the mouths of canals associated with some of these lakes. Anglers can rent boats at Bill Frederick Park of Turkey Lake. Clear Lake Park has a fishing pier next to a popular hybrid striped bass fishing location. This area has two fish attractors and eelgrass, making a lush plant life often holding fish. Fishing the drop-offs of Lake Ivanhoe with wacky-rigged plastic worms or fluke juniors with a small weight two feet above the worm is productive, especially in May and June when there is the possibility of schooling activity. The urban ponds include Barnett Park Frog Pond, Bear Creek, Lake Island Park, and Santiago. These urban ponds are put-and-take channel catfish fisheries, and the channel catfish are warm water fish, so the spring and summer months are typically best.
Other Lakes in Winter Park, Florida
Winter Park is home to some of the most excellent lakes. Six lakes make up the chain of lakes; however, just four lakes are accessible by the canal system. The four lakes are Lake Mizell, Lake Maitland, Lake Virginia, and Lake Osceola. You can access these through the two boat ramps and canal system.  The Chain of Lakes provides numerous fishing opportunities for visitors. The chain covers an area of more than 2700 acres of water and holds largemouths, sunshine bass, redear sunfish, crappie, bream, gar, channel catfish, tilapia, and hybrid striped bass. Since there is little public shoreline for fishing other than the fishing dock at Kraft Azalea Garden Park or Dinky Park, several people use kayak or canoe to reach their favorite fishing spot.  The lakes are shallow, and the deepest spot is a 29-foot hole on Lake Maitland. Several anglers love to fish on the lakes early in the day before they fill with water sports fans. Lake Maitland is a peaceful spot if you have to cast a line into weed beds. Here, you don't have to worry about choppy waves caused by ski boats.
Saltwater Fishing Opportunities
Inshore
The Orlando/Winter Park area is being minutes from excellent Florida flats and beach fishing charters. Anglers have endless inshore fishing opportunities with the Sebastian Inlet, Mosquito Lagoon, Halifax River, and the Indian River Lagoon system. Florida, in general, is the fishing capital of the world, but the Indian River and Mosquito Lagoon specifically are known as the redfish capital of the world. These areas have incredible snook, tarpon, and seatrout fishing too. The other top inshore fishing locations, Ponce Inlet, Sebastian Inlet, and Port Canaveral, all offer some of the best seasonal tarpon, cobia, snook, shark, kingfish, and dolphin fishing off the beaches.
Deep-sea
Incredible deep-sea trips are one of the best-kept secrets not far from the Winter Park area. Red snapper, sailfish, wahoo, and cobia are abundant favorites of the Port Canaveral and Cocoa Beach areas when offshore fishing. Depending on the time of year, common fish species caught on a deep-sea charter trip near Orlando are Sailfish, Mahi Mahi, Wahoo, Mackerel, Cobia, Blackfin Tuna, Grouper, Shark, Seabass, and more. Depending on the season and trip length, anglers may fish the deep nearshore reefs and wrecks or head further out to sea for pelagics and larger fish.
Top Winter Park Bass Fishing Guides
Meet the team of local Winter Park bass fishing guides, we know the best spots, baits, and techniques to give you the greatest fishing experience in Winter Park.
Current Winter Park Fishing Reports
The Best Summer Fishing For BassSummertime fishing can vary greatly depending on where you are, leaving you feeling hopeless as the fish move to deeper water and wait until...
read more
Winter Park Fl Things To Do
Visit Central Park
Central Park is one of the city's recreational jewels as it hosts several performances and events throughout the year. The park provides guests with a good mix of shops and areas. You will come across a famous rose garden at the south end, particularly beautiful in the springtime. 
Drop-In at Lake Virginia
This area provides recreational options such as fishing, boating, and sunbathing. Lake Virginia is one of the most scenic attractions in the city. Several choose to explore this by pontoon boat or kayak. Many dining options are close by that are ideal places to relax over a drink or eat.
Visit Mead Botanical Garden
Abundant rain, sun, and balmy weather is the reason behind these beautiful botanical gardens. Mead Botanical Garden, on the south of South Deming Drive, Winter Park is famous for its plethora of trees, plants, and flowers from all across the world. It is beautiful all year round; most guests talk about the annual orchid bloom during springtime. There are walkable trails around the garden that will lead you through different natural environments. Apart from its flora, it is home to several animals, too. 
Science Boat Tours
Central Florida is filled with lakes, and access points and parks surround several of them. Thus, they are pretty popular with paddle-boarders and kayakers. However, if you would like to relax in the shade and let the machine propel you, you can take the Scenic Boat Tours. The tours primarily focus on the development, history, and natural attractions of the area. It lasts for about an hour and takes you around several lakes and neighborhoods while sighting gators and wading birds.
Questions? Feel free to call us, Email us or use the chat us to speak to one of our specialists.
Questions? Feel free to call us, Email us or use the chat us to speak to one of our specialists.
Questions? Feel free to call us, Email us or use the chat us to speak to one of our specialists.
What are you waiting for?
We also have great deals available in the following cities that match your search criteria.