Fishing in Gainesville Fl
Gainesville Rating:
Fishing in Gainesville Rating - Read customer reviews, click to read
Gainesville is a major city in northern Florida located in Alachua County. Gainesville is the largest city in the North Central Florida region, full of fun activities and excellent fishing opportunities. The area is known for the University of Florida, world-class museums, live music, performing arts, and numerous scenic outdoor adventures. This north-central Florida city has eight state parks to explore, consisting of over 100 miles of trails for hiking, biking, birdwatching, and clear freshwater springs to swim in.
The area is also full of savory cuisines and craft breweries to try. Among all these activities, Gainesville is near some of the country's best year-round bass fisheries. The area is known worldwide for having giant bass and crappie. These fish run so big they've earned the nickname toads by anglers from around the world. Fishing in Gainesville, Fl, never gets old with its endless shallow & deep lakes and rivers.
Bass Fishing
The best part about Gainesville fishing is how close the city is to the state's most famous bass fisheries. Great fishing locations are known for their trophy bass, and even numbers are Santa Fe Lake, Orange Lake, Lochloosa Lake, and Rodman Reservoir. These fisheries have heavily vegetated dark waters, an ideal habitat for producing giant largemouth bass in large quantities. Fishing in Gainesville, Florida, is excellent throughout the year, but the best time is in the spring during the bass spawn.

Instant Confirmation
  Angler's Top Choice
FREE Cancellation
Rodman Reservoir Fishing!
★★★★★
"
Best bass fishing ever! Captain Ken is a great guy and knows how to get you on the bass. We were visiting our daughter in school and took a day to have fun! Well worth it, will do it again!
"
CLICK HERE TO WRITE A GAINESVILLE REVIEW
Best Fishing Spots in Gainesville, Florida
Lake Santa Fe
Lake Santa Fe is a spring-fed lake and one of the best fishing in Gainesville Fl bass fishing spots located 20 minutes from Gainesville. The lake is the headwaters of the Santa Fe River, which then empties into the Suwanee River. The bass on Lake Santa Fe average two to four pounds but is known for holding numerous trophies reaching double digits.
Lake Sante Fe is also full of panfish such as black crappie, redear sunfish, and bluegill. This spring-fed fishery has an abundance of wildlife and consistent fishing, making it the perfect fishing destination for travelers. 
Orange Lake
Orange Lake is a designated Fish Management area located about 20 minutes southeast of fishing in Gainesville Fl. The average depth is 5.5 feet, with 12 being the maximum depth. This lake contains aquatic vegetation, including spatterdock lily pads and hydrilla. Anglers cannot access the shallow marsh areas because of the dense foliage.
Black crappie, bluegill, redear sunfish, and largemouth bass are often caught in these vegetated areas. The water level on this lake still fluctuates, often making it harder for anybody unfamiliar with the area to find fish consistently. 
Lochloosa Lake
Lochloosa Lake is another fishing spot designated as a Fish Management Area located under 30 minutes from Gainesville, Florida. Old-growth cypress trees border most of the Lochloosa shoreline. Most of the aquatic vegetation here is knotgrass and spatterdock. The most common fish caught on Lochloosa Lake are bluegill, bream, redear sunfish, crappie, and bass.
Rodman Reservoir
Rodman Reservoir is 40 minutes from fishing in Gainesville Fl and provides some of the country's best largemouth bass fishing. This fishery is known for its Florida trophies exceeding ten pounds. Rodman Reservoir is full of areas that attract basses, such as timber, floating vegetation, and deep water holes.
There is plenty of natural bait and cooler waters, which is why the extreme growth rate of the local fish. Rodman is primarily a live bait fishery, mainly to catch giant fish. However, artificial ones have proven to work as well, just not as consistently.
Top Targeted Gainesville Fish Species
Fishing Charters
A Gainesville fishing charter is a great way to experience the famous Florida fisheries, targeting your popular game fish such as bass, crappie, and bluegill. Your local expert will lead you to the best fishing spots while sharing their knowledge about the area, fish habits, and best techniques. A guided fishing trip in Gainesville, Florida, removes any guesswork for you, allowing you to fully and safely catch fish and experience the area.
Gainesville fishing charters provide a fully loaded boat with everything you need for a successful fishing day, including high-quality rods, reels, hooks, and lures.
Water Quality
There was a period of low water levels from a giant sinkhole on Orange lake and a fish kill on Lochloosa Lake in the 1990s. These events quickly wiped out the trophy bass that was previously thriving here. These fisheries have started thriving in recent years with sufficient rainfall, restoration efforts, and less fishing pressure.
There has been an explosion in the fish populations since. These lakes are back to thriving with tons of baitfish and consistently producing quality largemouth bass reaching the 10 to 13-pound range.
Techniques
Fishing with live bait is the best way to increase the odds of catching a trophy bass. Depending on the fishery and season, artificials can work well too. Popular lures are soft plastics such as Swim Senkos, Speed Worms, Horny Toads, and Flukes.
Meet the team of fishing guides Gainesville Fl, we know the best spots, baits, and techniques to give you the greatest fishing experience in Gainesville.
Local Fishing Ponds in Gainesville
Beautiful state parks and nature preserves fill Gainesville, all holding Florida bass. The local fishing in Gainesville Fl is Newmans Lake and Lake Alice.  
Newmans Lake
Newmans Lake is the largest fishery for fishing in Gainesville Fl and holds some quality fish in large numbers. It's a 6,000-acre pond full of lush trees, wildlife, and numerous hiking trails to explore. 
Lake Alice
Lake Alice in Gainesville is a local fishing pond on the University of Florida's campus. The lake is home to many wildlife, such as alligators and softshell turtles. You can catch largemouth bass while enjoying stunning views around the lake. 
Saltwater Fishing Near Gainesville
Gainesville is close to Florida's best saltwater fishing destinations on the east and west coasts. St Augustine Beach and Flager Beach on the Atlantic Coast are about an hour and a half from Gainesville. Cedar Key is about an hour's drive to the west. Both coasts offer memorable inshore and deep-sea fishing trips.
Inshore fishing charters explore shallow waters, Intracoastal waterways, and jetties for popular sportfish such as tarpon, snook, sea trout, and redfish. Deep-sea fishing charters involve fishing in the open waters for pelagic species like mahi-mahi, cobia, sailfish, and mackerel. Deep-Sea Fishing trips can also take place near the deep reefs for species like grouper and snapper.
Things To Do Near Gainesville, Fl
Popular Spots
The Florida Museum of Natural History has fossils and ethnographic exhibits. The campus also has the Butterfly Rainforest, home to hundreds of free-flying butterflies and birds. Another popular spot nearby is the Harn Museum of Art, which has a giant collection of African and Asian art.
Palm Point Nature Park
Palm Point Nature Park is a peninsular city park located on the western shore of Newmans Lake. This area provides anglers with some of Gainesville's most scenic views, known for its year-round water birds and songbird fallouts during migration. The park is full of vibrant colors from the blooming wildflowers in the spring and summer. Palm Point Park is one of the most popular tourist spots to hike, bird watch, and fish from the bank. 
UF
Excellent bass fishing in Gainesville Fl is known at the University of Florida, the nation's seventh-largest university campus by enrollment and Santa Fe College. If you're here during the fall, you won't want to miss one of UF's football games.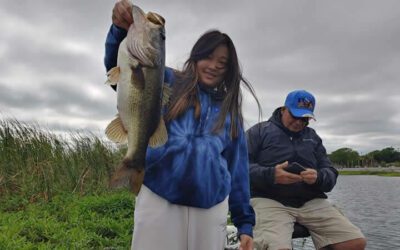 The Best Guided Bass Fishing in Florida Maybe you have done guided bass fishing in Florida, and perhaps you haven't. Perhaps you are a seasoned angler, or maybe you fish...
read more
Questions? Feel free to call us, Email us or use the chat us to speak to one of our specialists.
Questions? Feel free to call us, Email us or use the chat us to speak to one of our specialists.
Questions? Feel free to call us, Email us or use the chat us to speak to one of our specialists.
What are you waiting for?
Other than fishing in Gainesville Fl. We also have great deals available in the following cities that match your search criteria.