Lake Rating:
Lake Rating - Read customer reviews of lake, click to read
About Lake Santa Fe Fl
Lake Santa Fe is a 5,850-acre lake located in Alachua County, Florida, United States. The North Central Florida lake is situated entirely in Alachua County but surrounded on the East and South side by Bradford County, Putnam County, and Clay County. Seepage from the Florida Aquifer, located in northeastern Alachua County, feeds into Santa Fe lake.
The fishery divides into two lakes, Big Lake Sante Fe and Little Santa Fe Lake.
The Sante Fe lake forms the headwaters of the Santa Fe River, the largest tributary of the mighty Suwannee River. The Sante Fe river exits from Little Lake Santa Fe on the north side, which then empties into the Suwannee River. When adding the Santa Fe Swamp at the north end of the lake, the total area covers approximately 7,046-acres.
The boundary of Alachua County extends to the ordinary high water line, which is 141 feet above mean sea level. Big Lake Santa Fe has an average depth of 30 feet. Little Santa Fe lake has a depth of about 22 feet at its deepest point.
There are plenty of great recreational lakes located between Gainesville and Melrose. Sante Fe Lake is about 20 miles east of Melrose, a fascinating historical town far from natural waterways and more of a seaport for citrus.
Santa Fe Lake is one of the largest and most stable lakes in North Central Florida. It's an excellent fishery and popular boating waters abundant in beautiful wildlife.
Outstanding Florida Water
According to the Florida Department of Environmental Protection, the State of Florida designated Lake Santa Fe as an outstanding Florida Water storage, which means its "worthy of special protection because of its natural attributes." The state's Outstanding Florida Water designation intends to protect the existing water quality from lowering. Residents and visitors worldwide can appreciate the goal of the Outstanding Florida Water storage because of the incredible natural beauty of the ecosystem around Sante Fe Lake.
FISH Lake Santa Fe FLORIDA
Searching Availability...
Fishing Chairs
GPS & Fishfinder
Life Jackets
Catch and Release Allowed
Keep Fish Allowed within Laws
Boat Specs: 20+ ft
Boat Capacity: 4 People
All Fishing Equipment
Boat & Fuel
Photos
Light Tackle
Heavy Tackle
Livebait
Artificial Lures
Spinning Rods
Baitcasting Rods
Left & Right Handed
Fly Rods (request only)
Braid & Mono Line
Santa Fe Lake Fishing
Sante Fe Lake has a little northern area and a big southern arm connected by the pass, which is where the schools of shad roam, and the fishing is incredible for schooling largemouth bass and stocked sunshine bass. Sante Fe also holds quality black crappie averaging 13 to 15 inches, and many reaching lengths closer to 16 to 19 inches.
The Sante Fe lake ecosystem is robust, with a thriving fish habitat full of healthy grass beds and many cypress areas. The fish are thriving even among all the homes with docks and ski boats; however, the best times to fish are late evening and early morning.
Largemouths
Largemouth bass fishing is excellent all year round in the lake, with peak times being in the winter and spring seasons. The bass average from 1 to 3 pounds but has been multiplying. The area continually produces 8 to 10 pounders every year. Santa Fe Lake is a top fishery during the bass spawn time, which goes from late November through April. The best months are late January through early April. The area that connects Santa Fe Lake to Little Sante Fe is a hot spot for schooling largemouths.
Hybrid Striped Bass
Sunshine bass was stocked into Santa Fe Lake. These hybrid striped basses actively bite throughout most of the year. The sunshine bass often chases schools of shad to the lake's surface, especially during the early morning and late evening. The most popular techniques in catching them are slow trolling stick style baits imitating shad.
Top Targeted Fish Species
North Central Florida Fishing Charters
Lake Santa Fe, Fl provides endless opportunities to catch a Florida bass, a hybrid striper, and black crappie. Many anglers come here with the hopes of catching a famous trophy largemouth, and Lake Santa Fe's spring-fed water is a sanctuary for them.
Santa Fe Lake is an excellent fishery abundant in beautiful wildlife, making this an ideal place for a family excursion. The fishing is great here all year round for anglers of all skill levels. The bass action is at its highest in the winter and spring months during the spawn. Your captain will have everything you need for a successful day on the water, including all gear, tackle, and extensive knowledge of the fishery. Your guide will take you straight to all the best spots holding fish while also providing a scenic tour of the expanse.
Local Lake Santa Fe Fishing Guides
The Boathouse cottages at Lake Santa Fe
★★★★★
"
Quaint cottages rentals at the former Buddy's Landing on Lake Santa Fe for rent year round. Gated and private boat ramp use with secure parking for your truck and trailer for a small fee. Event space right on the lakeside provides an amazing backdrop for parties, family reunions club meetings, etc. check us out at BuddysLanding.com 352-316-1623
"
CLICK HERE TO WRITE A REVIEW
Area Things To Do
Lake Santa Fe is about 25 minutes from the University of Florida in Gainesville, which helps keep a fresh, vibrant atmosphere in this great city. Alachua County is known for outdoor activities and fishing, but there are plenty of indoor and outdoor activities for the whole family while not on board a local guided charter.
Santa Fe Lake Park
Alachua County maintains Santa Fe Lake Park and offers a wide variety of activities to visitors. There is a boat ramp at Santa Fe Lake Park and numerous Nature Trails known for their tranquil scenes and native animals that may cross its path if you're quiet. Bald Eagles also call this area home.
Popular Attractions
The Museum of Natural History is a must-see in Gainesville, Fl, with a 6,400 square foot Butterfly Rainforest exhibit. Other popular attractions include the Kanapaha Botanical Gardens, the Museum of Art, and the O'Leno State Park, located on the Sante Fe River banks.
Current Lake Santa Fe Fishing Reports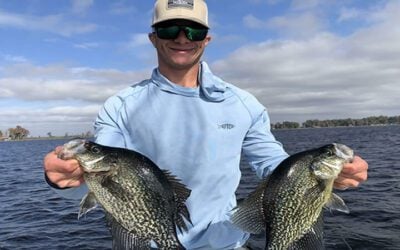 North Florida Crappie Fishing Are you a freshwater fisherman that loves the outdoors? If you also enjoy a fresh catch to cook up,...
read more
What are you waiting for?
We also have great deals available on the following lakes that match your search criteria.