Central Florida Fishing Guides
We have several Central Florida fishing guides to choose from, the list updates are done continuously. If you have previous when with us and your guide is not listed please call the office for details and contact information. If you're looking for specific things, non-smoking, live-bait specialist, artificial only, Big Bass, etc. give us a call we can help explain each one to you. Also please read the fishing guide reviews so you know we have the right guide for you!

Central Florida Fishing Guides
Best Florida guide service
★★★★★
"
Hands down the best guides I've ever been with. They put us on some monsters and other great fish as well. We will definitely be going back with him again. Thanks for the great time on Lake Toho.
"
Freshwater Fishing
★★★★★
"
I booked a trip online and fished with Capt. John Leech. He was a wonderful guide, friendly, had a lot of knowledge about fishing and Florida alike. We had a fun and exciting time fishing and busily pulled up large mouth bass for almost the entire trip. I would fish with Capt. John again!!
"
Days in the boat with CAPT Brent Nelson
★★★★★
"
Awesome!!!!! Despite a cold front, Brent has put us on double digit numbers of Florida Largemouth Bass in the 5, 6, and 7-pound range. Our average fish a solid 4+ and we still have 3-days to go! He's determined to find us that 10+. Our average catch (total) stands at 36 a day...and climbing day over day. Brent is a skilled angler and wonderful guide. We returned after a year and have sought out his expertise as our go to guy. Whether a beginner or expert angler, one should enjoy his technical insight and knowledge which is something he shares willingly. He has improved our skills as a result. In sum, Brent is a great guide to fish with and learn new techniques and strategies --that are highly productive!
"

Lake Toho * Lake Istokpaga * Crooked Lake * Walk in Water * Winter Haven Chain * Kissimmee River * Lake Marion * Lake Placid *
Click below on the region of the map you wish to find a fishing guide!
Southeast | Southwest | Okeechobee | Central | North | Panhandle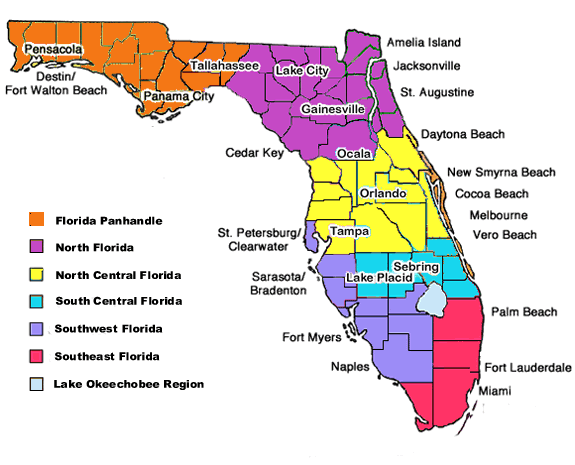 Several other Central Florida fishing guides are available, updates done continuously. If you have went with someone before and he is not listed please call the office for details and contact information!