Lake Wales Rating:
Fishing Lake Wales Rating - Read customer reviews, click to read
In Polk County, Florida, there's a region of twin large lakes and other water bodies nationally known for the proliferation of fishing, especially for largemouth bass. Lake Wales is located east of Tampa, west of Lake Kissimmee in central Florida, and is part of the Lakeland–Winter Haven Metropolitan Statistical Area. Lake Wales, FL, is south of Interstate 4, only an hour's drive from Orlando and Tampa international airports. The main water body here is Lake Wailes, which once was known as Watts Lake.
This name was changed by the surveyor Sidney Irving Wailes in 1879 to present-day Lake Wales. Lake Wales is part of peninsular Florida, the land of a thousand lakes. Alongside Lake Wales, Polk County has more than 300 small, medium, and large clear lakes, more than sufficient to furnish all-year-round fishing charters. This spot is most thought of for its top-notch bass fishing guides, but it's also located only an hour from excellent saltwater fishing trips.

Instant Confirmation
  Angler's Top Choice
FREE Cancellation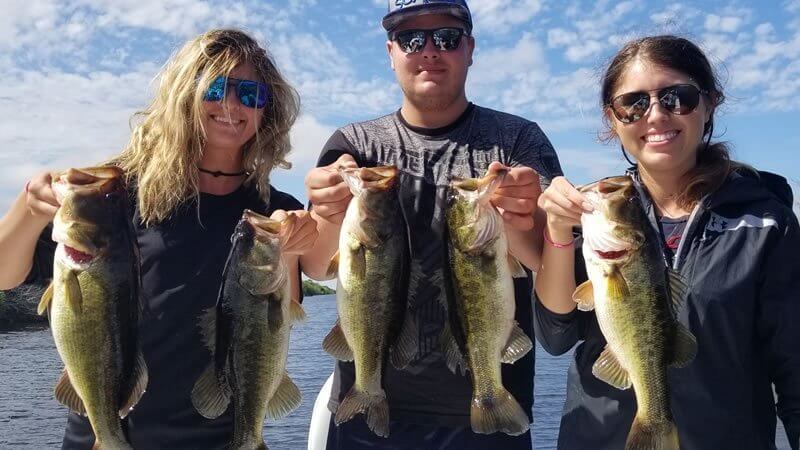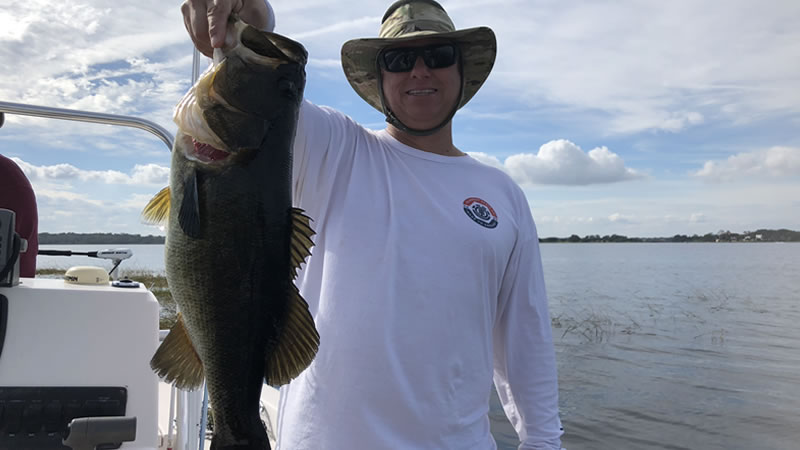 Fish of a Lifetime!
★★★★★
"
We had an awesome trip with Captain Bill. He is extremely knowledgeable and teaches you how to be a more successful angler. He put us on fish from the very start. He specializes in trout on artificial bait but he helps my buddy catch the big largemouth bass of a lifetime! We will definitely be repeat customers of Capt Bill
"
CLICK HERE TO WRITE A LAKE WALES REVIEW
Freshwater Fishing
Anglers can fish in the main lake in Lake Wales, nearby lakes, reservoirs, streams, and other permitted water bodies. This county has 23 rivers, streams, and canals, plus 54 lakes and ponds of this county's 458 sq. miles of watershed. Before the Florida fish and game started catch-and-release restrictions, this lake had suffered from bass overharvesting. Lake Wales bounced back as an excellent bass fishery after officials enforced these regulations.
The availability of large hydrilla patches that have been kept under control has encouraged a ripe bass ecosystem, much to anglers' joy. Anglers can successfully target crappie, redear sunfish, drum, bluegill, or bream in Lake Wales or nearby lakes Crystal and Cooper. Whether you're fly fishing, trolling, baitcasting, or spin casting, there's a favorite spot where the bass is biting in Lake Wales. There are numerous small water bodies for visitors to fish, but the top fishing places to catch a Florida trophy with a guide are Lake Kissimmee, Lake Toho, and Winter Haven.
Best Fishing Spots
Lake Kissimmee is about 30 minutes from Lake Wales and is known for its trophy largemouth bass. This is one of the best destinations to experience actual Florida bass fishing any time of the year. Another excellent fishery under 30 minutes from Lake Wales is the Winter Haven Chain of Lakes, known for its consistent largemouth fishing adventures. Lake Wales, Fl, is also only an hour from Lake Toho, one of the best bass lakes to experience in Florida. Lake Toho is highly prized for its trophy largemouth bass, with fish near the double digits consistently produced there—other great options in this area are Lake Walk-in-Water and Lake Istokpoga.
Techniques
Throughout late spring, summer, and early fall, largemouth bass fishing is steady while the water is still warm. Fisherfolk frequently hauls in three to five-pounders using live wild shiners, plastic jigs, worms, and artificial or suspended jerk-baits. Early winter doesn't end the angling, as you can employ shad imitators to attract schooling bass and other species that feed in shallow areas.
Lipless spinnerbaits and crankbaits provide some of the best topwater strikes, or you can work weedless baits like speed worms and frogs from the shore's vegetation to see action. There's an abundance of native vegetation on Lake Wales's shoreline, such as maiden cane, Kissimmee, knotgrass, and bulrush, also called buggy whips. Quality bass, shell crackers, or redear sunfish and bream or bluegill usually bed around the bulrush on Lake Wales' shoreline.
There's trophy bass here, with fish exceeding eight and 10 pounds caught for tagging during a recent electrofishing survey. You'll find other fish on and near Lake Wales, FL, including catfish, bullhead, bowfin, redbreast sunfish, and pickerel.
Crappie Fishing In Lake Wales, FL
One of the best techniques to target crappie on Lake Wales is using wild shiners, live Missouri minnows, and any good soft plastic worm. Quality crappie lives in vast grass beds, and you can catch a suitable number without pressure. There are two crappie species, black and white, occurring in Lake Wales and throughout the freshwaters of Florida. Crappie is prolific here, and anglers can harvest up to 25 fish thanks to the state's generous daily limits. 
You can catch the tasty panfish by dangling a live minnow near vegetative cover or work it under a float, log, or tree. Anglers in Lake Wales see productive results with spider rigging, also called slow trolling, which is essentially the best method for crappie fishing. Crappie will not resist the swirling blades that mimic the movements of wounded shad, and the larger your bait, the more you're likely to snag that monster fish.
Top Targeted Lake Wales Fish Species
Saltwater Fishing
Lake Wales is about an hour to Tampa for some incredible saltwater fishing. Experience the scenic Tampa Bay for top-notch inshore fishing charters, or travel to the beautiful Gulf of Mexico with offshore fishing guides on a deep-sea trip.
Inshore
The coastal waters of Tampa Bay have flats, passes, and oyster bars home to all of Florida's most popular game fish, including Tarpon, Redfish, Snook, and various Sharks year-round. Mangrove snappers are also highly abundant in Tampa Bay. There's never a bad time for inshore fishing in the bay. Summer, however, is the busiest season here when Snook and Tarpon are in the most abundance. Redfish, speckled trout, pompano, and more are also abundant in the warmer months.
A winter fishing trip in the bay is excellent near the bridges, docks, and reefs for trout, sheepshead, flounder, and black drum. Other popular catches on a fishing trip anytime of the year are Jack Crevalle, Spanish Mackerel, Ladyfish, Cobia, and Grouper.
Offshore
Offshore fishing charters often leave out of Clearwater or St Pete, providing direct access to the Gulf of Mexico's many wrecks and reefs. Nearshore charters can stay relatively close to shore, while an actual offshore fishing trip takes place over 30 miles out. Grouper and Red snapper are abundant but require a fishing trip further offshore. You'll see more mackerel, permit, tunny, barracuda, and shark on a nearshore fishing charter. If targeting a pelagic trophy, the summer is best for offshore fishing charters.
The local fishing guides will plan your trip depending on the length booked; there are always fish biting closer to shore for shorter trips and big fish to be caught further offshore on longer trips.
Meet the team of Lake Wales bass fishing guides, we know the best spots, baits, and techniques to give you the greatest fishing experience in Lake Wales.
Area Things To Do
This Central Fl spot is one of the best fishing spots near there for every traveler always to have something to do. Lake Wales, Fl has a collection of beautiful gardens, outdoor concert sites, museums, plenty of art, and historic downtown. Popular attractions include Bok Tower Gardens, Spook Hill, Lake Ashton Golf, Joker Marchant Stadium, Tampa Museum of Art, and the Polk Theatre.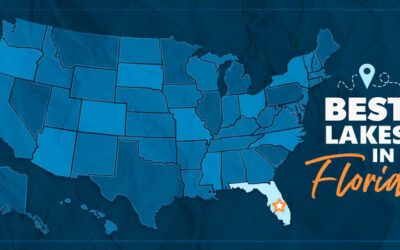 Ranked #1 Best Lakes in Florida BASSMASTER >> Rodman Reservoirs' reputation as one of the best lakes in Florida stood out in the nation by received another boost on...
read more
Questions? Feel free to call us, Email us or use the chat us to speak to one of our specialists.
Questions? Feel free to call us, Email us or use the chat us to speak to one of our specialists.
Questions? Feel free to call us, Email us or use the chat us to speak to one of our specialists.
What are you waiting for?
Now that you experienced fishing Lake Wales, we also have great deals available on Florida fishing charters in the following cities that match your search criteria.