TRIPS & TOURS - FISH OKEECHOBEE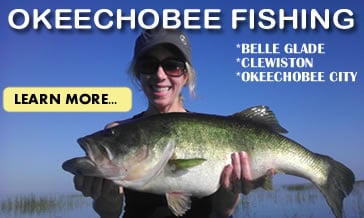 Lake Okeechobee is the most famous lake of them all and for several reason, but no other than its size. Even with it's enormous size of 730+ square miles, you find a lot of shopping, urban culture, beaches and fine dining. But with shopping on Worth Avenue, to connecting with a Cruises ports less than an hour away...who needs that stuff at the lake. We recognize having multiple locations to fish Okeechobee is almost as unique as the lake itself. Our locations are convenient no matter where you are visiting or driving from. While other fishing services sell you on there location and why it's the best...we're here to service you at the one that's best for you! The Lake Okeechobee nature adventures can only be done by boat because the lake has a 60' leeve all the way around it making it very difficult to experience the fishing from shore. There's nothing quite like fishing side by side with the alligators and birds, and the climate allows for year round fishing for several great species largemouth bass and Crappie (Speck).
What you might not know that Lake Okeechobee is a neighbor of, Palm Beach, Ft Lauderdale, Jupiter, Vero, Ft Myers and other destinations in Florida that surround the largest and most famous body of water Lake Okeechobee in the world. Many forget about the spectacular freshwater fishing that Lake Okeechobee overs, so while your friends are out cruising around in the ocean getting Sea-sick only catching two or three fish, you will be enjoying the sights and sounds of Florida wildlife and catching lots of fish!
OKEECHOBEE FISHING LOCATIONS
LATEST OKEECHOBEE FISHING REPORTS
Okeechobee Fishing Reviews
Capt. Rob
★★★★★
"
Captain Rob was top notch guide!!!
"
First Chartering Experience
★★★★★
"
This was our first chartering experience. I can't imagine anyone else spoiling their charter guests as much as he spoiled us. He was very personable and a lot of fun. He put us on a ton of big bass. Pics prove that and that wasn't but a few of them. We will definitely not be looking for anyone else when we return. Thanks captain George for a great time.
"
Okeechobee
★★★★★
"
Went out with Capt Mark Rose. Things were slow at first due to wind and cold water Mark kept trying his best and even offered to cut trip short if we wanted. Then winds died down and water temp rose a bit and things got better. Knowledgeable and a nice guy. Would recommend .
"
FISHING OKEECHOBEE FOR VARIETY!
Fish Okeechobee is home to a wide variety of beautiful locations to fish. When fishing sunny Central or South Florida there is always a destination near you. On both the east and west coast there is great fishing, whether it be deep sea or Inshore fishing for big Snook and Redfish and you can expect almost everything on Lake Okeechobee. But hold on, the freshwater fishing has its share of exciting species as well. Home of the trophy bass on Lake Okeechobee, quoted as the #1 bass fishing in the world. And while the local area has its share of trophy bass fishing lakes it have several other species that may peak you interest. Okeechobee fishing trips are also the home to the good eatin black crappie or also called speak.
There isn't any place in the world to match the bass fishing opportunity and with measured accomplishments for anglers then when fishing the BIG "O". It maybe the land of BIG bass, and lack great food and nightlife, but the great fishing is what keeps people coming back.