Eustis Rating:
Eustis Fl Rating - Read customer reviews, click to read
Complete Guide to Eustis Fl Fishing
Eustis is a Central Florida city located in Lake County and included in the Orlando-Kissimmee-Sanford Metropolitan Area. The city of Eustis, Fl is known as an art and culture destination that prides itself on being America's Hometown. Eustis is also home to a variety of outdoor activities such as sailing, hiking, and fishing.
Eustis FL Bass Fishing
Species such as bluegill, bass, and black crappie live throughout Lake Eustis and its canals, but some spots are known to be consistently more productive. There are numerous resident canals around Lake Eustis that provide anglers with constant year-round bass fishing action. Texas-rigged worms with crankbaits, spinnerbaits, and topwater baits effectively catch larger bass in Lake Eustis. In Spring, the central lake fishing turns on, producing numerous tournament wins this time of year.
Best Bass Fishing Spots in Eustis, Fl

Instant Confirmation

  Angler's Top Choice

FREE Cancellation
Top Lake Eustis Fishing Spots
North Shoreline
Gator Hole

is a backwater area along the northwest shore of Lake Eustis. This area is around a 200-foot hole that averages 12 to 15 feet deep full of grass and structure, known to hold trophy bass. A popular technique here is dragging large worms along the bottom slowly. 

The entire north shore of Lake Eustis is known to get more direct sun and warm up quicker than the other shorelines in the spring months. The first wave of spawning fish usually appears along the north shoreline of the lake and its bays. 
East Shoreline
The northeast shoreline has a small canal that leads into the Eustis city boat ramp. The boat docks on Lake Eustis are another known bedding area on the Florida lake. 

The east shoreline is best for fishing the deeper waters. Look for the shelves and deep holes. 
South Shoreline
Anglers can catch different fish species at Buzzard Beach

along the shorelines on either side of the boat docks parking lot. 

The

Dead River's mouth and the larger bay to the north have good shorelines and vegetation in the open areas of Lake Eustis that often hold bass. Anglers catch other species such as hybrid striped bass and channel catfish here too. The bridge located up the river has pads often holding bass and crappie. 

The

Lake Dora Canal

on the south end of Lake Eustis holds quality fish but is sometimes heavy in boat traffic. The city of Eustis put a public fishing pier with fish attractors in this part of the lake.
West Shoreline
The canals of

Bassville Park

hold large spawning females during the winter and spring months. The entire shoreline and boat docks of Lake Eustis often hold fish. 

The mouth of Haines Creek has good water flow and vegetation for thriving bass. The Eugene J Burrell navigation lock and its adjacent spillway makes for ideal fishing spots.
Eustis Fl Fishing Reviews
Bass Outings
★★★★★
"
Live in Eustis, love the area and the fishing opportunities. Thanks for the good information, going to hire a guide this year, can't wait!
"
CLICK HERE TO WRITE A EUSTIS REVIEW
Species in Lake Eustis Fl
Lake Eustis is home to various popular sportfish and panfish. The most popular fish species caught here are largemouth bass, black crappie, bluegill, redbreast sunfish, chain pickerel, bowfin, bluegill, and redear sunfish. Eustis Lake holds excellent size and quantity of fish with its high water quality, with the most popular spots being Gator hole and near boat ramps.
Fishing Tips From The Local Experts
Largemouth bass prefers slightly murky water with cover and light current. Largemouths can be found in depths between one and sixty feet in water temperatures between 60 and 80. Fishers can catch redbreast sunfish in Lake Eustis on a lightweight tackle in warmer temperatures between 76 and 84 degrees. Redear sunfish are bigger than most sunfish and rarely come up to eat topwater lures or flies; usually, worms are best.
The Harris Chain
Eustis Lake is the central water body in the Harris Chain of Lakes. The lake's land is more developed than other water bodies in the Harris Chain, with almost the entire shoreline surrounded by lakefront homes. Lake Eustis covers about 7,806 acres and averages 10 feet deep, with a deep hole on the south end off Lakeshore Drive. It stretches from the city of Eustis to Tavares Fl. Eustis Lake has easy access to all the other lakes in the Harris Chain of Lakes and is connected to Big Lake Harris through the mile-long Dead River and Lake Griffin through Haines Creek. The City of Eustis maintains public boat ramps on Lakeshore Drive just south of downtown. The well-known Buzzard Beach Boat Ramp is here at Lake Eustis, where many local tournaments take place. Lake Eustis and Lake Harris have the best water quality in the Harris Chain Lakes. These fisheries have a reputation of holding quality fish, with numerous bass reaching ten pounds in some spots.
Local Eustis Fl Bass Fishing Guides
Meet the team of local Eustis Fl fishing guides, we know the best spots, baits, and techniques to give you the greatest fishing experience in Eustis.
Saltwater fishing
Eustis, Fl is about an hour from New Smyrna Beach on the east coast and an hour and a half to Homosassa on the west coast. Both spots offer incredible inshore and offshore fishing opportunities. On an inshore fishing charter, you can catch Florida's most popular saltwater gamefish species such as tarpon, snook, redfish, and sea trout. On an offshore fishing charter, you can catch pelagic species such as Mahi Mahi, Cobia, Kingfish, and Barracuda.
Lake Eustis Things To Do
Popular Spots Near Lake Eustis
Indoor Attractions
Lake County is known for its beautiful lakes, rich history, and small-town charm. Popular attractions include The Clifford House, Trout Lake Nature Center, Lake County Museum of Art, and Avian Reconditioning Center.
Outdoor Attractions
Popular outdoor sites include Ferran Park, Hidden Waters Preserve Hiking Trail, Ocala National Forest, and Seminole State Forest. King's Landing is a great spot to explore nature along the Wekiva River by renting a canoe.
Current Eustis FL Fishing Reports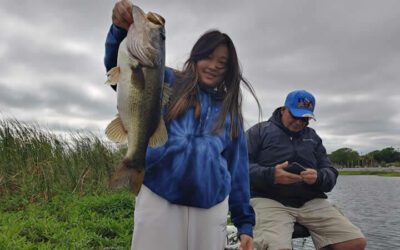 The Best Guided Bass Fishing in Florida Maybe you have done guided bass fishing in Florida, and perhaps you haven't. Perhaps you are a seasoned angler, or maybe you fish...
read more
Questions? Feel free to call us, Email us or use the chat us to speak to one of our specialists.
Questions? Feel free to call us, Email us or use the chat us to speak to one of our specialists.
Questions? Feel free to call us, Email us or use the chat us to speak to one of our specialists.
What are you waiting for?
We also have great deals available in the following cities that match your search criteria.