Sanford Fishing Trips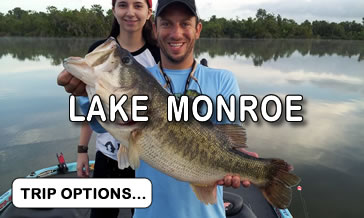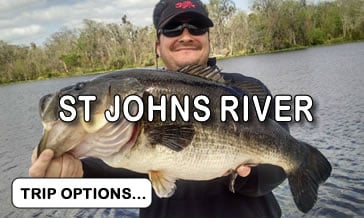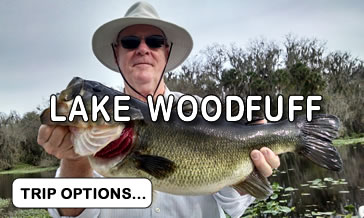 Conveniently located about halfway between the theme parks of Orlando and the beaches of Daytona Beach, Sanford serves as the Florida home of the Auto Train and offers many treats of its own. Sanford, the seat of Seminole County, lies on the south shore of Lake Monroe at the head of navigation on the historic and beautiful St Johns River. Experience the charm and ambiance of Sanford's 19th-century buildings, pristine waterfront, unique shops, and restaurants. Sanford's downtown riverwalk features antique and collectible shops, all located within a two-block radius of Magnolia Square. And, for entertainment, visit Sanford's restored Wayne Densch Performing Arts Center, their newest facility for the performing arts.
How about the fishing…
Visiting Central Florida, the St. Johns River is a top-notch fishery and a scenic getaway for many tourists and any angler. There are many lakes along the river holding with fish, attracting all types of anglers. The hardcore bass anglers suggest Lake Monroe in Sanford as well as Lake George in Astor for trophy fish. Lake Monroe, Lake Harney on the Seminole-Volusia County border and Lake Jesup near Oviedo are paradises for those targeting crappie. Puzzle Lake is good for those wanting to get in on the shad run. But it's the river that draws the most attention.
Family guided tours are common and if you want to keep the kids involved, look for areas holding lots of bluegills, shellcrackers and bream is what we do; odds are you won't have to look too long.
"It's called Old Florida," Todd Kersey, a veteran captain, says. "When people come down to visit and fish, I let them know this is what old Florida used to be like."
The slow-moving river, the largest in Florida (approximately 310 miles long), offers a wide variety of species to catch. The river, which is the only river to flow north, begins in Indian River County and meets the Atlantic Ocean in Duval County.
There are many places to fish from its banks. Lake Monroe has miles of access along the Sanford side of the lake. All you need is a few cane poles, redworms, and crickets, and you can pick off panfish all day long. But if you're looking for the true old Florida experience, there none like our professional guided tours.
The bass fishing is legendary on the river and has been for decades. Drifting along and working the banks with a plastic swimbaits can be one of the most effective ways to land bass. Search for creek mouths, runouts especially when we get some rain. When the shad start moving through the river, fly-fisherman break out their gear and get in on in the action. Shad hasn't been caught in the great numbers recently, but they still receive a great deal of attention.
Some anglers stay up to date with crappie fishing as it is excellent as well on Lake Monroe. Find deeper pockets and drift those areas with minnows and jigs.
Sanford Fishing Trip Overview
Come aboard our fully equipped boat with professional safety equipment, rods, reels and tackle to enjoy relaxing day on our Sanford Fishing Trip of a once in a lifetime fish.
Trip Core Details:
Region: Sanford
Duration: 4, 6, 8 & 12 hour
Cancellation: 2 days in advance
Weather: Full refund if Cancelled
Instant Online Confirmation
Includes All State Taxes
What's Included:
Cooler, Ice and Bottled water
Guided fishing trip
All Fishing Equipment
Boat & Fuel
Photos
Targeted Species:

Largemouth Bass

Crappie (Speck)

Bluegill
What's not Included:
Each participant over age of 16 is required to purchase Florida Fishing License. Approx cost $17.00+ tax
Livebait if desired is also additional and is purchased the morning of the trip. (optional)
Food, specialty beverages or snacks (Alcohol is permitted)
What You Will Do:
Fish the waters of Sanford Florida on a boat fully loaded with high-quality rods, reels, hooks and artificial baits.
Drop a line into the world famous bass waters in Sanford Florida with bass, crappie, bluegill and bowfin.
Be guided by local lake experts, who lead you to the best spots on the lake and share their knowledge and experiences.
Take home a souvenir of your big catch with perfect photos taken by your guide and spread on social media as desired.
Local operator information:
Complete Operator information on Sanford Fishing Trips, including local telephone numbers for your destination, are included on your Confirmation email. Our Trip Managers select only the most experienced and reliable guides in each destination, removing the guesswork for you, and ensuring your peace of mind.
Additional Information:
Participants are encouraged to bring comfortable shoes, light colored shirt, a hat, sunglasses and sunscreen.
Amenities:
Fishing Chairs
GPS & Fishfinder
Livebait
Life Jackets
Catch and Release Allowed
Keeping Fish Allowed within State Laws
Disabled Accessible
About this Tour:
Boat Specs: 20+ ft
Boat Capacity: 4 People
All Fishing Equipment
Boat & Fuel
Photos
Fishing Techniques:
Light Tackle
Heavy Tackle
Livebait
Fly Fishing
Artificial Lures
Fishing Equipment:
Spinning Rods
Baitcasting Rods
Left & Right Handed
Fly Rods (request only)
Braid & Mono Line
Learn more of Sanford Fishing Trips at the Sanford Chamber of Commerce