Lake Woodruff
About Lake Woodruff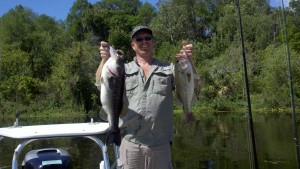 Lake Woodruff is a great fishing destination on the St Johns River, but the vegetation spread far out into the lake during summer months. If entering this lake from the west, the canal is a no-wake zone and monitored by the sheriff's department. Both Lake Woodruff and Lake Dexter are part of Lake Woodruff National Wildlife Refuge.
Woodruff is part of the National Wildlife Refuge (NWR); Lake Woodruff NWR was established in 1964 to provide habitat for migrating and wintering birds. The refuge contains 21,574 acres of freshwater marshes, 5,800 acres of Cypress and mixed hardwood swamps, 2,400 acres of uplands, and more than 1,000 acres of lakes, streams, and canals.
Additionally, endangered and threatened species benefit from the wetland habitat and management practices of the National Wildlife Refuge. The refuge contains over 5,000 acres of freshwater and more than 50 miles of waterways utilized by the endangered Florida manatees as foraging, breeding, and calving areas. More than 23 miles of lake designated as manatee protection zones, so be careful when boating.
The Wildlife and More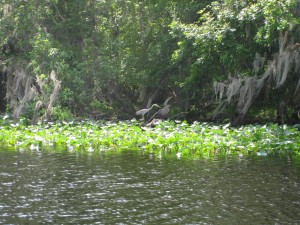 Other Federally endangered or threatened species known to inhabit the refuge include the Eastern indigo snake, American alligator, Wood stork, and the Snail kite, a very specialized raptor feeding only on Apple snails. Like the Limpkin, wading birds occur on the refuge in unusually abundant numbers.
Many animals on NWR are secretive or nocturnal and seldom seen by refuge visitors. Wildlife observers are encouraged to report unusual sightings to refuge personnel. All refuge wildlife are protected and should not be touched.
Woodruff Fishing…Getting There?
Lake Woodruff fishing report, you will find it to be a great crappie fishing lake. While the bass fishing is during the winter months, you can catch quality bass year-round.
Vital fishing patterns that include flipping grass mats in the spring and summer months. As well as great top-water in the late winter and fall months with frogs and speed worms working the best fished through the lily pads. Like most Florida lakes, it helps choosing what time to hit the water with daily sunrise and sunset times plus moon phase is one of the essential items!
Directions
Located 25 miles west of Daytona Beach, Florida is Lake Woodruff NWR, and 7 miles north of DeLand on U.S. Highway 17 near DeLeon Springs, FL. From Highway 17 in DeLeon Springs, turn west and go one block to Grand Avenue. Turn south on Grand and go approximately three blocks to Mud Lake Road. Refuge directional signs are prominently displayed on both U.S. 17 and Grand Ave. to direct the way to the refuge and headquarters office.
Lake Woodruff Reviews
Long lost Treasure!
★★★★★
"
Being back in and around Lake Woodruff makes you found a long lost treasure. It's so Old Florida...great hide away!
"
[fusion_accordion]