Cocoa Rating:
Cocoa Beach Fl Rating - Read customer reviews, click to read
Complete Guide to Cocoa Beach Fl Fishing
Cocoa Beach is a Florida city situated about an hour east of Orlando and south of Cape Canaveral on the Space Coast. The town is a gateway to the Kennedy Space Center Complex for visitors, which holds rockets and other iconic artifacts.
Aside from being close to all the exciting space-related adventures and an hour from the theme parks in Orlando, Cocoa Beach is a top destination among visitors for its beaches and incredible fishing.
Cocoa Beach, Florida, consists of 72 miles of white sandy shoreline, lining the beautiful Atlantic Ocean where many of the best cocoa beach fishing occurs.
Most people think of saltwater fishing when in Cocoa Beach, but don't forget this city is situated in the Bass Fishing Capital of the World! Many famous freshwater lakes and rivers are located a short distance from Cocoa Beach, where you can possibly catch your next personal best trophy fish while on a Cocoa Beach bass fishing trip.
Best Freshwater Fishing Spots in Cocoa Beach

Instant Confirmation

  Angler's Top Choice

FREE Cancellation
Florida is known for its incredible outdoor adventures, and we always encourage getting your line wet on a nearby lake. Cape Canaveral and Cocoa Beach Fishing Trips can help bring you closure to what Florida is all about.
Right outside the city of Cocoa Beach, you can find a fantastic fishery connected to the legendary St Johns River. Lake Poinsett is the perfect location to catch the quality largemouth bass you were hoping for while visiting Florida.
Our Cocoa Beach fishing charters can provide you with an experience of a lifetime catching trophy largemouth bass. Enjoy a short drive to the top Cocoa Beach Guide trips on Lake Toho, Stick Marsh, Fellsmere Lake, Kenansville Lake, the St Johns River, and Lake Monroe.
The Top Bass Fishing Spots
Lake Toho, the full name Lake Tohopekaliga, is a 22,700-acre lake in Kissimmee. Lake Toho is among the most famous trophy largemouth bass fishing lakes in the country. The bass fishing here is the most consistent of any other fishery, making it a favorite spot for a fishing charter trip.
Other popular species that anglers can catch during their fishing trip here are redear sunfish, crappie, and more. The birdwatching and wildlife sightseeing is also incredible on Lake Toho.
Stick Marsh, also known as Farm 13, is the St. Johns Water Management Area and is a 6,500-acre impoundment in Indian River County. The water depths range from 4 to 8 feet and are full of underwater hazards. Anglers on a bass fishing trip on Stick Marsh will have an excellent opportunity to catch a Florida trophy bass along with bluegill, redear sunfish, catfish, and black crappie.
The St. Johns river is a thriving, scenic fishery and the longest river in Florida, running 310 miles long. Its headwaters are at Blue Cypress Lake in Indian River County, and it empties into the Atlantic Ocean east of Jacksonville through its mouth. The St Johns basin covers 16% of Florida, which is nearly 9,000 square miles.
The beautiful river flows north and contains about 3,500 lakes, rivers, and blackwater streams. The river is divided into three basins, all of which offer something a little different. While on a St John's fishing charter, popular catches include trophy largemouth bass, striped bass, crappie, sunshine bass, and bluegill.
The upper basin is all freshwater. The middle basin consists of clear spring runs and dark water tributaries. Finally, the lower basin has the most diverse angling opportunities being home to both fresh and saltwater fish.
Lake Monroe is a 9,406-acre lake, a part of the St. Johns River system. Its located halfway between Orlando and Daytona Beach and is known as a hot spot for anglers looking to catch a trophy bass during their fishing charter. Anglers on a bass fishing charter here can also catch popular panfish like black crappie, bluegill, and redear sunfish.
Top Targeted Fish Species
Best Time, Techniques, & Tips
Anglers will have a productive and exciting fishing experience on a charter trip during any season, but the spring spawning season is your best chance at landing that trophy bass. Live bait, especially wild shiners, is usually the most consistent and effective method to catch bass, especially the large ones.
Other forms of live bait can be smaller minnows, crawfish, frogs, worms, salamanders, and leeches. Artificial lures can undoubtedly be effective, too, especially crankbaits and plastic worms. The overall goal while fishing artificial bait is to make it seem lifelike to trick the fish into striking it.
This usually means switching up the movements and getting creative to make the lure look alive. Another bass fishing tip from the experts is to use red hooks to make it look like the lure is injured. This is an excellent and simple method to trick bass into biting.
Local Cocoa Beach Captains & Guides
Meet the team of local Cocoa fishing guides, we know the best spots, baits, and techniques to give you the greatest fishing guides in the area.
Dream Trip
★★★★★
"
To say that this day was perfect is an absolute understatement! My husband, son, and I took a six hour trip during our weeklong stay in Cocoa Beach. I was just along for the ride and to take pictures. The trip was just as enjoyable for me as it was for my boys!
"
We Slated them!!
★★★★★
"
With Capt. Steve we fished our butts off - and it was worth every minute! We with artificial lures and got into a MONSTER bass. Capt. coached my 13yr old son through the fight and he landed that beast on 10lb bass!
"
Great experience
★★★★★
"
We were interested in fly fishing for bass and Captain did a great job of finding us some bass willing to bite on top. After fly fishing for half our time, Captain then put us on some live bait and we smashed them till the end. Captain was very knowledgeable about the local fishing and gave us some great local information.
"
CLICK TO WRITE A COCOA REVIEW
Saltwater Fishing
Whether you prefer shallow water sportfishing, exploring the reefs for table fare, or traveling the deep waters of the open sea for large pelagics, the Space Coast has a fishing trip available.
The inshore waters are home to all the amazing shallow water sport fish and scenic views while cruising the calm waters. The Space Coast of Florida is also known as the Redfish Capital of the World, another reason to experience a Cocoa beach fishing trip. The Space Coast consists of the Indian River Lagoon, The Banana River, and Mosquito Lagoon, which all can provide a memorable fishing experience.
A short ride offshore can have you bottom-fishing the reefs for some tasty fish or experience the ultimate shark fishing adventure.
For those after Florida's big ocean game fish, the Gulf Stream is easily accessible from Port Canaveral.
Inshore Fishing Charters
To the west of Cocoa Beach is a beautiful mangrove-lined body of water known as the Banana River. There's also the Thousand Islands, a 338-acre area with natural and modified islands located in the Banana River Lagoon. The area is constantly shifting and evolving but always holding our favorite inshore fish. The Indian River Lagoon and Mosquito Lagoon are the other top inshore fishing spots near Cocoa Beach.
An inshore fishing trip is ideal for anglers of all ages and skill levels. The beautiful waters of Cocoa Beach and Port Canaveral on the Space Coast is the perfect spot to experience some world-class inshore fishing.
The rich waterways throughout the Space Coast are home to some of the most sought-after sport fish every angler hopes to hook while here. Some of the most popular fish species commonly caught on Cocoa Beach fishing charters are Snook, Redfish, Speckled Sea Trout, and Tarpon. Other common catches while fishing the coastal waters are Black Drum, Sheepshead, Jack Crevalle, Mangrove Snapper, Jack Crevalle, Pompano, and more.
Redfish Capital Of The World
The Indian River Lagoon, The Banana River Lagoon, and The Mosquito Lagoon are all part of what's known as the Redfish Capital of the World. Anglers travel from all over the world to experience the incredible redfish fishing opportunities available here all year. In addition, this is the only place where anglers can catch bull redfish on a charter boat during any season.
The calm inshore estuaries are home to all our favorite fish and provide an overall memorable experience with their beautiful views. While on inshore fishing charters on the Space Coast, anglers will get to enjoy cruising the mangroves, birdwatching, seeing dolphins, stingrays, manatees, and more in their natural habitats.
Deep-sea Fishing Charter
The best deep-sea fishing charters on the Space Coast usually launch out of Port Canaveral. This launching point offers easy and direct access for your deep sea fishing charter to venture into the Atlantic and its numerous reefs and ledges full of fish.
For the deep sea fishing charters long enough to venture further offshore into the pelagic fishing grounds, anglers can catch fish species like King Mackerel, Cobia, Wahoo, Mahi Mahi Blackfin Tuna, Amberjack, Snappers, Sailfish, and Yellowfin Tuna.
Deep-sea fishing charters within 50 miles of the coast will be able to scout the underwater reefs, wrecks, ledges, and even the Gulf Stream to encounter a diverse sampler of fish. There's certainly an abundance of table fare, including Red Snapper, Lane Snapper, Mangrove Snapper, and Silky Snappers. There are also Grey Triggerfish and Sea Bass to be caught on this fishing trip.
Deep-sea fishing charters between 60 and 100 miles offshore travel past the warm Gulf Stream currents where anglers can have their shot at a big Marlin. The cooler fisheries on the other side of the Gulf Stream hold Blue and White Marlin in good numbers.
However, one of the best parts about deep sea fishing charters in Cocoa Beach is that you don't always have to travel far offshore to get an exciting pelagic catch. It's possible even on a half-day trip to hook a Sailfish, which will undoubtedly put up a memorable fight.
Deep-sea Fishing Seasons
The seasons vary when deep-sea fishing, but there's almost always something biting off Port Canaveral. Sailfish are around throughout the year, with spikes in January, May, and June. The Wahoos have two peaks when they run in spring and fall.
Anglers can catch bottom fish like snapper and grouper throughout the year on the reef during deep-sea fishing charters. The King Mackerel are most active from January through October, and Mahi Mahi are primarily active during May and June.
Shark Fishing
Many anglers visit the Space Coast every season for its incredible shark fishing charters. Cocoa Beach fishing charters targeting sharks typically start in the afternoon and finish at night, making this trip unique from a traditional Cocoa Beach deep sea fishing charter.
The experience of hunting these strong predators is exhilarating and unforgettable. There are various types of sharks that can be caught on a shark fishing trip, but the most common are Black Tip, Black Nose, fine Tooth, Spinner, Sharp Nose, Lemon, Bonnethead, Sand Tiger, and Hammer Head.
Current Cocoa Fishing Reports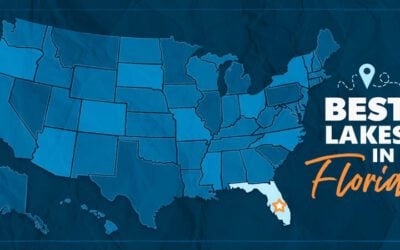 Ranked #1 Best Lakes in Florida BASSMASTER >> Rodman Reservoirs' reputation as one of the best lakes in Florida stood out in the...
read more
Where and How To Fish Locally
Taking fishing charters in Cocoa Beach and Cape Canaveral with a professional captain is a great way to learn the area and guarantee a simple, productive day on the water. However, there are many other ways to experience the excellent Space Coast fishing between your charter trips, including on foot and kayak fishing.
On Foot Fishing
There are many spots to fish from foot nearby, but the most popular is the Cocoa Beach Pier, along with numerous smaller piers along the coast. There are local shops near the piers and parks that rent out gear and sell bait. Shark fishing the surf is famous in Cocoa beach, but you can also catch Snook, Redfish, Jack Crevalle, Pompano, and many other popular fish species.
Kayak Fishing
Kayak fishing is an excellent way to fully indulge in nature and the beautiful wildlife of Cocoa Beach. The Banana River is the most popular spot for kayakers. Mangrove forests surround the area for you to wind through the clear, shallow water. Cocoa Beach provides access to the "no motor zone" of the Banana River, which will add to the tranquility of your journey.
Kayak fishing can be difficult for a novice since you have to cast a line and navigate the boat simultaneously. However, since kayak fishing is so popular, local captains offer guided kayak fishing trips to help gain experience. Many of the locations around the river offer kayak rentals and launches. Kayak anglers have commonly reeled in Kingfish, among other popular fish species in Cocoa Beach.
Other Spots
Some other popular fishing spots near Cocoa Beach are Ramp Road Park and Cove Park. These parks, as well as Port Canaveral and Cocoa Beach Pier, can all be fished from foot or on a charter boat. Port Canaveral is best for deep-sea fishing trips.
Cocoa Beach Pier is best for inshore and nearshore fish such as Redfish, Pompano, Snook, Tarpon, Snapper, and Wahoo. Ramp Road Park is an excellent kayak spot and has excellent access to the Thousand Islands to hook Ladyfish and giant trout. Cove Park is a hidden gem providing excellent access to the Banana River and target redfish.
What are you waiting for?
Area Things To Do
Despite being conveniently located to Universal Studios, Kennedy Space Center, and other popular Central Florida tourist attractions, Cocoa Beach, Florida is known more for its relaxing vibe than a hectic, crowded city.
Most of the fun that is experienced in Cocoa Beach involves Mother Nature. The sub-tropical breezes, beautiful beaches, wildlife, and more make this place a great spot to visit for the whole family.
Cape Canaveral, Cocoa Beach, and the other surrounding areas on the Space Coast are the perfect places for you to relax, unwind, and take in the soothing natural world. In addition, the site is full of cultural, technological, historical, and culinary adventures. Whatever your preference is, it will be no problem finding a memorable experience to enjoy nearby.
Kennedy Space Center
Just north of Cocoa Beach on a barrier island is the Kennedy Space Center Visitor Complex, which is the site of glorious exploration. The fascinating facility offers the opportunity to follow the path of humankind's march into space. Kennedy Space Center also allows guests to experience some of the sounds, sights, sensations, and movements experienced by these pioneers through interactive and realistic attractions.
Historic Cocoa Village
Historic Cocoa Village is the downtown core of Cocoa Beach and truly gives an authentic historical vibe. The village was first settled in the middle of the 19th century, and while it has become an entertainment and shopping district, it still retains its historic ambiance. The area is a tree-lined, riverside community with local merchants and artisans.
Other Attractions
Cocoa Beach and Cape Canaveral are both full of attractions to explore. Some of the most popular things to experience are the Brevard Zoo, the Cocoa Beach Golf Course, a Cocoa Beach Kayaking Tour, An Airboat ride at Lone Cabbage Fish Camp, and the Cocoa Beach Pier.
Questions? Feel free to call us, Email us or use the chat us to speak to one of our specialists.
Questions? Feel free to call us, Email us or use the chat us to speak to one of our specialists.
Questions? Feel free to call us, Email us or use the chat us to speak to one of our specialists.
We also have great deals available in the following cities that match your search criteria.