★★★★★

based on

1

reviews.
Overall rating:
West Florida Fishing Guides
We are not a booking service where no one fishes…but the complete opposite. A group of West Florida fishing guides that have gotten together as a TEAM, under the best conditions to provide you with the finest service West Florida fishing guide industry has ever seen. We specialize in working with experienced bass anglers, who are looking for prime waters and new techniques, but also novice bass anglers who are out for a true fun learning experience. We will provide everything you need for that big day, reliable equipment and boats for your enjoyment. The finest bass fishing guides in the country on "Lake Tarpon," you have come to right place Florida's largest, Lake Tarpon's largest and #1 rated guide service in Florida… Florida's only audio fishing reports sponsored by the Wildlife Foundation of Florida and TEAM members of largest fishing guide service Florida Fishing, so why shouldn't you! Our West Florida guides also travel to Central Florida to put you on largemouth bass on the Harris Chain of Lakes, Winter Haven Chain of Lakes, and more….
West Florida Fishing Guides
* Sarasota * Bradenton * St Petersburg * Tampa * Clearwater * Tarpon Springs * Hernando Beach * Homosassa *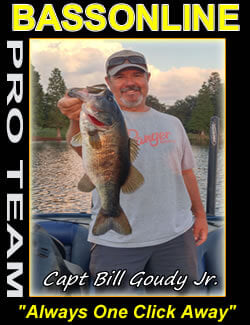 Captain Bill Goudy Jr.
, is a licensed Master Captain. Born in southeast Iowa and raised on the Mississippi River. He's been fishing longer than he can remember. He caught the Bass fishing bug early in life. He found an old Johnson spoon in his father's tackle box tied it on and caught a Bass. He was hooked. Living on the river where his family owned a campground and bait shop he has been putting people on fish for years. He has been married for 21 years. A father of 4 and grandfather of 1 he moved to Florida to pursue his dream of being a full-time Fishing guide.
Captain Bill will help get you on some beautiful largemouth bass all trip long. He would love to put you on some fish from the Winter Haven Chain of Lakes, Lake Toho, or Lake Kissimmee!
To fish with Capt Bill — click here!
West Florida Fishing Guide Reviews
Capt Bill is the MAN!
★★★★★
"
Fished Lake Tarpon with Capt Bill and had an amazing time with my best friend Chris. Want to plan a trip back as soon as possible for more action
"
Click below on the region of the map you wish to find a fishing guide!
South Florida Fishing Guides | Southwest Florida Fishing Guides | Okeechobee Fishing Guides | Central Florida Fishing Guides | North Florida Fishing Guides | Florida Panhandle Fishing Guides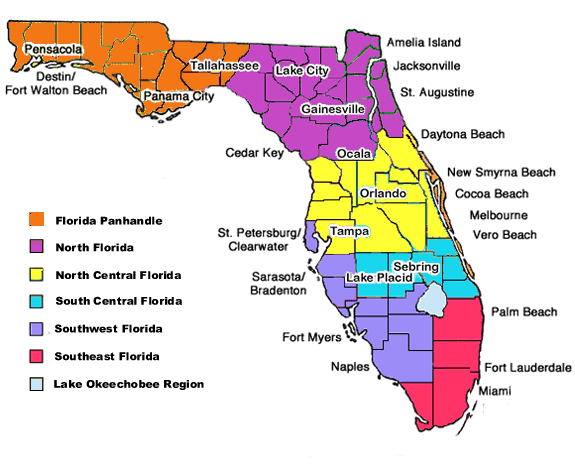 We are continuously adding new guides to this page. If you have gone with a guide before and he is not listed please call the office for details and contact information. If you are a bass fishing guide in the North Florida Region please contact us by using this contact form!