★★★★★

based on

52

reviews
Overall rating:
Lake Okeechobee Fishing Guides
We are not a booking service where no one fishes...but the complete opposite. A group of Lake Okeechobee fishing guides that have gotten together as a TEAM, under the best conditions to provide you with the finest service Lake Okeechobee fishing guide industry has ever seen. We specialize in working with experienced bass anglers, who are looking for prime waters and new techniques, but also novice bass anglers who are out for a true fun learning experience. We will provide everything you need for that big day, reliable equipment and boats for your enjoyment. The finest bass fishing guides in the country on "Lake Okeechobee," you have come to right place Florida's largest, Lake Okeechobee largest and #1 rated guide service in Florida... Florida's only audio fishing reports sponsored by the Wildlife Foundation of Florida and TEAM members of largest fishing guide service Florida Fishing, so why shouldn't you!
Lake Okeechobee Fishing Guides
Palm Beach * Ft Myers * Boyton Beach * Boca Raton * Fort Lauderdale * South Beach * Miami * Naples * Sarasota * Vero Beach * Okeechobee * Ft Pierce * Stuart * Cape Coral * Weston * Davie

Lake Okeechobee Fishing Guides
Lake Okeechobee Fishing Guide Reviews
Okeechobee
★★★★★
"
Fished with Capain Brian Brown yesterday on the Big 'O' and had a blast. Used shiners for a couple hours and threw swim jigs for a couple hours. Caught plenty of fish. Captain Brian Brown was knowledgeable and relaxing to fish with. Ask for him on your trip to the Big 'O'.
"
Captain Rob Alfano
★★★★★
"
Went out on a trip with Captain Rob on Feb. 3rd. We had my 5 year old son Tyler and our friends 10 year old son Peyton with us. They were so excited to catch some fish. We had a great trip and Captain Rob was so good with the kids. He kept them talking and playing around on the boat. This was trip I will never forget and encourage anyone with kids to do this. They had a blast catching fish and joking around with Captain Rob he is awesome!!! Thanks Captain Rob from our whole crew!!!
"
Cold Front not a problem.
★★★★★
"
On the morning of my trip it was only 41* even a bit chilly of this Minnesotan. I fished with Capt Mark Rogers. He was everything one could ask for. On time, very friendly, his boat and gear were in perfect working condition and he put me on fish. We fished with live shiners something I have never done before. This also was my first time in Florida and a first for the BigO. Mark put me on fish right away. I caught a lot of bass and I also caught a 5 lb. catfish. My biggest bass was a nice 5+ not what I was looking for but two of the fish I lost bringing them to the boat were exactly what I was looking for. Mark did everything in his power to try and get the monster I was looking for. I had a wonderful time Mark was very knowledgeable about the lake and the surrounding area. I didn't know they burned the cane fields before they harvested. I would recommend Capt Mark Rogers for your fishing adventure. I will sure ask for him on future adventures.
"


Click below on the region of the map you wish to find a fishing guide!
South Florida Fishing Guides | Southwest Florida Fishing Guides | Okeechobee Fishing Guides | Central Florida Fishing Guides | North Florida Fishing Guides | Florida Panhandle Fishing Guides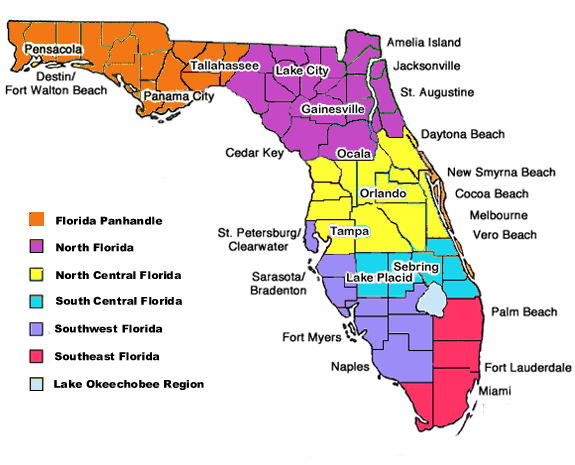 We are continuously adding new guides to this page. If you have went with a guide before and he is not listed please call the office for details and contact information. If you are a bass fishing guide in the North Florida Region please contact us by using this contact form!