Lake Okeechobee Fishing Guides
We are not a booking service where no one fishes...but the complete opposite. A group of Lake Okeechobee fishing guides that have gotten together as a TEAM, under the best conditions to provide you with the finest service Lake Okeechobee fishing guide industry has ever seen. We specialize in working with experienced bass anglers, who are looking for prime waters and new techniques, but also novice bass anglers who are out for a true fun learning experience. We will provide everything you need for that big day, reliable equipment and boats for your enjoyment. The finest bass fishing guides in the country on "Lake Okeechobee," you have come to right place Florida's largest, Lake Okeechobee largest and #1 rated guide service in Florida... Florida's only audio fishing reports sponsored by the Wildlife Foundation of Florida and TEAM members of largest fishing guide service Florida Fishing, so why shouldn't you!
Lake Okeechobee Fishing Guides
Palm Beach * Ft Myers * Boyton Beach * Boca Raton * Fort Lauderdale * South Beach * Miami * Naples * Sarasota * Vero Beach * Okeechobee * Ft Pierce * Stuart * Cape Coral * Weston * Davie

Lake Okeechobee Fishing Guides
Lake Okeechobee Fishing Guide Reviews
Fishing with Capt. Mark Rose
★★★★★
"
We are 2 Dutch brothers who went to Florida for a week of fishing. We had not a lot of luck so far, until we went with captain Mark Rose for a fishing trip. It was amazing! We caught a lot of basses including some big ones! An amazing experience we'll never forget, worth every penny! Mark is a really good guide, he learned us a lot of tricks. The day after it we tried those tricks from the bank ourself and it worked as well with succes!! Thanks Mark Rose! Mayby till next time! Jonny & Michel
"
Guys fishing trip
★★★★☆
"
Captain Brian picked the guys up and they headed out for a bucket list trip. When they came back, the smiles on their faces were priceless! Thanks Captain Brian Brown
"
A day you will never forget
★★★★★
"
Went out with Capt Mark Rose out of Clewiston Fl. (bassonline.com) to enjoy the day and catch some bass. To say catch some bass was a understatement! We caught around 35 bass in 4 hours and caught two fish that I will never forget. One 7 lb and one 9 lb bass!! Lets just say after hauling in 35 bass my arms were a little tired! We had several bass in the 3-5 lb range and several double hook ups! My two boys did not want to come with (too boring) needless to say they missed out on a great adventure. If you are coming down to the area this is a must fish lake! Mark is a great guy very personable and and knowledgeable about the lake Thanks Mark for putting us on these awesome fish!!
"


Click below on the region of the map you wish to find a fishing guide!
South Florida Fishing Guides | Southwest Florida Fishing Guides | Okeechobee Fishing Guides | Central Florida Fishing Guides | North Florida Fishing Guides | Florida Panhandle Fishing Guides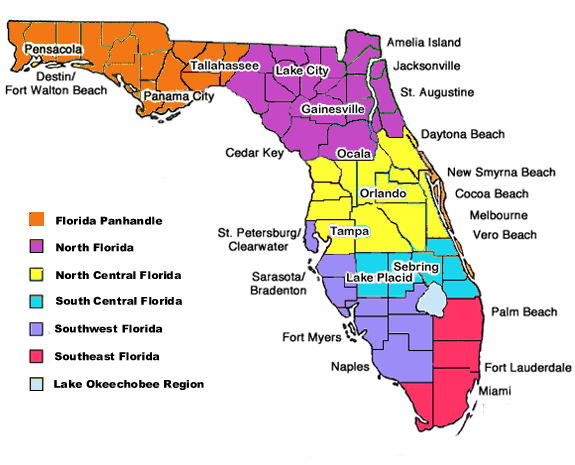 We are continuously adding new guides to this page. If you have went with a guide before and he is not listed please call the office for details and contact information. If you are a bass fishing guide in the North Florida Region please contact us by using this contact form!