Rodman Reservoir
★★★★★

based on

12

reviews.
Overall rating:
About Rodman Reservoir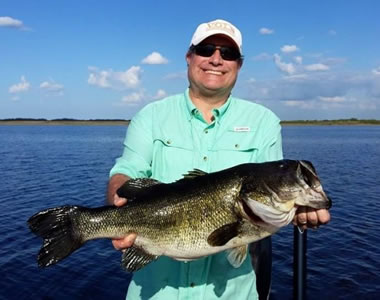 Rodman Reservoir is in Putnam County and considered a premier largemouth bass fishery located in north Northeast Florida, covers 9,500 acres, and is about 15 miles long. It is located south of Palatka off Hwy 19. The reservoir was created in 1968 when an earthen dam was built across the Ocklawaha River. A four-gate spillway (Kirkpatrick Dam) controls the water levels of the reservoir. The reservoir from its headwaters at Eureka Dam to Paynes Landing consists of flooded woodlands.
The transition section from Paynes Landing to Orange Springs consists of flooded standing timber and areas of floating vegetation. The pool section from Orange Springs to Kirkpatrick Dam, including the river channel and the Cross Florida Barge Canal, consists of floating and submerged vegetation, dead standing timber and submerged and partially submerged trees and stumps. The Barge Canal and river channel have water depths up to 30 feet deep. Submersed vegetation (hydrilla, coontail, and eelgrass) is common in the pool section of the reservoir. Drawdowns are conducted every three to four years on the reservoir for aquatic plant control and fish and wildlife habitat enhancement.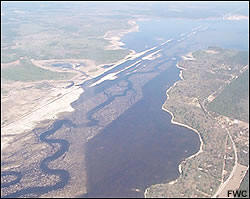 Best Fishing
Rodman Reservoir largemouth bass anglers will have success fishing the river channel with deep crankbaits and Carolina-rigged worms. Early morning and evening topwater action should also be good along the flats adjacent to the river channel from Orange Springs to Eureka. Starting in November, a reservoir drawdown is scheduled to occur and will refill completely by April 2005. The reservoir will be 7 feet below the normal water level for over 3 months from the end of November to the beginning of March.
Temporary boat ramps will be located at Kenwood Landing, Orange Springs, and Hog Valley, where anglers can launch into the Barge Canal and river channel. The Orange Springs ramp is also a popular bank-fishing site. During the drawdown, anglers targeting largemouth bass can expect to experience excellent fishing using a variety of baits around the river channel bends from Kenwood to Cypress Bayou as well as areas in the main pool. Black crappie anglers will have success trolling live minnows and/or jigs along the edges of the Barge Canal, as well as the river channel bends in the Kenwood area.
Bream anglers can expect to catch plenty of stocky warmouth between Orange Springs and Cypress Bayou using worms and grass shrimp to get the best results. During the drawdown, largemouth bass anglers should be aware of the temporary catch and release regulation change. To prevent boating accidents during the drawdown, boaters are asked to watch their wake and be courteous to anglers fishing along the Barge Canal and river channel.
*Special note: Look out for floating logs. Use caution when boating in the river channel, Barge Canal, and stump fields.
Largemouth bass anglers should keep an eye out for tagged fish worth $5 or $50. The tags are orange spaghetti-like tags attached to the fish adjacent to the dorsal fin. If a tagged fish is caught, anglers can simply cut the tag from the fish and send it to the address printed on the side of the tag to claim their reward.
Searching Availability...
Rodman Reservoir Fishing
Rodman Reservoir is legendary for the number of trophy bass it has produced over the years ever since it was created. It is consistently ranked with the state of Florida as one of the top ten best bass lakes in the country. You can count on fishing under floating cover on a trip to this area. There are a lot of 'dollar weeds' and water hyacinths here where bass use to surprise unsuspecting prey. You also will be fishing around eel grass, hydrilla, lily pads. Rodman Reservoir and the Ocklawaha River is always a treat to fish. It is a beautiful waterway that produces big fish each and every year.
Just recently, a bass caught in Rodman gave the Official State record a scare. The fish weighed in at 17.2 lbs. and had a length of 29.75 inches coming up just short of the record fish weighing in at 17.27 pounds. Now that's a huge bass. I believe that the new state record will come out of either Rodman, Kissimmee Chain, or possibly Lake Okeechobee which are all known for trophy largemouth bass. Multiple day fishing trips booked for Rodman Reservoir and Ocklawaha are generally live bait fishing trips where we use wild river shiners. However, artificial fishing can also be incorporated into the trip.
Right now the Environmentalists are trying to restore the Ocklawaha River System to its original state before Rodman Reservoir was created. This would not only be a tragedy, but it would destroy a habitat in which a large number of plants and wildlife now call home. The big bass population in this Ocklawaha backcountry would be no more and we would lose one of the best big bass lakes in the US. Hopefully, this whole restoration project will never come to pass. If you have ever thought about coming down to fish in Rodman Reservoir for that trophy largemouth that you have always dreamed about, don't hesitate any longer. Contact us here at www.BassOnline.com so we can help provide you with a safe, reliable, and professional fishing trip.
Rodman Reservoir Reviews
Rodman Reservoir - Capt. Ken Walker
★★★★★
"
Just wanted to thank Capt. Ken Walker for a fabulous day of bass fishing on the Rodman Reservoir, March 11th, 2020. Pierre, Stan and myself had an amazing time. Although the days bite was slow due to seasonal conditions and we didn't land any 10 plus lb. fish, we had a great day catching 5 different species which included 5 good sized bass. All were in the 6+ lb. range, with one weighing in at over 8 lbs. Even though all three of us are seasoned anglers, Captain Ken took the time to coach us in a style of angling that we were unfamiliar with. Being a Pro tournament angler from Canada myself, I felt out of my element for this style of angling. However, after a short learning period, we began to 'catch on' and started hooking some really nice fish. I would recommend anyone looking for a great guided freshwater or saltwater fishing tour in the north/central region of Florida, to 'hook-up' with Captain Ken Walker. You will not be disappointed. On behalf of myself,Pierre from Ontario, Canada and Stan from North Carolina 'Thank You' Capt. Ken for a great day and memorable experience. Bob Andrews Ontario, Canada
"
Rodman Reservoir 2/11/2020
★★★★★
"
Had an outstanding 5 star trip with Capt. Ken Walker. Caught several nice fish including a PB 10 pound 4 oz Trophy fish that I plan on surpassing in a future trip with Ken! - Chris Anderson, So Cal.
"
Rodman Large Mouth Trip
★★★★★
"
We had the pleasure of spending the day on Rodman with Captain David Lang. We caught 11 large mouth with 3 over 5 pounds but more importantly we learned a lot and enjoyed the time spent with a very knowledgeable guide. I highly recommend David and I will be booking another trip with him soon.
"