Rodman Reservoir is in Putnam County, Florida, and considered a premier largemouth bass fishery located in Northeast Florida, covers 9,500 acres, and is about 15 miles long. It is located south of Palatka Fl off Hwy 19 and connected to St Johns River. Rodman Reservoir is legendary for the number of fish species, trophy bass, redbreast sunfish, and channel catfish which it continues to produce. Not to mention the wildlife and bird species to view. It's consistently ranked with Florida as one of the top ten best bass lakes in the country.
How do you fish in Rodman Reservoir?
You can count on fishing under floating cover on a trip to this area. There are many 'dollar weeds' and water hyacinths here where bass use to surprise unsuspecting prey. You also will be fishing around eel grass, hydrilla, lily pads. The Rodman Reservoir, St Johns River, and the Ocklawaha River is always a treat. It is a beautiful waterway that produces big trophy bass every year.
Just recently, a bass caught in Rodman Reservoir gave the Official State record in Florida a scare. The fish weighed in at 17.2 lbs. had a length of 29.75 inches, coming up just short of the record fish weighing in at 17.27 pounds. Now that's a giant big bass. I believe that the new state record will come out of either Rodman Reservoir, Kissimmee Chain, Headwaters Lake, or possibly other Florida trophy bass lakes, which are all known for trophy largemouth. Multiple fish species and fishing trip days booked for Rodman Reservoir, St Johns River, and Ocklawaha are available both artificial lures or generally live bait fishing trips where we use wild river shiners. However, fishing with artificial lures can also be incorporated into the trip.
FISH RODMAN RESERVOIR FLORIDA
To Book with a specific Captain, choose the captain below and click "Book Directly"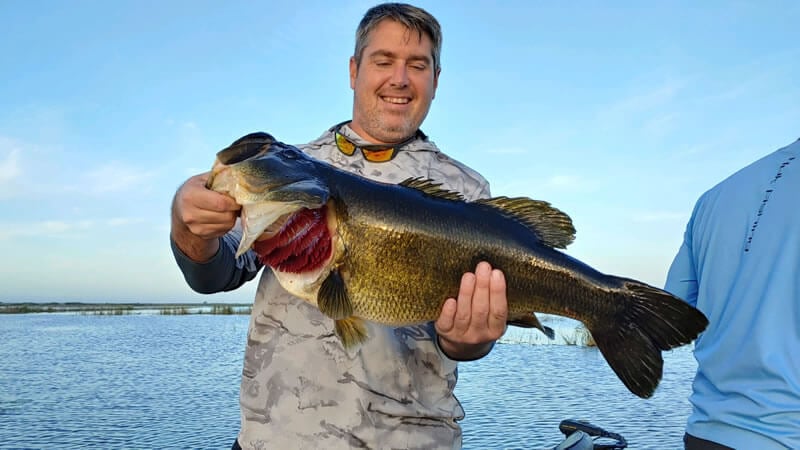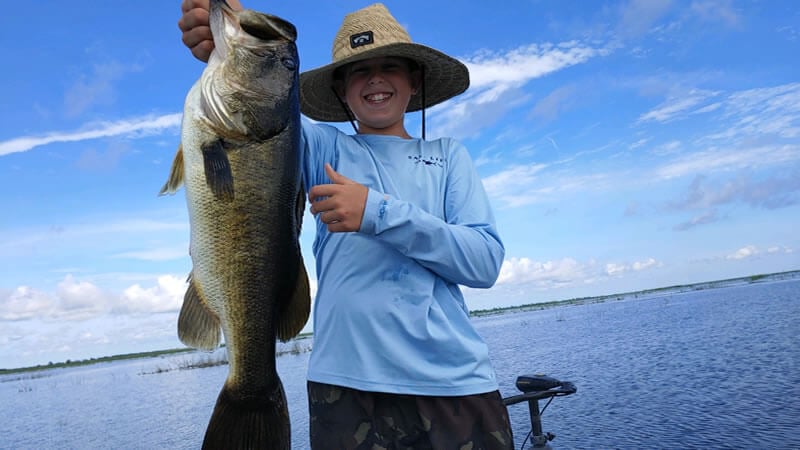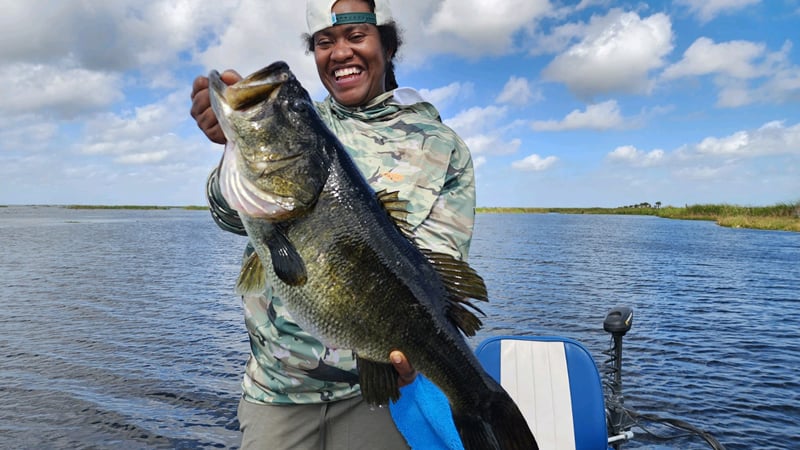 Fishing Chairs
GPS & Fishfinder
Life Jackets
Catch and Release Allowed
Keep Fish Allowed within Laws
Boat Specs: 20+ ft
Boat Capacity: 4 People
All Fishing Equipment
Boat & Fuel
Photos
Light Tackle
Heavy Tackle
Livebait
Artificial Lures
Spinning Rods
Baitcasting Rods
Left & Right Handed
Fly Rods (request only)
Braid & Mono Line
Best Largemouth Bass Fishery
Florida Rodman Reservoir largemouth bass anglers have success trophy bass fishing the Ocklawaha river channel with deep crankbaits and Carolina-rigged worms. Early morning and evening topwater action should also be useful along the flats adjacent to the Oklawaha River from Orange Springs to Eureka. Starting in November, a Rodman Reservoir drawdown is scheduled to occur and will refill entirely by March 2020. The reservoir will be 7 feet below the average water level for over three months, starting from November to March, and is prime time for trophy bass fishing.
Temporary opened will be boat ramps at Kenwood Landing, Orange Springs, and Hog Valley, where anglers can launch into the Barge Canal and Oklawaha river channel also on the St Johns River. The Orange Springs ramp is also a popular bank-fishing site. During the drawdown, anglers targeting largemouth bass can expect to experience excellent fishing using a variety of baits around the Oklawaha river channel bends from Kenwood to Cypress Bayou as well as areas in the main pool.
Panfish Angler Tips
Rodman Reservoir black crappie fishing anglers will have success trolling live minnows and jigs along the edges of the Barge Canal leading from St Johns River, and the Oklawaha river bends in the Kenwood area pool section.
Bream anglers fishing can expect to catch plenty of fish species of stocky redbreast sunfish, warmouth between Orange Springs, Cypress Bayou using worms and grass shrimp to get the best results. During the drawdown, bass anglers should be aware of the temporary catch and release regulation change. During the drawdown, to prevent boating accidents, boaters are asked to watch their wake and be courteous to anglers fishing along the Barge canal, channels, and dam including the river.
*Special note: Look out for floating logs on Rodman Reservoir, including the river channel. Use caution when boating in the Oklawaha river channel, stump fields, and floating vegetation the pool section can be dangerous.
Largemouth bass anglers should keep an eye out for tagged fish worth $5 or $50. The tags are orange spaghetti-like tags attached adjacent to the dorsal fin. When a fish tagged is caught, anglers can cut the tag and send it to the address printed on the tag's side to claim their reward in Florida.
Top Targeted Fish Species
About Rodman Reservoir
Created in 1968, the Rodman Reservoir built the earthen dam across the Ocklawaha River, leading to the St Johns River. A four-gate spillway (Kirkpatrick Dam) controls the water levels of the reservoir. The section of the reservoir from its headwaters at Eureka Dam to Paynes Landing consists of flooded woodlands. The transition section from Paynes Landing to Orange Springs consists of flooded standing timber and areas of floating vegetation.
The north central pool section from Orange Springs to Kirkpatrick Dam, including the Oklawaha river channel, consists of floating and submerged vegetation, dead standing timber, and submerged and partially submerged trees and stumps. The Florida Barge Canal consists of the Oklawaha river channel which has water depths up to 30 feet deep. Submersed vegetation, hydrilla, coontail, and eelgrass, is typical in the reservoir pool area section. Drawdowns are conducted every three to four years on the Rodman for aquatic plant control and fish and wildlife habitat enhancement.
Local Rodman Bass Fishing Guides
The Environmentalists in Florida are trying to restore the Oklawaha River System to its original state before Rodman Reservoir. This would not only be a tragedy, but it would destroy a habitat in which a large number of plants and wildlife now call home. The fish population in this Ocklawaha backcountry would be no more, and we would lose at times the best big bass lake in Florida and the US.
Hopefully, this whole restoration project will never come to pass by these crazy left-wing activists. If you have ever thought about coming down to fish in Rodman Reservoir for that trophy bass that you have always dreamed about, don't hesitate any longer. Contact us here at www.BassOnline.com to help provide you with a safe, reliable, and professional fishing trip.
Had a blast on Rodman
★★★★★
"
My son and I fished with Capt Scott on Rodman. And had a blast. Great fishing!! Capt Scott was very personable and knowledgeable about the area and the fishing. He is great at explaining the details of how to catch fish. Great times!!! Thanks Capt.Scott
"
Hello "Mr. BIG!"....TIMES TWO!!
★★★★★
"
This was my 3rd and 4th charter with Captain Ken, however, this was my 1st two-day, back-to-back charter. What made this charter extra special is taking my grandson, (that flew in from Virginia,) and introducing him to Bass Fishing. As usual, Captain Ken put us on the bite right away. Jason, (my grandson) stayed busy once he understood the guidance from Ken and began landing good numbers unassisted in the 3–5-pound range. Then he latched into a lunker that weighed in at 9lbs. 3ozs! (My personal best is 8lbs. 1oz.) We fished from 0700 until 1300 and called it a day. Returned the next day and picked up where we left off with one notable exception. Jason landed an 11lbs. 3oz "Behemoth!" To say we were overjoyed with the charter is an understatement. My grandson will be spoiled for life because this kind of success isn't normal for a novice fisherman; it is however standard operating procedure for our guide, Captain Ken Walker. As stated in my previous review, Ken Walker is the "MAN" and I cannot recommend him highly enough! (This is where I drop the microphone!)
"
Awesome Morning
★★★★★
"
A friend and I went fishing a few weeks ago with Capt. Scott. We had a great time catching/releasing about 20 fish in four hours including some nice bass in the 4-5 lb range. Capt. Scott knows Rodman Reservoir like the back of his hand and consistantly put us on fish. We lost alot of bait to bowfin (mudfish) but even they were large and put up a great fight. We highly recommend Capt. Scott and I will definitely use his services next time.
"
CLICK HERE TO WRITE A RODMAN RESERVOIR REVIEW
Cross Florida Barge Canal to St Johns River
If completed, the Cross Florida Barge Canal would have spanned Central Florida by connecting a series of lakes, rivers, and artificial waterways. The possibility was first raised in 1567 by the founder of Spanish St. Augustine, Pedro Menendez de Aviles, to cross Florida through inland waterways.
The journey around Florida's cape was so treacherous, even in the early days of European colonization. Hurricanes, dangerous currents, shallow waters, and even pirates destroyed many ships that attempted the journey.
It was 100's of years before specific plans for the canal took shape. In the 19th century, momentum for the channel grew. Business people, slave owners, and traders supported the canal because it would make it easier to sell and ship goods like timber and cotton between the East Coast and ports on the Gulf of Mexico.
Ocklawaha River Channel
The Ocklawaha River system in Florida is the largest tributary of the St. Johns River that boundary the Ocala National Forest on the west and north. Lake Griffin is the source of the Ocklawaha, the final lake of the Harris Chain. The upper watershed for the Oklawaha River includes Lake Apopka. The Oklawaha River flows north along the Ocala National Forest's western boundary before turning east to flow into the St. Johns River.
Current Rodman Reservoir Fishing Reports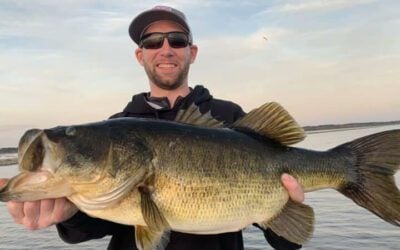 March Fishing Rodman Reservoir If there is one place in Florida to consistently catch trophy largemouth bass, it's the Rodman Reservoir....
read more
Rodman Reservoir Boat Ramps
What are you waiting for?
We also have great deals available on the following lakes that match your search criteria.