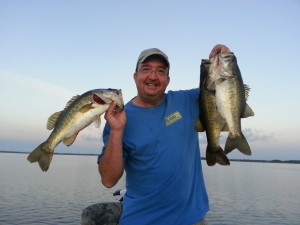 The peace and quiet of the Lake Ocklawaha river, nothing like the casting of the rod, the strike, and the sound of your voice saying, "Fish On", ringing across the water and into the forest to set the standard for your next fishing trip.
Rodman Reservoir is a flooded forest. Much of the forest was not leveled prior to flooding the area. As a result,there is always plenty of underwater structure making a great environment for all types of fish. The percentage of open water to that containing aquatic vegetation varies from 80/20 percent to 30/70 percent. When the aquatic vegetation covers over 50%, the level of the reservoir is lowered from 18 feet above sea level to 11 feet. This exposes over 50% of the normally covered land and renews the fishery without the use of sprayed chemicals. Aquatic plant control and fisheries enhancement drawdowns occur during the winter months once every three or four years.
Lake Ocklawaha River Fishing
Bass fishing on the Lake Ocklawaha River near Ocala has improved over the past two to three years. On most trips, you will catch a limit of keepers in less than two hours, including maybe two over 5 lbs. Pretty good for a body of water that produces all year around, even in  August.
Although the bite continues to improve, timing is everything.  Early and late in the day remain to be your best bet for the big largemouths.  Wild shiners remain to be the bait of choice, whether free-lined or fished under a cork around vegetation.
Seaonal rainfall can have the river almost out of it's banks at times.  Just what we need some years, while other Lake Ocklawaha River could surely do with out. Use caution during these high water conditions.  A lot of the snags are now next to impossible to see and navigation by boat can be not so nice..
Fast or large boating on Lake Ocklawaha River is hazardous because of the underwater structures. A shallow draft boat equipped with a trolling motor is most useful, large horsepower engines are generally unnecessary unless you wish to enter Rodman Reservoir through Buckman Lock and must travel some distance on the St Johns River as well.
Both artificial and live bait (shiners) are effective in Lake Ocklawaha River, however most people who are after "trophy bass" will use shiners. Several 16 pound bass have been caught in the Lake Ocklawaha River on wild shiners. Ten pound bass are not uncommon from the Lake Ocklawaha River in the winter. The big bass weighed in at the January 1999, three day, Florida Bassmaster Eastern Invitational Tournament launched from Palatka was from Rodman. It was caught and weighed 10 pounds 13 ounces. There were 139 boats entered in this tournament. Of these 139 boats 86 of them locked into Rodman Reservoir and the Lake Ocklawaha River to fish.
When you're on the hunt for trophy largemouth, Lake Ocklawaha River and the Roman Reservoir should be on your bucket list for your next fishing trip.
Central Florida's Upper, Middle, and Lower Ocklawaha River, Orange Lake, Lake George, Lake Lochloosa , Cross Creek and the Rodman Reservoir are just a few of the freshwater fishing grounds to fish!
For additional fishing guide information, referr to Ocala Bass Fishing!