★★★★★

based on

5

reviews.
Overall rating:
Lake Osborne Fishing
Lake Osborne is a 356-acre water body located in Palm Beach County. Aquatic vegetation consists of cattail, spatterdock, and hydrilla. Nine fish attractors have been constructed on the lake and are marked with buoys. Fish present in Lake Osborne include peacock bass, clown knife fish, largemouth bass, sunshine bass, black crappie, bluegill, redear sunfish, catfish, and Mayan cichlids.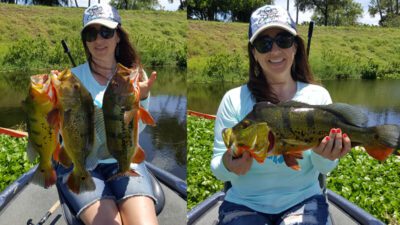 Because much of the lake is surrounded by John Prince Park, bank access is plentiful. The park has a public boat ramp and fishing dock equipped with its own automatic fish feeder. Picnic pavilions, a campground, and public restrooms are also present in John Prince. There are no marinas, fish camps, or bait and tackle stores on the lake.
Guides Capt Brett Isackson, Capt Tony Masiello and Capt Daivd Lauer all to South Florida guides who spent many days fishing on Lake Ida & Osborne and is often written about in the media. He explains fishing on Lake Osborne uses live bait and artificial lures. We believes the Lake Osborne bass fan out beds near hydrilla because the aquatic plant keeps the water clear, which allows sunlight to reach the beds. Brett fishes deeper in Lake Osborne than he does on other lakes. Heavy boat traffic on Lake Ida & Lake Osborne on the weekends for anglers is unbearable, we believe, encourages these urban bass to seek refuge in deeper water.
It's a great place to fish, even with wind whipping across the lake, you are able to find sheltered spots to fish. This is urban fishing. Lake Osborne anglers can find fish around grassy, tree-lined stretches of John Prince Park — or around the sea walls of waterfront homes, where the family pet may be present. You may find yourself fishing along sea walls, boats and docks as cars whizzed by at high speed. Helicopters taking off from Lantana airport and buzz over you. The bass do not seem to care. Another great pattern is wooden docks. Something bumped about the shade and cooler water. Bass often weigh up to 6 pounds — very nice bass in most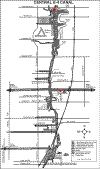 places, but hardly the best at Lake Osborne. We have pulled 10-pound bass from this lake. In February like most South Florida lakes, is a prime spawning month.
The catch rate for largemouth bass in Lake Osborne is solid, too. A survey of 188 Lake Osborne anglers by the Florida Fish & Wildlife Conservation Commission showed a catch rate of 1.07 bass per hour — far better than the statewide average of one bass every four hours. Peacock bass thrive in warm water in this system and are most active in the warm months. They're known to school and hit topwater baits on hot summer days. But we have been catching peacocks year-round in Lake Ida, Lake Osborne, Lake Clarke and surrounding canals.
Fishing Lake Osborne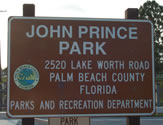 Boat ramps: Boat ramps leading to Lake Osborne are at John Prince Park on the south side of Lake Worth Road east of Palm Beach Community College.
Where to fish: Anglers can find largemouth bass around marked fish attractors, docks, grassy edges of the lake and near hydrilla mats in open water. For sunshine bass, try fishing in deeper water with threadfin shad or cut shrimp at night under the Sixth Avenue Bridge. For butterfly peacock bass, try pitching live bait or artificial lures near docks and sea walls south of Lantana Road. Try fishing around fallen trees for Mayan cichlids.
Fish variety: In addition to largemouth bass, anglers catch peacock bass, hybrid sunshine bass, Mayan cichlids, bluegills, speckled perch and catfish in Lake Osborne. Anglers also catch an occasional clown knifefish, an odd-looking aquarium fish illegally released into the Osborne/Ida chain.
Regulations: Anglers can keep five largemouth bass a day, only one of which can be 14 inches or longer. Two peacock bass can be kept, only one of which can be 17 inches or longer. There are no limits on Mayan cichlids. The bag limit for speckled perch (black crappie) is 25. For details, refer to the Freshwater Fishing Regulations brochure or go online to www.myfwc.com/fishing/rules.
Licenses: Freshwater fishing licenses are required unless exempt. Licenses can be purchased at sporting goods stores, tax collectors' offices, online at www.myfwc.com or by calling (888) 347-4356.
Shoreline restoration: Several sections of the Lake Osborne shoreline have been planted with bulrush, spikerush, pickerelweed and other wetland plants to improve the marsh habitat. Planted areas are protected by wave barriers to minimize erosion. Additional shoreline work along the west side of Lake Osborne is planned next year.
*****Lake Osborne Reviews*****
Walt Allison and walter Allison jr.
★★★★★
"
Let me first start off by saying are guide Capt. Dave Lauer was top notch. We booked 3 trips had Dave for all 3 trips. 2 On okeechobee n 1 On lake Osborn. We learned which in hind sight I already knew I should of book the trip in Jan or Feb. but on are first day in the first hr my son caught an 8.2 pound large mouth n I caught an 8 pound even. Plus plenty of 3,4, n 5 pounders. The trip on lake Osborn was slow. Something going on in the lake. Lots of dead fish but we were still able to catch are first peacock bass n first clown knife and a needle fish. Peacock bass fight tremendously. Biggest weighing 5 or 6 pounds. What a great trip. Will definitely use this service again. I personally recommend this out fit. Top notch service. All about our fishing experience n satisfaction. Dave went way above and beyond to make are trip a success. Which I might add it was. If u want to know if I'm experienced enough as a bass fisherman to make these bold statements about this trip just visit my fb page n look at my pictures of my New Jersey catches. Fishing is one of my passions. I wanted a 10 + pounder but didn't get it but I did get an 8 pounder and I don't know how many people can make that statement. I was told are pics were up on this website but I haven't located them yet. Again I personally recommend this outfit and my experience with Capt. Dave Lauer was to say the least was top notch. If ur planning a trip to fish Florida I implore u to get in touch with this outfit. I will request Capt. Dave Lauer again. Thanks again Dave. U made the trip of a father and son team a trip of a lifetime with memories n fish stories to share for the rest or are lives with are family. Again thank you.
"
Cody diehl
★★★★★
"
The day we went peacock bass fishing was the best! Wayne got us right on the fish and plus he had a fun loving personality! Wonderful combination for a great day of fishing!
"
Lake Osborne/Capt. Mike Groshon
★★★★★
"
My brother and I spent the day with Captain Mike Groshon on Lake Osborne and although the fish were being difficult, Mike moved us around and ensured that we found the fish we came looking for. The Peacock bass are a fun fish to catch and Mike, after seeing some bass, took us back to that location and I was able to catch two Peacock Bass there. We had a lot of fun too, especially trying to keep the birds from stealing our bait. 🙂 Then near the end of the day, I caught the Clown Knife Fish and it was a great day made even better. Not sure if we'll make it back to that area to fish again, but I'm sure we'll call on Mike to help us get some more Peacock Bass, if we do. Thanks Mike!
"
View Lake Osborne in a larger map
Important Links;
www.pbcgov.com/parks
Osborne Fishing