Overall rating:
Southwest Florida Fishing Guides
We are not a booking service where no one fishes…but the complete opposite. A group of Southwest Florida fishing guides that have gotten together as a TEAM, under the best conditions to provide you with the finest service Southwest Florida fishing guide industry has ever seen. We specialize in working with experienced bass anglers, who are looking for prime waters and new techniques, but also novice bass anglers who are out for a true fun learning experience. We will provide everything you need for that big day, reliable equipment and boats for your enjoyment. The finest bass fishing guides in the country on "Lake Okeechobee," you have come to right place Florida's largest, Lake Okeechobee largest and #1 rated guide service in Florida… Florida's only audio fishing reports sponsored by the Wildlife Foundation of Florida and TEAM members of largest fishing guide service Florida Fishing, so why shouldn't you!
Southwest Florida Fishing Guides
* Ft Myers * Naples * Sarasota * Cape Coral * Marco Island * Bonita Springs * Sanibel * Captiva * Venice *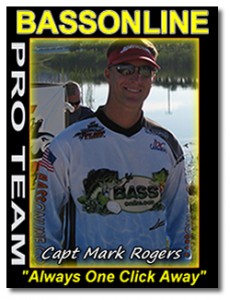 Captain Mark Rogers is a full-time Lake Okeechobee fishing guide and touring professional.
Experience includes BASS Master Elite Tour, FLW Tours, Everstart, BFL tournaments, and many others.
Mark has a list of accomplishments in the fishing industry a mile long. Mark originally from California moved to Florida, sharpen his northern skills years ago to master guiding on world-famous Lake Okeechobee
Captain Mark is sponsored by: Jolly Roger Marina, Slims Fish Camp, Bass Assassin Lures, Abu Garica, Cabin Creek Baits, Mercury Marine, Power Pole, and Bass OnLine.com
Captain Mark's has the biggest boat in our fleet, so trips on the "Big O" Lake Okeechobee, he has can take 3 to 6 people with a problem his home base is in Naples, Florida. So come fish with Captain Mark a true professional in every sense of the word. You can read more about Capt Mark @ Naples Bass Fishing
To go fishing with Capt Mark click here!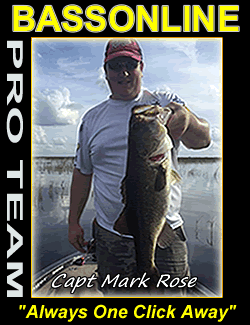 Capt Mark Rose
hometown is Pittsburgh PA. Mark has been
fishing Lake Erie
and
Lake Okeechobee
since 1999. He fishes Lake Erie in the spring for smallmouth. He runs a detail shop in his hometown during the summer, spring and fall and heads to Florida during the winter months to do what he loves, guide on Lake Okeechobee. Mark has had a passion for fishing since he was 11 and his passion and love for the sport has grown over the years. He can make a bad day of fishing still be an awesome day out on the boat!
Mark guides out of Clewiston FL, Belle Glade, Fl and Okeechobee City FL. Mark's biggest bass was 12 lbs 11 oz. it was caught on Okeechobee in Feb of 2012. Mark does artificial and live-bait trips. Whichever you choose, he will get the job done for you.
When not guiding, Mark fishes FLW, RAYOVAC series, BFL, Presque isle Bassmasters. He also participates in fishes Fishers Of men.
Mark is sponsored by the following- McEllwains Motors, Ranger Boats, Bass Online, Bass Assassin lures, Berkley, Abu Garcia, Spiderwire, Columbia sportswear, Minnkota and Hummingbird.
Captain Mark is 30 years old and is married to a wonderfully supportive wife. The two have a baby on the way and have a loving and strong-willed beautiful black lab!
Want a great day on the lake? Mark Rose is your guy!
To fish with Capt Mark Rose, fill out the request form!, book online or call (888) 629-2277 and request him!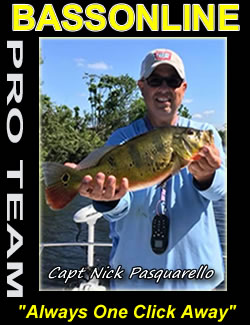 Capt Nick Pasquarello is a fishing guide out of Naples, Florida. My first experience with fishing, like many people, was with my dad. He took my two brothers and me fishing for snapper off the pier in Sheepshead Bay, Brooklyn – I was hooked. My passion for fishing was evident by the many jobs I've had working on fishing boats. My love for fishing pushed me to pursue a degree in Fishing and Marine Enterprises.
Soon after, I decided to switch gears and seek a rewarding career in law enforcement; however, I never lost my desire for fishing. After retiring from public service, my wife, children, and I knew that living in beautiful Naples, Florida was a dream come true. Soon after settling in Naples, we purchased a boat and practically fished and toured the waters surrounding the Naples area every day. Whether you want to adventure out peacock bass fishing in the Golden Gate Canal or go Everglades bass fishing, I have you covered! My hope is that I can share my wonderful experiences with you!
To fish with Capt Nick, fill out the request form!, book online or call (888) 629-2277 and request him!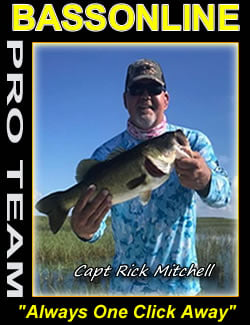 Capt Rick Mitchell is a full-time freshwater and inshore fishing guide.
Rick played college football at Bowling Green State University and commissioned as a second lieutenant in the US Army. After twenty-five years of active duty service, Rick and his family moved to Naples, FL where he has been guiding since 2011.
Rick has fished all over the country while in the military. When he is not fishing he is very active with the local fishing clubs and at the professional level with the FLW Costa / BFL series and the American Bass Angler Southern Division.
Rick is literally on the water every week preparing for a fishing guide or professional tournament. He is very proficient with the various fishing techniques in Southwest Florida (artificial, shiners and saltwater) and will cater to all your needs. The main lakes that I focus on are Lake Okeechobee, Golden Gate Canal System, Lake Trafford, and the Everglades.
Rick's favorite guide trip is located on Marco Island. Think – beautiful scenery, beaches, dolphins and plenty of fish!
To fish with Capt Rick, fill out the request form!, book online or call (888) 629-2277 and request him!
Southwest Florida Fishing Guide Reviews
Mark Rose, Good Fishing
★★★★★
"
Even though the weather was too cold for really hot fishing and many fishing parties were getting skunked, our guide, Mark Rose got us onto really nice fish. Cichlids, largemouth (some three to four pound),peacocks, oscars, and some enormous bowfin. He he knew ho to find the fish. He also to took us into some nice quiet gator country and showed us the sights. We had great day! Thanks Mark
"
Peacock bass fishing
★★★★★
"
I just got back from an awesome fishing trip with Mark Rose. Great guide. Tons of fish and fun. Make sure you ask for him. One of the best!!!
"
Great day of catching!
★★★★★
"
WOW what a great day of catching with Mark Rose in SW Florida 30+ peacock bass and largemouth to. Totally first class guide!
"
Click below on the region of the map you wish to find a fishing guide!
South Florida Fishing Guides | Southwest Florida Fishing Guides | Okeechobee Fishing Guides | Central Florida Fishing Guides | North Florida Fishing Guides | Florida Panhandle Fishing Guides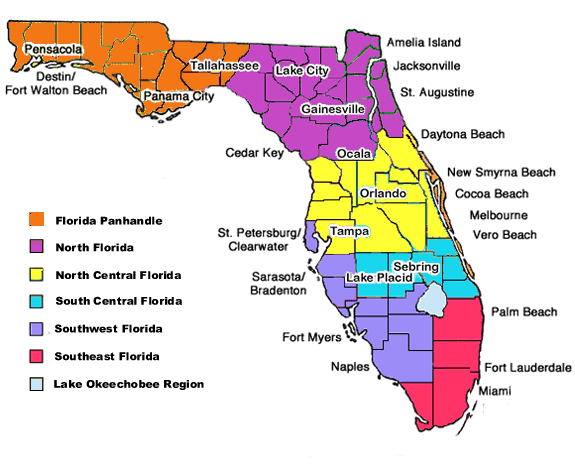 We are continuously adding new guides to this page. If you have went with a guide before and he is not listed please call the office for details and contact information. If you are a bass fishing guide in the North Florida Region please contact us by using this contact form!