★★★★★

based on

3

reviews.
Overall rating:
Johns Lake Fishing
Johns Lake is located in North Park, just northwest of Orlando, Florida. Historically, Johns Lake produces bass over 10 pounds, rated in the top 10 lakes in Florida. Recently the lake has gone through some low water conditions and it remains to be producing very well. Largemouth bass are the primary species here but Crappie and Bluegill are also present. The lake provides a lot of structure with weed beds and can be readily fished from shore in some areas.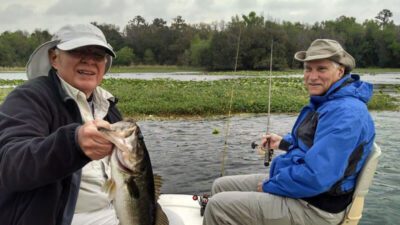 The John's Lake boat ramp is about 6 miles east of Clermont on Highway 50. Even with the development of most of the shoreline and it's close proximity to Orlando, this lake produces excellent bass fishing with little to no pressure during the week. Everything about this lake is right for bass. The water color is slightly stained, which is good thing for Florida. There are several rocky structures, coral rock type bottom throughout the lake and there is adequate cover despite the building of high dollar homes around the shoreline. Water levels fluctuate, but always return to normal. The State of Florida restocked the lake with 500,000 bass fingerlings in the early 2000's. These bass are now reaching trophy size and the lake is continuing it's reputation as one great bass fishery.
Fishing on Johns lake is always a blast, it seems we are consistently able to put people on good quality bass. Some of our biggest bass of the year actually are caught right here in Johns lake. Another nice feature is there's no big long boat rife to get to the fish, a few minutes of idling and were on our first spot!
Johns Lake Fishing Tips
According to our Florida fishing guides in the area, Captain Tim, Captain Kip, Captain Steve and Captain John anglers will find success with a variety of lures on Johns Lake. Plastic worms and rattling lipless crankbaits are very effective. The canal that connects the two main lakes quite often holds schooling bass early and late in the day. The areas just outside either end of the canal can be productive during midday as well. Top water lures are always fun, a favorite on Johns Lake by all of the guides because of the explosive strikes in spring and fall, but slower, more subtle presentations tend to catch the most bass during the summer months.
Johns Lake Access
Boat launch is at the John's Lake boat ramp, which is located about six miles east of the city of Clermont on Highway 50. The area around the lake is largely developed, but open shoreline exists on the southeast end. The map below provides details and driving directions.
*****Johns Lake Reviews*****
Johns Lake
★★★★★
"
Thank you, Captain Brent for a wonderful day of fishing!!!! Five bass over 5lbs for my son and daughters!! A terrific experience!!
"
Me Gusta Pescar
★★★★★
"
Me gusta ir a pescar a este citio.
"
Central Fl Bass Fishing
★★★★★
"
Saw the show today, 2/18/2015 and enjoyed the show and the tip on tying a snell knot but did not get any information about what lake they were fishing on. So many of fl lakes have that kind of vegetation that they all look similar. Would love to fish this lake sometime. Thanks Mike
"
Johns Lake Map & Regulations
You can keep five bass per day from Johns Lake, only one of which may be greater than 22 inches. Be sure to get a Florida fishing licenses before you drop a line in the lake; licenses are available through the Florida Fish and Wildlife Conservation Commission website (see Resources), and at most bait and tackle shops in the state.
For more information on Johns Lake
For more information on Johns Lake Fishing Guides
For driving directions Click Here!