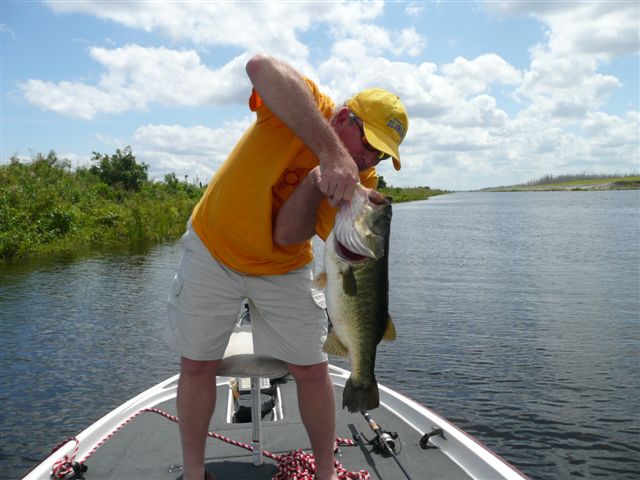 West of Orlando in the town of Clermont lies eleven beautiful lakes known as the Clermont Chain of lakes that total 8,692 acres. This 11-lake chain is located in Lake County's rolling hills near the town of Clermont. Clermont Chain of lakes has two public boat ramps and one is on Lake Minneola (fee charged) north of SR 50 in Clermont. The other is a FWC ramp just north of Lake Louisa on Hull Road. Water levels are normal most of the time, so access should not be a problem at either ramp. For those preferring to fish from shore, there is a fishing pier on Lake Minneola. Most of the chain has tea-colored water, but Lake Minneola (1,888 acres) is relatively clear. All lakes on the Clermont Chain of lakes are Fish Management Areas, so a fishing license is required per state law.
Bluegill and redear sunfish (shellcracker) are biting on worms and crickets around shoreline vegetation and cypress trees. Both species will continue to spawn in these areas throughout the summer during the new and full moon phases, and fishing success peaks during these periods. Channel catfish action is good on live, dead or prepared baits in deep offshore areas of lakes Minneola, Minnehaha, and Louisa. Largemouth bass can be caught casting or trolling crankbaits in offshore areas or on plastic worms early and late in the day along grassline edges.
The lakes contain a primary cover of Kissimmee grass, eel grass, lily pads, reeds and bulrushes. This is home to some of the biggest largemouth bass in Florida with 10 pounders being caught during the spawn on a regular basis. Speckled perch (crappie), blue gills, and redear sunfish (shellcracker) also abound in the chain.
The Clermont Chain of lakes included in the Chain:
Lake Minneola (1,888 acres)
Lake Minnehaha (2,298 acres)
Lake Winona (64 acres)
Lake Louisa (3,634 acres)
Lake Palatlakaha (102 acres)
Lake Hiawatha (49 acres)
Wilson Lake (32 acres)
Lake Susan (81 acres)
Lake Crescent (122 acres)
Cook Lake (21 acres)
Cherry Lake (401 acres)
Further north and technically located in the town of Groveland, Lake Lucy (346 acres) and Lake Emma (173 acres) are also part of the Clermont chain of lakes. These tea-colored, spring fed lakes are surrounded by rolling hills, on which local residents find make a great perch for viewing Florida's stunning sunsets.
The Clermont chain of lakes is one of Florida's most recreational polished lake systems in Florida. Fishers will find channel catfish and speckled perch to be quite plentiful. Sunken trees and dredge holes in the lakes make great fishing attractors, providing what some claim to be "some of the best largemouth bass fishing in the world." These attractors are marked on most lakes by buoys, which should help to foster a pleasant experience even for the novice fisherman.
For the water-sports enthusiast, the Clermont chain of lakes are the place to be. Throughout the water skiing community, Clermont is known as the ""Wakeboarding capital of the world". The Wakeboarding Camp, a year-round school devoted entirely to the instruction of wakeboarding, is located on Lake Minneola
View Larger Map