Ellijay Rating:
Ellijay Rating - Read customer reviews, click to read
Complete Guide to Fishing in Ellijay Ga
Top Fishing Spots in Ellijay, Georgia
North Georgia is home to phenomenal spots for bait fishing, spin fishing, fly fishing, and other styles. So, if you thought Lake Blue Ridge was the only fishing destination in this area, you couldn't be more wrong!
What to Know About the Best Trout Fishing Spot in Georgia  
Ellijay has three of the most significant North Georgian rivers flowing throw it, with many streams and creeks passing right by! So, as a fisherman, you don't want to miss out on this exotic destination.
Plus, the recreation areas offer plenty of outdoor activities you should try at the trout capital of Georgia!
Not to mention, fishing in Ellijay Ga is ten times more fun when you get to book the best fishing guides!
So, to help out a fellow angler, we are listing down Ellijay's top fishing spots, fish types, and charters. So, please take a quick look to prepare yourself for a fishing trip in Ellijay and nearby streams!
Popular Nearby Ellijay Fishing Locations

Instant Confirmation

  Angler's Top Choice

FREE Cancellation
Great experience
★★★★★
"
Trip to Ellijay Ga was awesome he put us on the fish and gave us a lot of help and knowledge on the boat. Very easy to talk to and just a good guy to fish with!
"
CLICK HERE TO WRITE A ELLIJAY GA REVIEW
Ellijay River
The Ellijay river runs for 24.3 kilometers along the Chattahoochee National Forest. It comprises a reservoir dam and ends in Ellijay at the confluence with the Cartecay River. From there, it constitutes the Coosawattee waters near Gilmer County. This river runs 15 miles through Ellijay, accommodating brook trout, rainbow trout, and bass in its waters.
Cartecay River
The North Georgia Cartecay River is a fantastic fishing location for Georgian anglers. This 19.1-mile river flows through Ellijay and meets the Ellijay river. At the confluence of these large rivers, you can find abundant freshwater fish all year round.
Coosawattee River
At 49.3 miles, this is one of the largest rivers in North Georgia. The downstream of the Coosawattee River, including Carters Lake and Rock Creek, can be fished without a license year-round. If you're in the area, there are loads of scenic resorts and RV campgrounds for you to stay the night.
What Type of Fish Are Available in Ellijay Rivers?
The top species to hook in the Ellijay stream include largemouth bass, spotted, striped, and smallmouth bass, rainbow trout, spotted sunfish, redbreast sunfish, flathead catfish, and bluegill.
Most fishermen like to take their boats towards the low elevation lakes in spring. Because that's where fish are more active all over Ga, but if you're talking about trout, you can easily be catching fish well into the winter months and spring.
Rainbow Trout
You can find a large population of Rainbow Trout in the Ellijay stream. If you ever visited the Benton MacKaye Trail near the Toccoa river, you can expect the same amount of fish-biting in Ellijay. Fly fishing is how the seasoned fishermen catch these trout day in and day out.
Spotted Bass
Fishing for spotted bass is your ticket to a great time on the Ellijay River. You can catch them with a light tackle from State parks of the Forest Service Rd.
If you have business in Morganton, pay a visit to the Chattahoochee Fish Hatchery. Many of its creeks and streams get stocked with spotted, common carp, and trout.
Largemouth Bass
The largemouth is a prevalent fish in Logan Lake, Rock Creek, and Owltown Creek. If you like bass fishing in narrow streams, consider visiting Mountaintown Creek near Dalton. With a handful of minnows and shiners, you can hang at any of these locations for catching Largemouth.
Top Targeted Fish Species
How to Plan a Trout Fishing Trip in Ellijay GA
There are lots of fishing spots near Ellijay in North Georgia. With the help of a fishing guide, you can visit spectacular destinations for catching wild trout and enjoying the scenery.
According to our Ellijay fishing calendar, one can expect great success with additional cloud cover to hook rainbow trout.
The wind speed near the Ellijay river is six mph- the optimal fish-biting condition for spotted bass. So if you want to win the Georgia Fish Slam, follow our simple guide that will help you to the top of your game!
Recommended Gear
Fishing in the beautiful Ellijay is fun and games until there's a trout on the hook and you don't have a heavy enough line to reel it in. Then, a superb guide will provide the correct fishing gear you need for your special day.
But when you're out there on your own, it's best to keep a 6′ spinning rod and matching reels. Spin fishing and fly fishing are two widely used methods for catching trout.
And if you're going to try the latter, make sure you have a 9-foot 5-weight fly rod, a 5-weight line, monofilament leaders, spools of 5x tippets, and worms.
Well, isn't that a bit overwhelming? In that case, you can check out Georgia's exclusive Fishing Tackle Loaner Program. 25 State parks in Georgia allow visitors to borrow fishing rods, lines, and tackle boxes for free!
Baits and Lures
If you don't like waiting, using live baits will make fishing in the Ellijay river worthwhile. Since these waters are stocked with brown trout and bass, fish with the live bait off the bottom is suggested.
Rainbow trout can be found in deeper water, behind rocks, and undercut banks. Therefore, worms, minnows, crayfish, and crickets make the best baits to use in Ellijay, especially in Logan Lake, where rainbow trouts are in plenty!
8-inch tube baits and plastic worms can help you land a substantial spotted bass in the Ellijay waters. However, the striped kind will only take your bait as long as its herring, eels, squid, bloodworms, sandworms, and mackerel!
Local Ellijay Fishing Guides
Meet the team of Ellijay Fishing Guides, we know the best spots, baits, and techniques to give you the greatest fishing experience in the Ellijay area.
Fishing License Requirements on Fishing Charters
You don't need to purchase a fishing license for saltwater fishing charters as the captain's license covers you. This goes for both inshore and offshore fishing charters. For freshwater fishing charters, all non-residents over age 16 need a freshwater license, and residents between 16 and 65 need a freshwater license.
Ellijay Fishing Charters
Are you planning a fishing trip with a guide service to the Ellijay River, the Blue Ridge area, and its surrounding lakes? Then you can hire a professional fishing guide to maximize your time.
A fishing guide can take you to the best spots, no matter the water levels, weather conditions, temperature, stream flow, or moon phase.
There are many fishing charters in North Georgia. All should provide rods, reels, lures, and tackles by the fishing guide to enjoy catching fish with no trouble!
Ellijay Striper Fishing Charters
It's one of the best-rated fishing charters in all of North Georgia. It offers freshwater fishing in and around the Ellijay River, accommodating small to big groups while walleye and striper fishing.
Most Striper trips offer half-day, super-half, and full-day packages to explore the excellent fishing spots. The techniques presented are fly fishing, free line, down the line, and other fun methods to reel in-game fish.
The best thing about these style charters is they are child-friendly fishing charters. You'll explore Ellijay's various water bodies and lakes and use live baits and artificial lures.
Optional Guide Services
This Ellijay fishing charter will be right up your alley if you enjoy lake fishing. They cover Carters Lake, Lake Blue Ridge, and many streams in North Georgia.
Options for lake fishing include steam fishing in Lake Blue Ridge and Ellijay surrounding streams. In addition to trophy striper, we target several fish species.
You explore some of Ellijay's waters with brook trout and walleye. The trout fishing is prime from early November to April.
The area has advantages as a fly fishing destination in North Ga, including the Nottely Lake inside the Chattahoochee National Forest and Lake Lanier.
North Georgia Trout Fishing
We offer floating trips with fishing guides near Blue Ridge on the Toccoa River in this area. North Ga trout fishing has advantages that never disappoint and will help you have a great time.
If needed, you'll be provided with fly fishing gear, which is why many like to bring their own, which is suggested. We target fish in the Blue Ridge, Toccoa River, Conasauga Rivers, and more which can be fished almost seven months a year. So, contact us today if you need the best local fishing guide. Location sometimes depends on weather and conditions, but the big fish in the Blue Ridge dam keeps improving over time. The fish you catch in Blue Ridge is 9 to 14 inches long, whereas the bigger game fish push 20 inches and more.
You can have a great trip to the delayed harvest area on the Toccoa River- the best place for fly fishing in all of Georgia.
Fly Fishing Guide Service Techniques
These fish and various gamefish species can be caught on flies, such as walleye, striped bass, spotted bass, catfish, and hybrid. In addition, spinning, drift fishing, jigging, wading, and trolling are used to catch fish in the Ellijay lakes.
The crew explored lakes all over Ga, including Lake Lanier and its surrounding creeks searching for Spotted, Largemouth, Walleye, and Striped Bass.
For example, if you want to go after a rare targeted species, all you have to do is let us know, and he will work out the best fishing charter, location, and time.
The only thing you need to bring along is your freshwater fishing license. Everything else, starting from tackle to rod, will be supplied by your fishing guide.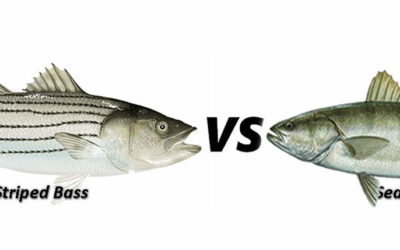 Sea Bass & Striped Bass: A Comparison The sea bass and the striped bass are different types of species even though they have the ''bass'' word in their name. When it...
read more
Ellijay River Fishing Regulations
The fishing regulations in North Ga vary from species to species. So, before you go on a fishing trip in Ellijay, Georgia, it's good to know the local rules about minimum size, bag limit, and measurements. If fly fishermen, fishing on private land or using a guide service, the fishing opportunities are the same, but the laws are not.
First of all, people ages 16 and above must have a valid Georgia fishing license to fish in the lake. The good news is you can catch native brookies and bass throughout the seasons with the same license.
However, it's not allowed to catch bass smaller than 22 inches during open season. The bag limit of 2 applies to licensed anglers who actively catch fish even if using a guide service.
Personally, the local fishing regulations are friendly and open year-round for anglers. Most fishing charters allow you to keep your game fish and take it home.
Rounding Up 
That's all there is to know about fishing in Georgia's prime stream, lakes, or wading spots. Now that you know its popular boat charters, state parks, destinations, and bite, fishing in Ellijay will be a rewarding trip. So stock up your tackle box, get all the gear, and set off for an excellent fishing adventure!
Questions? Feel free to call us, Email us or use the chat us to speak to one of our specialists.
Questions? Feel free to call us, Email us or use the chat us to speak to one of our specialists.
Questions? Feel free to call us, Email us or use the chat us to speak to one of our specialists.
What are you waiting for?
We also have great deals available in the following cities that match your search criteria.