Did you know that bass fishing in a kayak has increased in popularity over the past several years? Kayak bass fishing is unique in many ways. It allows access to areas that are nearly impossible to reach. It is also a budget-friendly option and a way to enjoy boat fishing without paying a high price for a bass boat.
What Is
Kayak Bass Fishing
?
While most outdoor enthusiasts merely see kayaks as boats, they can also be used for fishing. There are many excellent reasons to get into kayak fishing. Compared to a bigger fishing boat, a kayak is less expensive to maintain, virtually anybody can operate it, and kayakers may access areas larger boats cannot.
The cost and the ability to visit areas that motorboats cannot, as well as the chance to enjoy other outdoor activities, are some of the big draws to kayak fishing for both experienced and novice anglers. Bass fishing from a kayak might first appear a little intimidating due to the range of gear options and steep learning curve. However, once you get going, you'll realize it's among the most fun hobbies.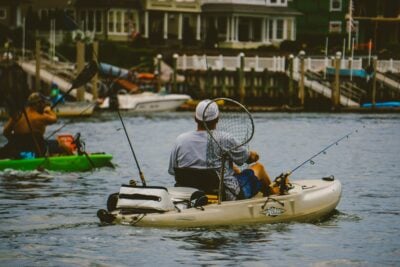 How to Kayak Fish for Bass
: Step-by-Step Instructions
We're here to help you learn what supplies to buy, how to start more affordably, and how to fish safely from a kayak. You'll discover the most fantastic kayak fishing tips and strategies. The following advice can be helpful for you if you want to try kayak fishing for bass, especially if you're new to the activity. Kayaking is an evolving sport with many levels, so if some of the answers are more generic, know it can suit you at any level.
Tackle box

– You are essentially set with a few tiny tackle boxes, one little binder for your soft plastics, and a few of your favorite combinations.

The ideal kayak

– Choosing the proper kayak is crucial because, despite how similar they may appear. Recreational kayaks should not be used for

kayak fishing for bass

(especially bass). According to

kayak bass fishing tips

from our experts, the design of specific kayaks provides the extra stability you need to pull in even the biggest fish.

What kind of kayak do you need?

– The best source is the paddle store closest to you. The crew sells boats to paddlers of different skill levels and aspirations.

Paddle leash

– Carrying a spare pair of paddle blades is preferable to lashing the paddle to the kayak.

Safety first

– Look for life vests with soft and stretchy foam. To enable a sit-on-top high seat back, the flotation on the back should be high on the shoulders. Ensure the life jacket is fitted correctly so it won't ride up in the water.

Leashes and floats –

The leash will make it more challenging to use the rod and may tangle if the kayak tips over, which is a drawback. When the rod is in your hands, removing the rod leash is suggested.

Pick your paddle –

Pick the stiffest, lightest paddle you can manage. It is simpler to modify the paddle shaft length for the ideal stroke when it has an adjustable length shaft.

Perfecting a skill requires practice

– Kayak fishing requires practice, just like any other sport. If you have enough experience paddling a kayak, you can control it even in severe currents or gusts of wind, which you may experience when fishing.
Kayak Fishing Spots
: The Best Places to Get Bass
We sorted out the best kayak fishing spots among the tens of thousands of places across the country. Here are some of our favorite locations with the most productive waters close to your house or across the country if you're up for a road trip.
Marsh Creek Lake, Pennsylvania
The 535-acre Marsh Creek Lake averages 40 feet in depth, although it can get as deep as 73 feet and has a large fish population. The channel catfish, largemouth bass, black crappie, and walleye are the most prevalent fish species at Marsh Creek State Park. Because this State Park is a "Big Bass" lake, you can fish only bass that are at least 15 inches long. 
A handful of productive locations at Marsh Creek State Park reliably provide high-quality bass. The club and the local commission worked together to improve the region's habitat and hold largemouth bass competitions every season. There are a few locations in Marsh Creek State Park where you may want to fish for native panfish as well.
Fort Lauderdale, Florida
On a map, Fort Lauderdale is situated between Miami and Boca Raton along South Florida's Atlantic Coast. You can find plenty of freshwater fish in this lake, including largemouth bass and peacock bass. 
The Everglades regions are one of the most well-liked fishing locations in Florida. You can capture the unique peacock bass, unusual clown knife fish, our famed largemouth bass, or plenty of others. 
Many anglers visit this fantastic beach for yearly fishing contests or other special events that take place throughout the year. There are always fishing rodeos, tournaments, and festival contests available.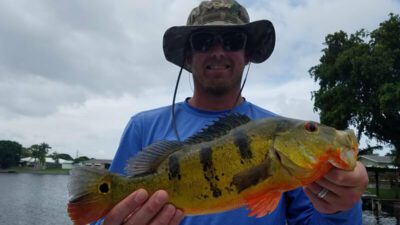 Chattahoochee River, Georgia
Chattahoochee River will give you an enjoyable experience catching trout, bass, catfish, and other species. Fishing is allowed on the river inside the park 30 minutes before sunrise and ends 30 minutes after dusk. The park does not allow night fishing. 
For fishermen 16 and older, a current Georgia fishing license is necessary. Utilizing live baitfish in the river is forbidden within the park. Swimming in the river for baitfish is also prohibited. Each angler is limited to using one rod.
Kayak Bass Fishing Tips
: Up Your Fishing Game
Kayaking might first appear a little intimidating, but no worries, we are here to help! Here are some kayak bass fishing tips to keep in mind.
Choose a good rod, reel with some backbone, and a good baitcaster or quality spinning outfit to cast and retrieve the big bass lures.

Have a few rods set up and prepared to fly rather than wasting time switching your lures back and forth.

Remain calm and confident when casting, and trust that your boat will perform as intended.

Use pointy-nosed styles over the top of hydrilla mats and popping styles along grass borders.

Sound travels five times faster through water than air, so paddle quietly and pedal using some drift.

For standing, getting into, and getting out of your kayak, non-slip footwear is preferable.
Kayak Fishing for Bass
: Final Words
As you can see, many of the best power-boat bass fishing strategies are applicable to kayak fishing or may be modified for it. You could find yourself absorbed into one of the fastest-growing trends in fishing today after engaging a largemouth in your kayak. 
Simply put, get a kayak and go fishing now!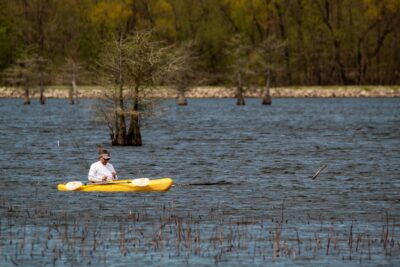 FAQs
How to choose a good kayak fishing spot?
You can go kayak fishing pretty much everywhere. However, it is safer to stay in calmer seas, especially in the ocean. Although shallow seas near reefs or inlets can also be effective, bays are favored. If you're going to fish in a river, choose a quiet day.
How many rods for kayak bass fishing?
Two rods are doable, so for the majority of fishing kayaks, two setups are excellent. A kayak can accommodate a lot of rods, but it could get a little messy. If you miss a fish, the fish will frequently bite again if you use a new bait. You may accomplish this with two rods.
What is the best kayak for bass fishing?
Due to the simplicity and convenience of getting on and off, sit-on-top kayaks are more often used for fishing. They're more solid, and many of them let you stand up, which is convenient when casting or pulling in large fish.
People Also Ask
How to compete in kayak bass fishing tournaments?
You can easily find a kayak bass fishing tournament anywhere in the country. The PFD (personal flotation device), kayak, and rod are the three most crucial equipment items you'll need. A scale and measuring board will be required to measure the catch. On the morning of the competition, you will receive an identifier to post your catch photos. This helps prevent possible cheats; laws differ between events and states.
Should you buy a fishing kayak or mini bass boat?
While fishing from a kayak is fantastic, a bass boat is usually a better option. You can position yourself better, and you have more storage. However, it is cheaper to fish from a kayak. The cost of each fishing trip will be lower with a kayak than with a boat because they are both smaller and more economical. In addition, maintaining and fueling a boat requires more work, which raises the overall cost.