Fish & Boat: The Best Places to Fish for Bass with a Boat
Versatile anglers swear that nothing comes close to fishing off a boat, and why wouldn't they? Not only do the deeper waters boast your chances of reeling in a big catch, but they also allow you to fish various species. The water creatures lurking in the deep make quite the challenge, even for a professional angler. 
But you can't just run off to try; you must master the basics techniques first. Anglers usually start with the largemouth bass, the world's most popular freshwater game fish. 
So, we need to find the ideal boat and get ready! We'll help you find the perfect lake for bass boat fishing. 
Bass Boat Fishing
: What Are The Advantages?
There are many advantages to boat bass fishing, including the ability to cover a lot of ground quickly. Imagine having to pick up all of your tackle and repeatedly moving to test out new spots on dry land just to get the same results. It would be a drag! Boat fishing, if you have all of your gear on the boat with you, a boat allows you to cover large distances without the hustle. 
Whether you prefer largemouth bass, smallmouth bass, or spotted or striped bass, boat fishing will make things easier for you. Anglers fishing on dry land frequently get stuck with the same bass type over and over again due to their limited mobility. Bass boat fishing allows a fisherman to move quickly to another location, whether in need of more distance, position change, or versatility of bass types. 
Plus, changing the scenery will make fishing more fun and help you become a master angler in different fishing conditions. It's always a good idea to try several spots throughout the course of a day and to test out different lakes or waters when fishing. 
How to Bass Fish from a Boat
Keep in mind that bass fish are slow and lazy most of the time. They don't always tend to act aggressively when presented with bait, as much as we would like anyway. Most spend their time and typically prefer to stay in some type of cover or weed beds. Because of this, the bass is quickly startled, so now let's talk about how to bass fish from a boat without scaring the fish. 
The prime rule is to locate the bass, but do it quietly. Always consider if you're casting a good angle on a long cast that penetrates the bass's private zone, and always let the line sink. As there could be bass beds in the area. The lazy (less aggressive) bass won't chase but would bite if the line is close by and they have time to investigate what you are presenting. This is the point where choosing the right bait comes into play; it's all part of the complete process.
A seasonal live bait or a life-like fishing lure that mimics seasonal food supply are both excellent choices for bass fishing. The best live bait is crawfish, shiners, night crawlers, and small sunfish. Using dead bait for catching bass is not recommended, but it does occasionally work. 
Also, as mentioned above, the bass is one of the most common lake fish in the US. As a result, bass boats have become trendy, as they are instrumental in trophy bass fishing and bass fishing at night and generally make bass catching more productive and accessible than shoreline fishing. The choice of a boat is significant in this regard, making 15 to 22 ft the best bass fishing boat size. A bigger boat can scare the bass, and it would be unable to drift over the fish's shallow grassy rocks and other spots where they hide.
Finally, safety comes above all if you go boat bass fishing. In addition to learning how to handle a boat, you should get familiarized with all precautionary measures, check weather conditions, and equip the boat with safety kits and tackle. Always have a plan for when something goes wrong. Why, if you own a boat, it's just a matter of time!
Where to Bass Fish from a Boat
? The Best Boating Lakes Across the US
Among all the US lakes, a select few stand out when it comes to fishing. So, where to bass fish from a boat or land? Below, we list a few lakes you should visit and bring your tackle for some bass boat fishing.
The Delta, California
The Delta in California is one very popular body of water for recreational activities, including water sports. It is often addressed as the jewel of the San Francisco and Sacramento area with the National Forest. This waterway is a fishing wonder, rich with many fish species. The deepest parts can reach up to 50 feet or more in-depth. 
The most common fish of the lake is the striped bass, largemouth bass, smallmouth bass, catfish, sturgeon, crappie, and so much more. The summertime is ideal for boat bass fishing in California on the Delta. You can even find some salmon if you're lucky.  
Lake Toho, Florida
Lake Tohopekaliga is a freshwater lake in Kissimmee, Florida, riding the state line between Jacksonville and Miami. It is only an average of 10 ft deep, with a maximum depth of 18 feet, and is listed as one of the best lakes in the US. Fishing in Lake Toho is extremely popular with freshwater anglers, as it's just down the street from the heart of Walt Disney World. 
The most common local fish are the largemouth bass, black crappie, and bluegill. And, of course, it is full of trophy largemouth bass.
Lake Lanier, Georgia
Lake Lanier is a summer delight with 156 ft (48 m) maximal depth and spectacular views. Largemouth and spotted bass are this lake's most frequent catch. Stripped and smallmouth bass, channel catfish, and green and redbreast sunfish also exist. 
Lake Fork, Texas
Lake Fork is one of the largest Texas lakes, with 70 ft at the deepest point and an average of 22 feet. You can also fish here besides indulging in water recreation, events, and lodgings. The most common fish types include largemouth, white bass, crappie, grass carp, and many catfish types. 
Lake Wallenpaupack, Pennsylvania
Lake Wallenpaupack is a freshwater lake rich in coves and amazing scenic views. The maximum depth is 60 ft (18 m), and the most common fish species are smallmouth, largemouth, rock, and striped bass. However, you can also find chain pickerel, bluegill, and many other fish.
Boat Bass Fishing
: The Final Take
When an angler gets into boat bass fishing, there is no way back; it's addicting in a good way! Boat fishing is more fun and challenging, allows for easier and more productive results, and always elevates your fishing game. However, this also means it's one of the more costly fishing methods. So, it's up to you to decide how much of an investment you will make for your fishing fun. Most bass anglers start on the bank, progress to a friend's boat or a kayak, and then to maybe a bass tracker. Where you stop, wow knows, and who cares as long as you are having fun!  
FAQs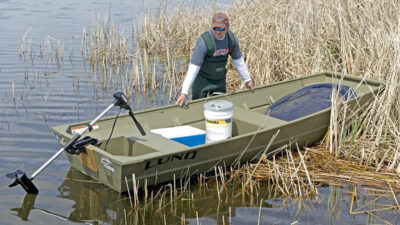 How do you fish for bass on a boat?
To answer the question of how to bass fish from a boat, you need to fish every way. The key to fishing from a boat is it allows you the versatility to fish any way or anywhere. There are no two types of rigging styles recommended for bass boat fishing; they all work at times! 
Do I need a subwoofer in my boat?
This is a funny question you asked. You don't remarkably suggest a subwoofer for an optimal fishing experience. However, it can help with the optimal boating experience, especially if you have fun with friends who focus on good music overfishing.
Where is the best location for a subwoofer on a boat?
Really, so we're going there? You can always put the subwoofer in a storage locker. They also work well under the seats, but the specific place will depend on the size of your boat and its overall design. Additionally, if there is room, the subwoofer could perform with better quality in a sturdy enclosure. Just be sure to attach it somewhere so it's out of the way!
People Also Ask
How much should I spend on a bass boat?
A bass boat can cost anywhere from $2,000 to $100,000. It all depends on whether you want the bare necessities or more extravagant options. The options are endless!
What type of boat requires the least maintenance?
The Jon boat is likely to be a top leader on the list of low-maintenance boats. Due to its low cost, toughness, and versatility, it is one of the best starter boats ever!