You found a new rod on your trip and want to fly it back home. Or perhaps, you have a fishing adventure on your mind and are already planning the trip. Yet, you're unsure whether flying with fishing rods is allowed and whether you can bring your fishing gear along.
Bear with us to learn the flight regulations regarding transporting of your fishing gear. We'll also throw in some information on adequately packing your rods. Be patient and keep reading. Good things come to those who keep casting! 
Flying with a Fishing Rod
: Is It Allowed?
Wondering whether you can bring a fishing pole on a plane? Yes, the Transportation Security Administration (TSA) states that flying with fishing rods is generally allowed by consumers. 
US laws and regulations on fishing rods on airplanes permit flying with a fishing rod and gear. Still, the officer in charge at the checkpoint will make the final decision on the equipment you carry. Follow all regulations and respect the safety limitations. It is wise to check the airline website of the provider company to confirm the fishing gear fits in with the size and restrictions for carry-on items. 
Many airlines have clear-cut size and length limitations for fishing rod carry-on and checked-in equipment. So you may want to read this article on travel rods for better options. Some airlines may even limit the number of rods to just two rods or imply some additional charges. 
Fishing Rod Carry On
: How to Bring Your Rod on the Plane?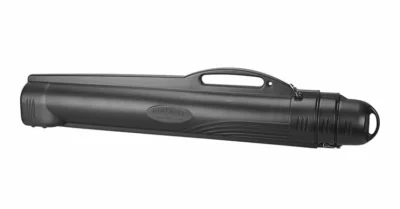 The TSA allows flying with fishing rods in both carry-on and checked bags. Generally, most airlines follow the same rule so you can safely bring on board your fishing rod carry-on.
If the overhead compartments can accommodate your fishing pole and gear, you can bring them on the plane. Simply follow the size recommendations. Don't attach the line or hooks to the fishing rod; detach the fishing reels. 
Choosing how to manage your gear while flying with fishing rods requires careful consideration. Should you check the rods in or bring the fishing pole on an airplane with you? Naturally, it is better to pack up your fishing gear with a carry on. 
The only issue is that rod tubes occasionally don't fit the specifications for carry-on luggage. If this is the case, you may emphasize how important this piece of gear is for your journey to the carrier. Otherwise, you will need to check your fishing rods.
It's widely known that checked luggage often gets damaged. Having said that, it can be challenging to fit one-piece rods in a carry-on, and you may have no option. No worries. There is a way to fly your rods as checked-in luggage safely. 
If you are an international angler or like to travel and fish recreationally, investing in a sturdy cylindrical carrier equipped with a TSA-approved lock is wise. We advise you not to compromise on a decent flying rod tube or case to protect your fishing gear and keep it safe when traveling. 
For instance, Southwest Airlines have a specific requirement for transporting the fishing rods that they are in a sturdy, cylindrical fishing rod container. If the container is over 91 inches, it is subject to oversize charges. 
In addition, American Airlines has a standard overweight fee that ranges from 51 lbs (23 kg) to 70 lbs (32 kg). The same fee applies for checked bags up to 50 lbs (or 23 kg) and 126 in (or 320 cm) (length, width, and height). Your equipment bag will be charged as a separate checked bag if it exceeds the measurements. 
Delta Airlines permits transporting fishing rods as a carry-on. Ensure they fit into the standard carry-on size of 22 x 14in x 9in. 
Further, United Airlines limits you to one item of fishing equipment per customer that must be checked. It can contain a pair of fishing boots, two rods, a landing net, a reel, and a tackle box.
Alaska Airlines waives the oversize fee for fishing equipment and has standard charges as for regular baggage. A piece of fishing equipment should not be linearly larger than 115 inches. It should contain no more than two rods, one tackle box, and two reels.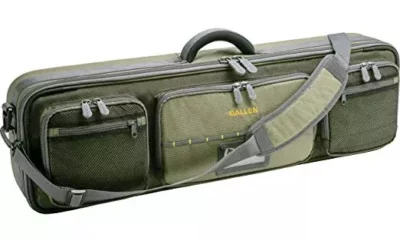 How to Pack a Fishing Rod for Air Travel?
Packaging the fishing rods together in a short rod tube is the best option. This way, you will skip potential issues or damage on domestic or international flights. 
Tape the rods together to secure them. Pack them in a fishing tube secured with bubble wrap or other suitable material. You can also pack the rods in their original packing to prevent excessive friction throughout the ride. 
Regarding heavier gear like trolling rods or beach casting rods. It can be more challenging to convince airport security to allow you to bring a heavy fishing pole on any airplane. However, you may check your fishing gear as sports equipment, and many airline companies won't charge you extra. Check the airline's policy on sports equipment to be sure. Specifically, look up any information about fishing gear before booking your flight.
A fishing rod case or tube keeps your fishing gear safe and also makes traveling much more manageable. Look for a case made of strong but lightweight materials. Cases made of hard plastic are ideal for rod tubes because they are light, easily adaptable, and can take on any preferred shape. It is also flexible enough to withstand pressure from all directions while remaining stiff sufficient to safeguard the rods inside. After all, keeping the rods safe and damage-free is your primary goal here.
Another recommendation is to use a TSA-approved lock with a recognizable mark for your fishing rod case. Airline check-in staff have the training to recognize these locks. If your bags have to undergo an inspection, TSA screeners have special tools for opening these locks. This way, they won't have to cut the lock by force and possibly damage it.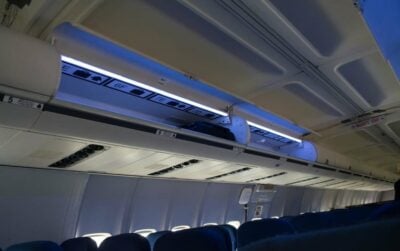 Flying the Rest of the Equipment
After establishing that flying with fishing rods is generally OK, let's go through the rest of the fishing gear. The TSA informs that potentially hazardous sharp fishing equipment, like large fish hooks, should be wrapped, covered, and packed safely in checked bags. These items are prohibited on board, and it's mostly for safety reasons.
Use carry-on bags to pack pricey and valuable reels or delicate tackles that don't compromise security (small lures). Packing reels in your carry-on is not a problem, but you should ensure they are secured. A good reel case will do the job. 
Another point to get further into is the lures. It is not legally against TSA standards to pack small, hazardous fishing flies in your carry-on luggage. However, they may be confiscated on the spot if airport staff find they are flight inappropriate.   
A general rule or fly fishing trick would be to put enough flies or lures in a compact fly box or a zip-lock bag that would be sufficient to cover one or two fishing days. Between 10 and 16 flies should be enough. Ensure you make an excellent lure combination with a primary and versatile selection. This will prepare you should the airline delay the checked luggage. Safely pack the remaining flies in your checked baggage. 
The advice remains the same regarding the other equipment, like reels, hooks, lures, etc. If unsure about their safety, you should check state laws or consult the airline before traveling regarding your specific items.
Flying with Fishing Rods
: Concluding Remarks
Flying with fishing rods should not worry you because it's standard practice. However, pay close attention to what is written in the regulations and laws. All airlines have information on their websites regarding fishing rod carry on and other sporting equipment practices. 
Before booking a flight, collect all the necessary information. This way, you won't be caught off guard once you arrive at the airport. 
The question, "Can you bring a fishing pole on a plane?" bothers many fishing enthusiasts and shouldn't limit you to taking fewer fishing trips. Choose a lovely location and plan that pleasant fishing journey you always dreamed of taking!
Summary
So start planning. You're all set for your next fishing trip. Where to? California? Florida? Maybe Pennsylvania or Alabama? No matter the style, a fly fishing or bass fishing trip, you now know how to get your equipment there safely. All that's left to do is choose the next destination, buy a plane ticket, and start casting on the next fishing trip of your dreams!
FAQs
How much does it cost to bring fishing rod on plane?
Many airlines classify fishing gear as sporting equipment. The airline may charge passengers less or even nothing to check one fishing rod or more fishing gear. Some airlines, however, charge between $25 and $100 for each fishing rod. Sometimes, even checked-in fishing gear may be subject to additional fees. Checking the airline's policies before booking a ticket is good advice. 
Does TSA allow fishing rods?
Yes, the TSA allows flying with a fishing rod. 
People Also Ask
Can I put a fishing reel in my carry-on?
The TSA allows reels to be packed in both checked and carry-on luggage. Secure them so they won't get damaged. 
Have you traveled with fishing gear and had a bad experience? What was it like? How you had equipment damaged while traveling? Leave any tips or ideas for others; we always appreciate your comments below!