Fishing idyllic lakes, creeks, and rivers can be a rewarding experience for enthusiast anglers and newcomers to the sport. Thanks to compact travel rods, you can pack one in your backpack, place it on the car seat, and head out to fishing spots near and far. In a nutshell, a travel fishing rod provides versatility and portability when you need them.
Moreover, landing a brag-worthy piece like a travel rod is never out of the question. And the market has a wide range of products to please you: introductory, mid-grade, and professional.
Find out why travel rods are a great piece of equipment to own by any fisherman.
What Are Travel Fishing Rods?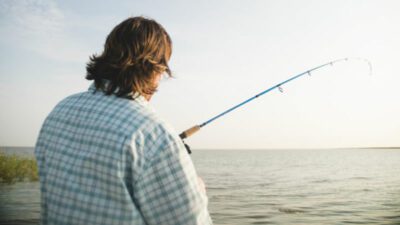 Travel rods embrace everything standard rods can do and come with an easy, practical, and portable compact design. Their unique design and versatility work excellent for novice or more experienced anglers who enjoy fishing local ponds, lakes, or bays. This fishing pole category meets the trade-off between size and usability right down the middle.
Reel poles are longer, heavier, and can deal with more pressure. However, travel rods tend to be lighter and more multi-functional within their natural limitations. The main characteristic of a travel rod is that it can come as a collapsible telescope model or a multi-piece assembling model.
Standard fishing poles may come in one or two pieces, but travel fishing rods come in three, four, and up to five pieces. When packed for transport, your trusty rod can reach a length between 10 and 30 inches.
When Should You Get a Travel Fishing Rod?
Consider purchasing a travel rod if you want to fish and move around without investing in more than one rod. Another reason to get one is if you like to fish nearby places that don't require lugging lots of equipment.
Though, an ideal occasion to bring a travel rod is a vacationing spot that offers fishing opportunities. This can be any place, from oceanside towns, lagoons, cabins in creek-rich forests, and Bay of Mexico spots – the list is virtually limitless for the fishing enthusiast.
However, one of the travel rods' practical advantages is that certain models enable you to fly-fish with lengths of up to 10ft. These can easily be disassembled to 3 ft or under for light and compact carry.
How to Travel with Fishing Rods
When you invest in something you truly enjoy, you want maximum satisfaction from it. This also goes for those owning travel rods because they are lighter and less sturdy. And these specific features let you fold or disassemble them whenever needed.
However, travel rods aren't indestructible. Although their parts can be replaced, a damaged or broken rod will put you through the hassle of finding the right replacement part. And don't even assume that a folded or disassembled rod can't get damaged – it can!
To avoid this from happening, here is some foundational advice about how to keep your travel fishing rods safe.
Ensure to do the following before heading out:
Fold each rod safely and bundle its components altogether in an individual rod wrap.

No part is pushing against another, like a reel pushing on guides.

Fold the replacement blanks separately.

Stow away from heavy objects that can tumble or tilt.
Roof racks and rod tubes are excellent security for travel rods but are also a much costlier option. Portable storage tubes are the ideal and most affordable solution to transport your best travel fishing rod safely. These hard-cased objects can be kept nearby so that you can readily fold your rod and put it back in the tube when finished.
On another note, rod tubes though sturdy, are also prone to rolling or tilting in the car. Therefore, ensure to lodge them firmly between other equipment or backpacks.
Finding a Travel Bass Rod: What Should You Look For?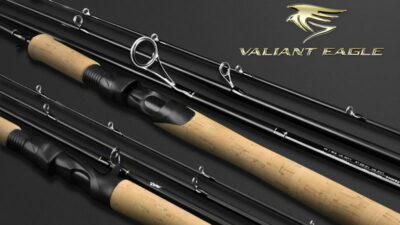 Travel bass fishing rods must be easy to carry and match the type of water and the size of bass you would target. You can comfortably target sea bass and largemouth bass with a casting rod between seven and nine feet. Simply put, these travel fishing rods work for all types of bass. Even if deciding to bass fish at night. 
Fishing bodies of water heavy on vegetation requires a sturdier rod to sustain heavier lines. Any vast expanse of water with heavy cover presents an ideal environment for catching largemouth. Though, a lighter rod and line would come in handy when fishing on a clear surface. This is because you won't have to yank the fish through vegetation, which can easily break the line.
Your best travel bass rod will mediate between fast action and medium-heavy power. Weight-wise, opt for the heavier option (between 9 and 42 grams), which will assist you with better casting precision. Length-wise, the ideal rod shouldn't be under seven feet, and plenty of travel pieces fit this description.
Choose the Best Travel Bass Rod: Top Picks
The following are some of our top picks for travel rods to take bass fishing:
The Fenwick Eagle assembles into a four-piece spinning rig with a moderate-fast response that does well for bass fishing. Its stainless steel build supported by aluminum oxide successfully includes modern tech into everyday fishing. The under-$100 price tag is welcoming to enthusiasts who aim for impeccable casting performance.
The New KastKing Valiant Eagle Passage Travel rods are made to go places! Available in spinning, casting, fly, and spin/fly models from 4 to 6 pcs. This performance, travel/pack rod series is ready to go anywhere that adventure takes you. From a 5'6″ Medium Light power rod to pack into high mountain lakes to an 8'6″ Heavy power rod that you can take to Alaska. There's even a 6 pc, 8'6″ 5 wt. fly rod that will pack down to just 19″ long. Adventure awaits.
TFO solves the globe-trotting angler's dilemma with the Traveler Series. This series of seven-foot, 3-piece spinning, and casting rods mirror the look and feel of the legendary Tactical family of fishing rods.  And none other than Larry Dahlberg, one the greatest world-traveling anglers of all time, made sure we designed nothing less than the best.
A heads up to anglers who want to test this rod in a different setting: telescopic rods are prone to breaking if you don't get a good sense of their limits.
Traveling with a Fishing Rod: Final Words
The past ten years have brought an unprecedented availability of traveling rods, giving the angler greater choice and versatility. With some high-end models in the range of $300 and above, you can expect the rod to perform per specification. In other words, you can test the rod's limits by trying your hand at 40-pound saltwater predators.
If your ideal fishing outing involves hitting a nearby lake, you can rely on the more affordable models – all the same. In short, travel fishing rods allow you to turn any outdoor trip into a fishing trip.
FAQs
How do you protect a fishing rod during transport?
Your first choice when transporting a travel fishing rod should be hard plastic carrying case. The next-best option is the rod's native carrying bag (if available).
What is the best way to transport fishing rods?
For multiple one-piece rods, your vehicle should have an adequate roof rack or bed rack for pickup trucks. Multi-piece assemblable and travel fishing rods are best kept in a plastic case.
How do you store a fishing rod for travel?
This rod type may arrive with its brand-name carrying bag, which can protect to a certain point. The ideal option is to carry it in a plastic case made especially for travel rods.
People Also Ask
Should fishing rods be stored vertically or horizontally?
This vastly depends on the length of the rod, whether it's a one-piece, two-piece, etc. Though, vertical storage is the safer option for a single rod that can be disassembled and bound together.
How do you store multiple fishing rods?
The best way to store multiple rods is to mount them on wall hooks/racks, ideally equipped with stops to prevent rolling over.