Pembroke Rating:
Pembroke Pines Rating - Read customer reviews, click to read
The city of Pembroke Pines is in the southern region of Broward County in Florida, United States. It is home to many beautiful places and tourist spots. Food lovers can also enjoy various dishes from the elegant restaurants and cafes located in the streets. It is one of the best places to experience the incredible Pembroke Pines fishing opportunities South Florida has to offer, along with its scenic views and natural environment.
Brilliant Fishing
★★★★★
"
We initially chose Everglades Fishing because of positive reviews. The response from Bass Online to my initial inquiry was friendly and professional and the whole booking experience was great.
"
Best Guide Trip
★★★★★
"
My husband and I celebrated our anniversary, on 12/30/22, fishing with one of the most knowledgeable guides we have encountered! We had a great time. Thank you again Bass Online, we can't wait to go out again!
"
Best Fishing Spots In Pembroke Pines, Fl
Pembroke Pines offers many great places to catch fish and enjoy the natural world. Pembroke Pines is close to every major fishery in South Florida, whether you want to experience trophy largemouth bass in Lake Okeechobee, Peacocks in Miami, or scenic and action-packed Everglades fishing charters. These top fishing spots are between 15 minutes and an hour's drive from Pembroke Pines, Fl. The ultimate fishing spots for Pembroke Pines fishing charters are The Everglades, Airport Lakes, Markham, and Lake Okeechobee.
The Everglades
The Everglades has numerous charter options; Holiday Park and Sawgrass are the closest spots. The Everglades is a great location to experience Florida's wildlife and beautiful scenery while catching fish on a guided charter. This spot is most known for its numbers and constant action, with the occasional big bass.
Airport Lakes
Miami Airport Lakes is a top peacock bass fishing destination. Anglers can also catch quality largemouths, Mayan cichlids, and more. The combination of Tamiami and Snapper Creek canal systems provides anglers with over 43 miles of exciting fishing opportunities. Snook and tarpon often find their way into these waters, adding to the adventure.
Markham Park
The canals of Markham intertwine with the Everglades, providing a similar feel. Snakeheads and peacock bass are the top targeted species here, while also catching numerous largemouths during your charter.
Lake Okeechobee
Lake Okeechobee is the biggest lake in the sunshine state and one of the most esteemed bass fisheries in the world. Anglers in Pembroke Pines are about one hour to Belle Glade, the southeast end of Lake O. This is also a great place to experience black crappie fishing charters during the cooler months.
Saltwater Fishing
Pembroke Pines fishing is close to Miami, which has some of the best saltwater fishing in the country. Biscayne Bay is a prime spot for inshore fishing. Fishing charters target all the most popular shallow-water fish, including tarpon and snook.
Head to the edge of Biscayne Bay on offshore fishing charters to explore the deep reefs teeming with tasty fish. Beyond that is the Gulf Stream which is loaded with large pelagic species.
Top Targeted Fish Species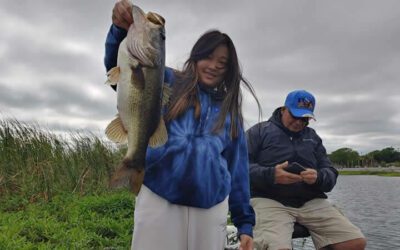 The Best Guided Bass Fishing in Florida Maybe you have done guided bass fishing in Florida, and perhaps you haven't. Perhaps you are a seasoned angler, or maybe you fish only...
read more
Local Spots
Pembroke Pines offers many great places to catch fish and enjoy the whole experience. Its vast geography has many areas to choose from, especially the various lakes. 
Snake Creek Canal
Anglers can find the Snake Creek Canal in the northeast region of Royal Country and near the Skyway elementary school. It is a water feature with an elevation of 1 meter.  This lake is home to various freshwater fishes. The most popular ones caught here are Peacocks, Mayan cichlid, and Largemouths.
Lake Steven
This lake is near the Country Club and combines a pleasant environment and an abundance of fish. Visiting this spot for fishing will offer several common cichlid species like Mayan Cichlids, Peacocks, and Largemouths.
Area Things To Do
Pembroke Pines is a big city, and there is no doubt that you can do many things in just a day. Additionally, when it comes to food, restaurants are everywhere, serving several types of dishes, with seafood being a primary focus in many places. Cafes are also present in the city that cater to customers who want to enjoy their beverages in a tranquil environment. Besides food, you can have fun visiting different tourist destinations like water parks, camping grounds, and resorts.
Water Parks in Pembroke Pines
Paradise Water Cove
This water park can be good for kids who want to enjoy being drenched under the sun and has numerous slides. There are also shaded areas to relax.
Splash Water Adventure Park
Giant slides and other amenities are something to look out for in this water park. You can enjoy various activities aside from swimming. The staff is also caring and provides excellent services to their guests.
Coconut Cove Water Park and Community Center
People of different ages can enjoy this magnanimous water park. The slides are enormous and come in wide varieties. Coconut Cove is also a great place to relax and comfort yourself while watching the clear blue sky.
Campgrounds Near Pembroke Pines
There are numerous camping sites near Pembroke Pines, Fl, where you can stay and explore. This will let you experience another level of natural living and enjoy quality time with your family or friends.
Camp at Grassy Lake
This place has numerous spots to blaze a campfire and feel the relaxation and atmosphere under the stars. There is a lake near the area, swimming pools, a game room, and a fishing area.
The Farmstead
It has a vast space for horse lodging where you can meet numerous horses. Farmstead is more of a farm, so you can breathe fresh air and be one with nature.
Goshen Project Farm
Goshen Project Farm is another ideal camping site. The green environment and majestic forest can awe you with their beauty. Goshen is a very peaceful and calm place to wander and explore. You can even bring your pets to enjoy this natural place.
Questions? Feel free to call us, Email us or use the chat us to speak to one of our specialists.
Questions? Feel free to call us, Email us or use the chat us to speak to one of our specialists.
Questions? Feel free to call us, Email us or use the chat us to speak to one of our specialists.
What are you waiting for?
Nearby Pembroke Pines Fishing Destinations
We also have great deals available in the following cities that match your search criteria.