Want to go Freshwater Fly Fishing while you are in Florida?
When it comes to freshwater fly fishing, as fishermen and women alike we are so blessed to be living in Florida, known as the fishing "Capital of the world." The overwhelming amount of fly fishing opportunities available to us throughout Florida would keep a fly fisherman busy for a lifetime and we would never have to fish the same location twice. Our professional guides will gladly take you fly fishing to any of our great fly fishing destinations our please explore the website and head out on an adventure of your own.
With the overwhelming amount of water in Florida, we are going to try to break the state down in sections for you, starting with the Central Florida area around Orlando and Kissimmee. The area has many several chains of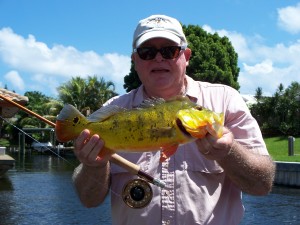 smaller lakes, and all the exciting freshwater fly-fishing available you could want for a lifetime. There are simply thousand of bodies of water, canals, lakes and retention ponds everywhere and most are great place to fly fish.
While in the South Florida area near Ft Lauderdale, Miami and surrounded by the Everglades, along side Naples and Palm Beach fly fishing is very active, fish are abundant and fishing pressure is not near capacity.
Freshwater Fly fishing in Florida is a great opportunity to really experience Florida's beauty, and natural resources. We personally love taking fly fishermen as they really enjoy the pure act of fishing and find some personal satisfaction in the art of the sport.
Freshwater Fly Fishing Equipment
We use standard fly fishing techniques and catch many of the species that live in freshwater on fly rods. Depending on where we fish, and what we are fishing for, generally a fly rod in the six to eight weight power is enough rod. If we are going after Tarpon or Snook, we usually will recommend a nine to twelve weight rod. We recommend the tippet, and the flies but again if you are tying your own flies and would like to bring them down to try out on some of Florida's species, you are welcome to do so.
When you reserve a fly fishing trip, we "do not" provide the rod and reels unless specially requested. We have found in most all cases, the avid fly fishermen prefers to catch fish on there own equipment.
In some fishing locations we have really nice G-Loomis fly equipment for you, however we have found with most of our fly fishing clients, they would rather use their own flies and their own rods when possible.
Below we have listed information on the different types of locations in the different areas, and what you can expect to catch fly fishing in them…
Freshwater fly fishing in Orlando, Kissimmee and the Central Florida area can be really exciting. Largemouth bass are really eager to please even the most novice fly fisherman because this is not a customary presentation to them. Most bass anglers use conventional equipment, and the fish do not get to see flies or fly fishing presentation often enough to make them as wary of it. Whether its largemouth bass, bluegill and crappie there is no limit to the number of species you can catch with a fly rod. While a bluegill will not put up to much of a fight on an eight weight rod, you have to be ready for the trophy large bass to take a sample of your offering and it helps to have something you can lean on to turn the fish out of the grass.
While much further south when the weather cools, means hot action in the Everglades and on Lake Okeechobee. Fly fishing in both places can produce really well all year long, but especially when the temps come down. The Glades offers an unlimited array of targets in one of the most beautiful area in Florida. Specialty trips are available in the Everglades less than an hour from Miami and only an hour or less from Naples. Fly fishing for largemouth, oscars, Warmouth, Mayan cichlid, bluegill and others in the back country of the Everglades or in the beautiful surroundings of world famous Lake Okeechobee is a great fly fishing trip in it self.
Below we have listed information on the different types of species….
When fly fishing for specific species like the Florida bass it can provide some of the most exciting fishing in the country. The largemouth bass is the most popular game fish in America. The popularity of fishing for bass is partly because no other freshwater fish has a wider distribution especially in Florida.
The behavior of the largemouth bass is also influenced considerably by the top temperature of the water. On hot summer days, they usually feed during the early morning hours and then again during the last few hours of daylight, when the sun isn't as bright and the water temperature is cooler. Bass are generally found in areas of the water that have a lot of vegetation and cover. They spend a lot of time near the water's edge among the grasses, reeds, and other plants.
Many freshwater fly fishermen fishing for largemouth bass use bass bugs and poppers. Poppers were designed as a surface lure to be skipped across the top of the water in a series of quick retrieves. Other good fly patterns for largemouth bass or the Muddler Minnow and the Wooly Worm. There are some fly fishermen that prefer to use streamers and bucktail.
When freshwater fly fishing for bass the fly is worked differently than it is for trout. Poppers are worked not only for their appearance but also for their sound. Generally, when a fly is cast for bass it should be allowed to remain unmoving for a longer period of time then for trout. It is estimated that 60% of bass strikes are made on a still fly. Bass tend to inspect your fly for some time before making the decision whether to take it or not. It is important to remember while freshwater fly fishing, that the warmer the water, the longer it will take the bass to take a fly.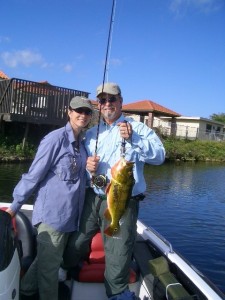 At times we like our fly anglers to tease the bass with repeated casts over the areas where we know they live. Teasing can sometimes be a very effective method in bringing a lazy fish up for a strike when nothing else seems to be working.
When freshwater fly fishing for trophy Peacock bass in Florida's freshwater lakes and canals.
If bring your own fly rods, which we recommend, a 5 or 6 weight for peacock bass is best, depending on exactly what we are after. If you like to tie your own flies like most fly angers, then bring them to try out. Floating line is usually preferred.
Give us a call and let us know what you are after, and we will recommend what type of flies to bring. There is no room for below average gear, good reels, good quality lines and fast action rods are a must. Hooks need to be sharp to penetrate quickly and without Polaroid glasses spotting these colorful fish as they attack are almost impossible. Our freshwater fish typically eat other fish, and not to much on bugs.
Bottom line if you get the chance to go freshwater fly fishing for large-mouth bass, peacock bass or pan-fish don't miss the opportunity!
For rates and locations, go to our bass fishing rates page. If you have questions about freshwater fly fishing for bass, crappie or bream, Contact us.